The Way of the Pilgrim

/ The Toronto Consort


Medieval Songs of Travel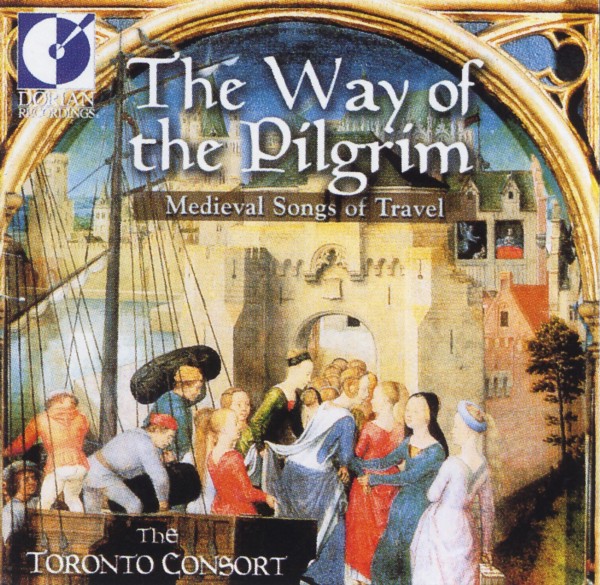 medieval.org
Dorian Recordings DOR-93214
2000









PILGRIMS AND CRUSADERS I

1. Como poden per sas culpas [1:59] CSM 166
BG, KH, TM, AMel

2. Seigneurs, sachiez [4:53] Thibaut de CHAMPAGNE (1201-1253)
BG, KH, TM, AMel, mezzo-soprano soloist LP

3. Ben pode Santa Maria [6:11] CSM 189
BG, LP DF PJ JP soprano soloist KH

4. Chevalier, mult estes guariz [3:53]
tutti; tenor soloists DF PJ

5. Quen quer que na Virgen fia [5:59] CSM 167
tutti; mezzo-soprano soloist LP


WANDERING SCHOLARS. THE CARMINA BURANA
anonymous, 13th century

6. Clauso chronos [2:30] CB 73
DF, BG, KH, TM, AMel

7. Virent prata [3:09] CB 151
tenor soloist DF, BG, KH, TM, AMel

8. Bonum est confidere [4:31] CB 27
DF KH PJ JP, mezzo-soprano soloist LP

9. Bache bene venies [2:59] CB 200
tutti


THE LAST OF THE MINNESÄNGER

10. Es fuegt sich [7:04] Oswald von WOLKENSTEIN (c. 1377-1445)
tenor soloist DF, AMac


PILGRIMS AND CRUSADERS II

11. Jerusalem se plaint [4:33] Huon de SAINT-QUENTIN (fl. 1210-1230)
mezzo-soprano soloist LP

12 . Nu alerst [4:54] Walther von VOGELWEIDE (c. 1170-c. 1230)
BG, KH, bass soloist JP

13. Dame einsi est [5:09] Thibaut de CHAMPAGNE
BG, soprano soloist KH, AMel

14. Li departirs [4:12] Chardon de CROISILLES (fl. 1220-1245)
tenor soloist PJ

15. Los set gotxs recomptarem [3:44] anonymous, 14th c., Llibre Vermell · LV 5
tutti; mezzo-soprano soloist LP, tenor soloists PJ, bass soloist JP











THE TORONTO CONSORT
David Fallis

David Fallis — tenor, percussion
Paul Jenkins — tenor
Terry McKenna — lute, bouzouki
Alison Melville — medieval recorder
John Pepper — bass
Laura Pudwell, mezzo-soprano

with

Ben Grossman — percussion, organistrum, ud
Katherine Hill — soprano, vielle, rebec
Alison Mackay — vielle (# 10)



Recorded at Humbercrest United Church, Toronto. Ontario, February 17-19, 2000.

Producer: David Falls
Associate Producer: David Klausner
Engineer & Editor: Ed Marshall
Program Notes: David Falls
Translations from Latin: John Pepper; all others: David Falls
Booklet Preparation & Editing Katherine A. Dory
Graphic Design: Kimberly Smith Co.

℗ 2000 The Toronto Consort © 2000 DORIAN RECORDINGS® A division of The Dorian Group, Ltd.


COVER: THE SAINT URSULA SHRINE (DETAIL) BY HANS MEMLING (1433-1494),
MEMLING MUSEUM, BRUGES, SINT-JANSHOSPITAL BELGIUM.
COURTESY OF ERICH LESSING/ART RESOURCE, NY.




HERE BEGYNNETH THE BOOK OF THE TALES OF CAUNTERBURY

Whan that Aprill with his shoures soote
The droghte of March hath perced to the roote,
And bathed every veyne in swich licour
Of which vertu engendred is the flour;
When Zephirus eek with his sweete heeth
Inspired hath in every holt and heetb
The tendre croppes and the yonge sonne
Hath in the Ram his halve cours yronne,
And smale foweles maken melodye,
That slepen al the nyght with open ye
(So priketh hem Nature in hir corages);
Thanne longen folk to goon on pilgrimages.

When Geoffrey Chaucer used the conceit of a pilgrimage to act as the framing device for his remarkable collection of stories known as "The Canterbury Tales," he settled on one of the few situations in medieval society in which people from all walks of life — knight, monk, squire, ploughman, doctor, miller, prioress — might plausibly encounter each other long enough to tell a story. "Folk" of all kinds did go on pilgrimages. from serfs to princes, and the variety of "the Canterbury Tales" is not mere artifice.

Pilgrimages were undertaken for many reasons — as penance, to fulfil a promise made during illness or danger, to pray for healing, to see the world, to escape prison, or, as Chaucer suggests, as a cure for spring fever. But they always depended on the medieval desire to experience directly the sacred elements of life. Pilgrimage sites were located where miracles had occurred, or where sacred relics had been brought or discovered. Healthy competition among the sites ensured that a miraculous recovery or vision occurring at one particular location was made known as widely as possible in order to attract more pilgrims. Local merchants and the religious institutions themselves knew the value of this traffic.

The most sacred sites of all were of course in the Holy Land where the greatest miracles had occurred. The Middle East, however, was geographically too remote from most of Christian Europe to attract large numbers of pilgrims, but the idea of its sanctity played an important part in the motivations for the Crusades, that series of mostly futile attempts to recover sites in the Middle East, lasting from the late-11th century until the middle of the 13th. In one of the most personal accounts which comes down to us of a crusade, Jean de Joinville writes of his embarkation in 1244, making clear the religious basis of the crusade as pilgrimage.

At Easter, I sent for my own men and those who held of me to come to Joinville. All that week we were feasting and dancing; my brother, the Lord of Vaucouleurs and the other great men who were there each gave a dinner in turn. On the Friday I said to them, "My lords, I am going overseas, and I do not know whether I shall return. Come forward then, and if I have wronged you in any way. I will put it right, as has been my custom, for all of you who have any claim on me or on my people."

After this, the Count of Sarrebrück and I agreed to send on our equipment in carts to Auxonne, there to be put on the river and sent to Arles. It was in the company of the Count that I, John of Joinville, crossed the seas in a ship which we, being cousins, hired together. We were twenty knights; he led one ten and I the other.

The day I left Joinville I sent for the Abbot of Cheminon, who gave me my scrip and pilgrim's staff; and then I left .Joinville, barefooted and in my shirt, never to enter the castle again until my return; and thus I went to Blécourt and Saint Urbain and to visit other relics of the saints in the neighbourhood. On my road I would not look back towards Joinville for fear lest my heart should weaken at the thought of the lovely castle I was leaving, and of my two children.1

Crusade songs, or chansons de croisade, fall into two main types: those which are exhortations to take up the cross, often reminding the listener of the day of judgement and of the sanctity of the Holy Land (Seigneurs sachiez; Chevalier, mult estes guariz); and those which dwell on the pain of leaving loved ones, particularly lady love (Dame einsi est; Li departirs). These last employ imagery typical of the courtly love lyric and can be considered a variation on the chanson courtoise, the favourite genre of the poet-composers known as trouveres. Jerusalem se plaint was written in response to a specific event: the retreat from Egypt in 1221 when a number of European prisoners remained in Muslim hands. The "Palästinalied" by the German poet-composer Walther von der Vogelweide makes clear how important first hand experience of sacred sites was to the medieval mind, although some scholars have questioned whether in fact Walther ever visited the Holy Land.

After the Holy Land, the most frequented destinations were Rome and Santiago de Compostela in northwestern Spain. Santiago, which was said to contain the bodily remains of St. James, was a popular destination for northern European pilgrims, in part because the Pyrenees were less forbidding than the Alps. En route to Santiago many secondary shrines could be visited including the abbey in Montserrat near Barcelona, where the Libre Vermell was written in the 14th century. This "red book," so called because of the crimson binding it was given in the 19th century, contains theological treatises, a collection of accounts of the miracles attributed to the intercession of the Black Virgin of Montserrat, and a series of ten musical pieces intended for the pilgrims who wished to "sing and dance" during the time they spent within the abbey walls. Most of the songs are in Latin, but one of them — Los set gotxs — is in the local vernacular Catalan, being a telling of the seven joys of Mary, to be danced "a bal redon" (probably a kind of round dance).

Salas was another minor Spanish pilgrimage site, referred to in both Ben pode Santa Maria and Quen quer que na Virgen fia. These songs are from the huge collection known as the "Cantigas de Santa Maria," assembled by King Alfonso X of Castile and Leon in the 13th century and preserved in beautifully illustrated manuscripts which depict, in "comic strip" format, the stories of the miracles described in the lyrics. One of the manuscripts also contains miniatures of musicians playing many of the instruments used on this recording including vielle, lute, rebec, organistrum (hurdy-gurdy), percussion, recorder and ud (Arabic lute).

The route to Santiago was well enough travelled to occasion a popular "pilgrim's guide," the earliest copy of which is found in the cathedral archival library in Santiago in a manuscript known as the Codex Calixtinus. The codex is a five-part compilation containing liturgies, accounts of miracles, a description of how the body of St. James was "translated" to Compostela, as well as the "Pilgrim's Guide." The guide describes towns and shrines which could be visited en route to Santiago, and includes such practical information as warnings about unsafe water and extortionist ferrymen, and recommendations of friendly towns and where good wine is to be had. The last chapter is entitled "How Pilgrims of Saint James are to be Received."

Pilgrims, whether rich or poor, returning from the abode of St. James or going there, ought to be charitably received and honoured by all peoples. For whoever will receive them and attend diligently to their lodging will have not only the blessed James, but also the true Lord Himself as guest. The Lord Himself said in His Gospel: 'He that receives you receives me'.2

Then follow cautionary tales of divine punishment visited on people or towns who were inhospitable to pilgrims, including one French village in which a thousand houses were burnt because two pilgrims had been refused accommodation. Clearly the attraction of pilgrimages, by which certain towns and churches profited so much, depended on the safety and hospitality of the towns en route.

Some of the inattention paid to the biblical enjoiner came as a result of the abuse of hospitality on the part of certain pilgrims. This was a charge particularly laid against the goliards — wandering cleric-scholars who led a peripatetic lifestyle in Europe from the late-10th century to the mid-13th. An anonymous commentator on the rule of St. Benedict gives a particularly colourful account.

These vagabonds count on the hospitality which the Apostle enjoined, and the pleasure of unexpected arrival, so that all kinds of exquisite relishes will be brought out, and many chickens give up the ghost under the knife. Their feet are weary with the hardness of the way, and they would like them bathed; but they would rather have their innards drenched with infinite refilling of the cup than by fomentation of the feet. and when the table has been cleared by their starving host, and the crumbs swept up, they shamelessly insist on their mighty thirst, and if by chance there is no goblet handy, they'll mix it up in the same plate, and when they are stuffed and sodden to the pitch of vomiting, they say it is all their hard life. And before they go to bed, more exhausted after their labours at table than by their journey, they tell all the toils of the way, and beguile still more dainties and still more cups from their host; as for the reason of their wandering, a pilgrimage we'll say? or perhaps captivity. Soon they enquire as to the whereabouts of any neighbouring monk or monastery. And there they'll go, as men wearied, men to whom the whole world is closed, who can find nowhere a place of rest and refreshing for the soul, nowhere a complete observance of discipline: do they not do well to wander? Pilgrims for their bellies' sake rather than their souls! 3

The Carmina Burana is a large 13th-century collection of Latin secular verse containing poems by goliards, a few of which have music. The notation is in unheightened neumes which by the 13th century were archaic, rendering the music virtually untranscribable. Thankfully there are other decipherable sources for some of the melodies, and many of the tunes can he reconstructed. The poetic themes of the selections on this recording are typical of the carmina burana: songs of spring and love (Virent prata), drinking songs (Bache bene) and moralizing songs (Bonum est confidere). Clauso chronos is played as a dance.

Oswald von Wolkenstein was one of the last knightly poet-musicians of the German-speaking world. Many of his lieder relate events from his life. Es fuegt sich is a long autobiographical song which tells of his many adventures, his travels and his loves. Three verses of the song are here recorded, focusing on his travels which stretched front Lithuania to Italy, Iberia to the Black Sea.



* * * * *



A number of regularly available modem editions have been used in this recording. The cantigas are taken from H. Anglés La Musica de las Cantigas de Santa María del Rey Alfonso el Sabio. Los set gotxs is transcribed by Anglés in Anuario Musical, 1955, pag. 74. The goliard songs are found in Carmina Burana by René Clemencic and Ulrich
Müller. Es fuegt sich is found in Oswald von Wolkenstein. Lieder aus dent Mittelalter edited by Johannes Heimrath and Michael Korth. The crusade songs are given new transcriptions by David Fallis based on the diplomatic facsimiles found in Joseph Bédier, Les chansons de croisade. The music is originally monophonic: all added parts are by the Toronto Consort.



1 The life of St. Louis, John of Joinville, trans. René Hague, Sheed and Ward, New York. 1955. pg. 52, 54.

2 The Pilgrim's Guide lo Santiago de Compostela: A Gazeteer. Annie Shaver-Cranclell and Paula Gerson. Harvey Miller Publishers, London, 1995, pg. 95.

3 The Wandering Scholars, Helen Waddell. Constable, London, 1958. pg. 179, 180.




The TORONTO CONSORT

The Toronto Consort is Canada's leading ensemble specializing in the music of the Middle Ages and the Renaissance. Formed in 1972, the Consort has performed throughout Canada. the United States, Great Britain and Europe. It has frequently collaborated with other early music specialists, including Paul K'Dette, Julianne Baird, Colin Tilney, Paul Agnew, The King's Noyse and Les Sonneurs de Montréal. A number of twentieth-century works have been written specially for the ensemble, which has led to guest appearances with the Toronto Symphony, the Montréal Symphony and the North German Radio Orchestra.

Each year the Toronto Consort offers a subscription series in Toronto. These concerts are constantly exploring new repertoires and innovative ways to bring early music to the modern audience. The Consort often works in collaboration with other artists, such as actors, dancers and visual artists, to produce concerts which have dramatic as well as musical appeal. Recent projects have included: a fully-staged production of a new transcription of The Play of Daniel; A Celtic Christmas with Puirt à Baroque; Mlonteverdi's Orfeo and L'incoronazione di Poppea in concert; an evening of Renaissance dance with the Ken Pierce Dance Company; a concert devoted to women's music of the Middle Ages andl Renaissance, combined with readings and visual images; a telling of the story of Tristan and Isolde in words and music.

The Toronto Consort has also performed music for film scores: most recently they can he heard in the theme music for Atom Egoyan's Academy Award-nominated The Swift Hereafter.

David Fallis ( Artistic Director. tenor, percussion) has been a member of the Toronto Consort since 1979 and its Artistic Director since 1990. He is also the Music Director for Opera Atelier for which company he has conducted Mozart's Don Giovanni, Monteverdi's Orfeo, Handel's Acis and Galatea and La Resurrezione, Rameau's Pygmalion, Purcell's Dido and Aeneas, Charpentier's Actéon and Gluck's Orfeo ed Euridice among others. He has conducted for Houston Grand Opera, Woltrap Opera Company and Cleveland Opera; in Toronto where he lives with his wife Alison Mackay and their children, he directs the Toronto Chamber Choir which he has led in performances of Monnteverdi's Vespers of 1610, Purcell's The Fairy Queen, Handel's Semele and Praetorius' Christmas Vespers among others.

Paul Jenkins (tenor) a native of Wales, cultivates an eclectic repertoire of vocal and keyboard music. He has performed with Tafelmusik. Opera Atelier, the Esprit Orchestra, the New York State Early Music Ensemble, and the Canadian Chamber Ensemble. He appears in Toronto regularly with the Aradia Baroque Ensemble and the Toronto Chamber Choir, and is kept busy both as a recitalist on organ and harpsichord, and as an accompanist.

Terry McKenna (lute, bouzouki) performs, arranges and composes music in a variety of milieux. Work of recent interest has occurred with the Toronto Consort, Puirt à Baroque, Muse of the North, Bisma Bosma and Foolscap's production of The Idylls of the Queen (original score). He has performed and recorded with the Stratford Shakespearian Festival Orchestra, Musick Fyne and Tafelmusik. He teaches the plucked strings program at Wilfred Laurier University. Terry calls Stratford home but his heart is on his native prairie, you know, when the sun is setting and the road suddenly comes on the Qu'appelle Valley...

Toronto-horn Alison Melville (recorder) has pertformed as a soloist, chamber and orchestral musician with many ensembles across Canada, the USA, Japan, Iceland and in Europe. Besides her activities as a member of the Toronto Consort, she appears frequently with Tafelmusik and has performed as a soloist with the Toronto Symphony and Orchestra London Canada. She has recorded extensively: with Tafelmusik on their recording of Bach's Brandenburg Concertos, for ebs, Narada, Sony Vivarte, ibs and SRI. She studied at the Schola Cantorum Basiliensis, is much sought after as an instructor at workshops across North America, and is currently on the faculty of the Oberlin Conservatory of Music.

John Pepper (bass), a native of Annapolis Maryland, sang for many years with the Festival Singers of Canada, the Tapestry Singers and The Gents, and now works regularly with the Tafelmusik Chamber Choir, Elora Festival Singers, Opera Atelier and the Toronto Chamber Choir. His work on the concert stage and in musical theatre has taken him from Victoria to Tokyo, from Whitehorse to San Juan.

Laura Pudwell (mezzo-soprano) has been a member of the Toronto Consort since 1986. She has performed oratorio and opera with Tafelmusik, Opera Atelier, the Boston Early Music Festival, Les Violons du Roy, and most major Canadian orchestras. She has appeared with such conductors as Andrew Parrott, Ton Koopman. Hervé Niquet and Marc Minkowski, and she is a frequent guest of the Lamèque Baroque Festival and the Pacific Baroque Orchestra. She is equally at home in the worlds of new music and music theatre where her performance credits range from Harty Somers' opera Serenette to programs of music by Stephen Sondheim and Cole Porter.


* * * * * *


Ben Grossman is a well known performer of experimental, folk, early. and traditional music in Toronto. His work can be found on over 40 CDs of various genres, as well as in music for theatre, videos, and installations. With the help of a Canada Council grant, Ben studied ud and Turkish classical music in Istanbul in 1997. He is currently engaged in a Canada Council and Ontario Arts Council assisted composition project which brings together his acoustic and electronic performance work. He is delighted to be playing on this, his secondCD with the Consort.

A native of Toronto, soprano and vielle player Katherine Hill is a perfomer of diverse experience. She appears regularly with the Canadian ensembles sine nomine, Duo Seraphim and the Arada Baroque Ensemble, with whom she has recorded a CD for the Naxos label. She has also collaborated with The King's Noyse and Harmonia Hermetica Boston. In addition to her work ill early music, Katherine has performed with the Arabic music group Doula. as a singer and a rebec player, and has a ongoing collaboration with the Canadian alternative rock band Rhume, with whom she plays electric rebec and vielle. She was a featured vocalist in both the 1999 and 2000 Bumingman Festival in Nevada.

Alison Mackay is a well-known figure in Toronto's early-music scene. She received a M.A. in musicology from the University of Toronto where she taught for many years. She played medieval and Renaissance stringed instruments as a long-time member of the Toronto Consort, touring and teaching at workshops across North America and Europe. She now specializes in Baroque music and appears on more than 50 recordings as bass player with the Tafelmusik Orchestra.