Tunes from a Strange Land / Melissa Kacalanos
---


melissatheloud.com | cdbaby.com
allmusic.com | discogs.com
Melissa Kacalanos MTL01 2005
[61:30]










1. Canadian Set [3:22] traditional

2. Tourdion [3:30] France 1530

3. Burning of the Temple [3:01] original

4. Hungarian Set [3:56] traditional

5. Lucifer Goes to the Circus [4:29] original

6. The Circus' Fire Extinguisher [0:32] original

7. Tomorrow the Fox [3:23] England 1609

8. Heart's Ease / Jenny Pluck Pears [5:35] England 1560/1651

9. Willie's Lady [5:30] traditional

10. Sukačko Kolo [2:04] Croatia traditional

11. Bourree de Brand / Bourree d'Aurore Sand [3:29] France traditional

12. Hole in the Wall [2:15] England 1698

13. Black Nag [2:49] England 1657

14. Branle de Chevaux [3:34] France 1588

15. Cantiga de Santa Maria 166 [3:10] Spain 1252 CSM 166

16. Saltarello Regina [1:46] Italy 14th century

17. Charlotte Branle / Scottish Branle [3:32] France 1588

18. Rumelai [3:13] Balkam Rom (Gypsy) traditional

19. Rača [2:36] Serbia traditional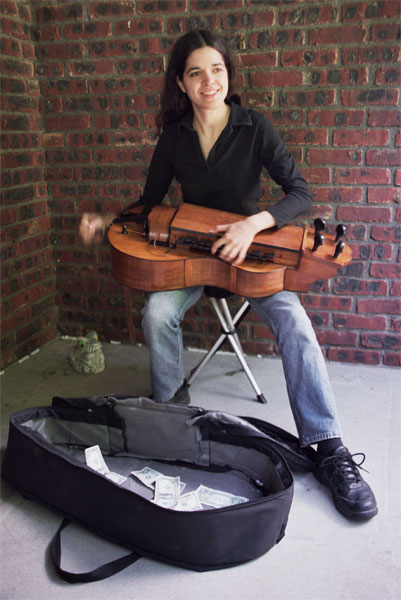 About the instruments


Cümbüş
A Turkish plucked string instrument based on the oud. Like the oud, it has six courses of strings and a fretless neck. Unlike the oud, it is loud, portable, and stays in tune.

Doumbek
A goblet-shaped hand drum popular in the Middle East and Balkans.

Hurdy Gurdy
A string instrument invented about a thousand years ago in Spain or France, depending on whom you ask. The strings are bowed with a wheel turned by a crank. The melody strings are stopped with a keyboard, while the drone strings play the same note continuously. The rhythm is produced by a buzzing bridge. The hurdy gurdy was popular all over medieval Europe, but fell out of fashion almost everywhere in recent centuries. In Hungary, a living tradition has kept hurdy gurdies alive to the present day, although they're rare even there. My hurdy gurdy was made in 2002 in Hungary by Balázs Nagy.

Mandola
A fifth down and a bit larger than a mandolin. Mine is over a hundred years old.

Riq
An Egyptian tambourine capable of great subtlety and finesse, neither of which is exhibited in this CD.

Tupan
A large two-headed drum played throughout the Balkans and the Middle East.

Voice
My high school chorus teacher said I was a soprano.



Thanks to many people, including:
Bob Wyttenbach for everything;
Balázs Nagy for making my hurdy gurdy and teaching me how to play and repair it;
Peter Kacalanos for being a great drummer, singer, dancer and dad;
Reeva Miller for being a great mom;
Thea Michaels for legal and sisterly advice;
Suzanne Chemey for hospitaliry;
Andrew Marcus, Greg Sherman, and Bill Garrison for the groove;
Mary Zysk for the drumming;
Mark Wienand for music and biodiesel rides;
Paul Ash for setting the standard;
James Lee Thorpe for encouragement;
Billy Bardo for songs;
all the dancers for inspiration;
former Ithaca, NY police chief Victor Loo for launching my musical career;
and everyone who put money in my Cümbüş or hurdy gurdy case, making this CD,
as well as rent, groceries. and dentistry, possible.



Recorded at Electric Wilburland, Newfield, NY in May and June 2005.
Recorded. mixed, and mastered by Matthew Saccuccimorano.
Photos by Bennett Mossé.
Design by Bob Wyttenbach.

Lucifer Goes to the Circus, The Circus's Fire Extinguisher, and Burning of the Temple are original tunes,
© 2005 Melissa Kacalanos.
All other tunes are traditional. All arrangements © 2005 Melissa Kacalanos.
All instruments played by Melissa Kacalanos ℗ 2005. Melissa the Loud™

Melissa@melissatheloud.com • www.melissatheloud.com