From the Isles to the Courts / Ensemble Galilei
---


medieval.org
egmusic.com
Telarc [SA]CD-80536 2001









1. Cantigas [4]7 and 338 from theCourt of Alfonso X [4:29]
[Virgen Santa Maria] CSM 47
[Muitos que pelos pecados] CSM 338


2. [4:54]
Scollay's Reel (Traditional Irish)
King of the Fairies (Traditional Irish)
Old Grey Cat (Traditional English)
The Dance Goes On (Deborah Nuse, 2000)


3. Winter's Falling Light (Carolyn Anderson Surrick, 1999) [4:00]

4. Sinfonie and Musette from L'Isle de Délos [2:58]
Elizabeth JACQUET DE LA GUERRE (1664-1729) — arranged by Sarah Weilner


5. [3:06]
Callanish (Hamish Moore)
Under the Full Moon (Deborah Nuse, 1998)

6. Anna's Garden (Nancy Karpeles, 1997) [3:19]


7. [4:26]
Home Fires (Deborah Nuse, 1997)
The Burning of the Clavie (Sue Richards, 1997)
The Burning of the Clavie Reel (Liz Knowles, 1997)


8. Lake Skybelow (Liz Knowles, 1998) [4:43]

9. La Folia Variations [9:18]
Marin MARAIS (1656-1728) | Arcangello CORELLI (1653-1713) — arranged by Liz Knowles


10. [5:30]
Sgt. Early's Dream (Traditional Irish)
Tune for Kieran (Liz Knowles, 2000)


11. [4:14]
Fanny Poer (O'Carolan)
Mary O'Neill's (O'Carolan)

12. Aisling (Sue Richards, 1998) [4:55]

13. The Lady of the Lake (Carolyn Anderson Surrick, 1997) [3:16]


14. [5:08]
Miss Maxwell (Turlough. O'Carolan)
Bridget Cruise (Turlough. O'Carolan)
O'Carolan's Welcome (Turlough. O'Carolan)


15. [3:46]
The Fair Maid of Barra (John Campbell)
Dream Angus (Traditional Scottish lullaby)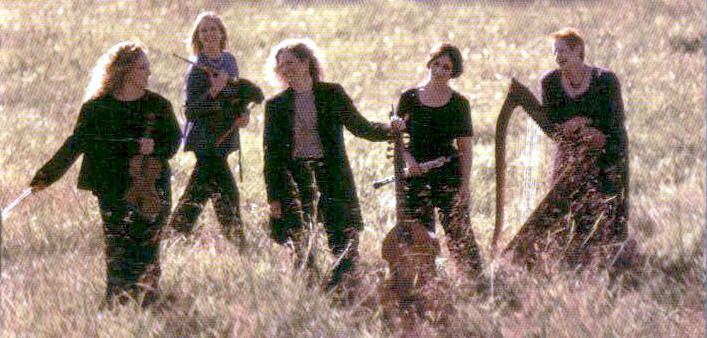 Ensemble Galilei
Liz Knowles, fiddle
Deborah Nuse, Scottish small pipes and fiddle
Sarah Weiner, oboe, recorders, and pennywhistle
Sue Richards, Celtic harp
Carolyn Anderson Surrick, viola da gamba

with

Jan Hagiwara, percussion
Nancy Karpeles, bowed psaltery (#6)



Celtic Harp by David Kortier (1998)
Viola da gamba by Marc Soubeyran (1996)
Gamba bow by Harry Grabenstein, strings by Damian Dlugolecki
Scottish Small Pipes by Hamish Moore
Liz Knowles' violin strings by D'Addario Strings
Pennywhistles by Michael Burke

Recorded in Gordon Center for the Performing Arts, Owings Mills, Maryland. June 19-22. 2000

Special thanks to David Kawakami and Gus Skinas of Sony's Super Audio CD Project

Cover Photos: Burgess Blevins
Cover Design: Heidi Kropf. Brian Sooy & Co.
Art Director: Anilda Carrasquillo

Recording Producer: Erica Brenner
Recording Engineer: Michael Bishop

Executive Producer: Robert Woods
Technical Assistants: Robert Friedrich, Mark Robertson-Tessi
Editor: Erica Brenner

℗ + © 2001 TELARC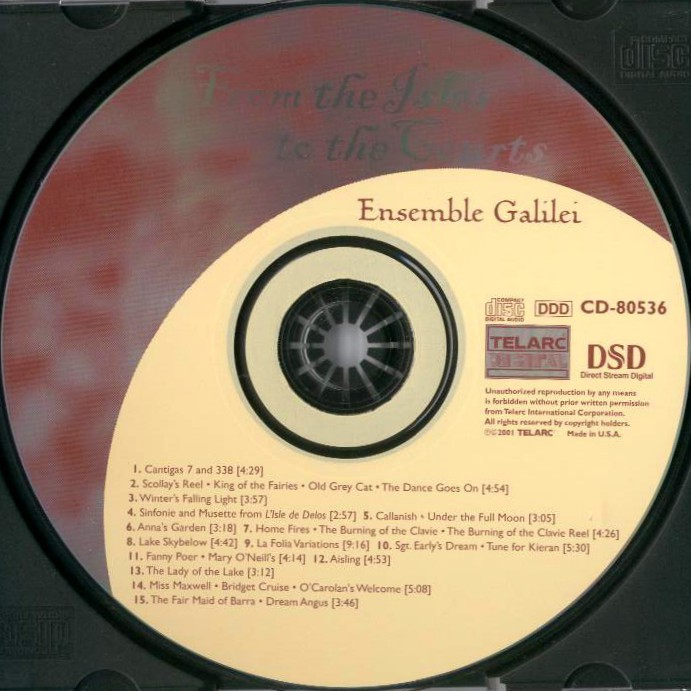 We are five women, born in four decades of the last century, who bring a hundred different perspectives to our music making. Each has her own musical inner life: together we share the sum of our study and work. We are every teacher who encouraged us, every fiddler who thrilled us, every mentor who showed us the way. Some of us spent years in university and conservatory practice rooms, others spent countless days listening to the legends play and nights in pubs learning tunes. From these very different elements this CD was formed.

Irish Reels, Scottish Strathspeys, and Slow Airs belong together. Deb, Liz, and Sue are masterful at arranging great traditional sets. A French Musette works nicely on a recording with the La Folia variations by Marais, and including some variations by Corelli is hardly a leap. I grew up with counterpoint, Sarah's passion is the Baroque. And original tunes in the traditional style make a lot of sense next to traditional tunes played originally.

But how do all of these pieces from these very different worlds go together? What is the connective tissue? What do we think about historical performance practice? About stylistic integrity? How do we decide?

Ensemble Galilei starts at the beginning. We are committed to making music fiercely. We find music that speaks deeply to us, and we honor the traditions and dialects of each musical language. We talk about where the theory of musicology meets the practical reality of performance. We decide who knows the most, we listen to how it could be done, and then we go off to practice.

We come back and sort through the list of pieces we hold dear. Then we start the real work of making music. Beyond questions, beyond practice, we find the place where our personal history intersects the melody, bass, harmony, or chords. Revealed in these musical conversations are the essential parts of our own humanity, and the universal memory that is expressed in music. From the courts of medieval Spain and eighteenth century France, to the Isles of Scotland and Ireland, this recording reflects the quintessential Ensemble Galilei, for the connective tissue is us.

— Carolyn Anderson Surrick



About the Original Compositions

We are our history.
Set squarely in this moment
Defined by the paths
We have walked.

Discussing our world
In the language of music
Finding words in melody,
Dialog in counterpoint.

With our strings, reeds and drums
We paint, draw, sing and murmur
Telling our tales
Revealing our secrets
Each piece giving life to memory.

— cas


Anna's Garden

When I was young, the highlight of summer vacation was our annual trip to my grandparents' farm in Connecticut. It was paradise for a child, in ways too many to tell—the barn with its haymow, the brook, the old farmhouse, the aunts and uncles and cousins—but best of all, there was Grandma. Anna Anderson Bengtson was the heart of our big Swedish immigrant family.

It was a hard-working, no-frills dairy farm: cows and horses, chickens and geese, the goat to trim along the fence. But behind the milk house was a little fenced-off oasis with a birdbath in the middle. There Grandma grew her flowers, which each day became the bouquet that graced the noon-time dinner table—sweet-peas and rambler roses, cosmos and bachelor's buttons—a profusion of lovely old-fashioned blossoms. Anna's garden.

— Nancy Korpeles


Home Fires

This tune is written in celebration of the things that most mean Christmas to me—the pungent smell of fresh pine needles, our living room illuminated by flickering candles, stringing popcorn and cranberries to hang on our perfect tree (each year's more beautiful than the last). the glitter of far away stars in the dark velvety night sky and the moon sparkling on freshly fallen snow, special presents being chosen and wrapped in secret at 3:00 a.m., decorating the tree while Christmas carols play on the radio, singing alto in our small church choir by candlelight on Christmas Eve, the tradition of hanging our stockings on the mantle and opening them first thing on Christmas morning. still in our pajamas, remembering a wide circle of friends near and far with hand-designed Christmas cards (sometimes not finished until January or June), love shown in all the handmade decorations making our home look its most cozy and welcoming. The essence is of celebrating the past, rejoicing in the present, and anticipating the promise of the future. It's the gift of peace—the warm glow of a fire in the fireplace and hot Swedish glugg shared with beloved family and friends on New Year's Day.

— Deborah Nuse


The Burning of the Clavie

On New Year's night in the town of Burghead, Moray, on the north coast of Scotland, the people celebrate with a fire festival called The Burning of the Clavie. An empty whiskey barrel is prepared by attaching it to an eight-foot pole and soaking it in tar. At nightfall it is lit with a burning peat from a household fire, and borne through town. It is bad luck to stumble with it, but good luck to receive a smoldering piece. It is then placed upright on a cairn (grave). It burns through the night during the revelry, and eventually is smashed—the smoldering pieces collected for luck.

— Sue Richards


Lake Skybelow

My great aunt Nancy lives in the Upper Peninsula of Michigan and has an incredibly beautiful and secluded home amongst the trees, literally steps away from Lake Skybelow. Well, actually it is called Lake Bennan. When I wrote the piece, I called my grandmother for the name of the lake and in her endearing way, she managed to unknowingly forget the name and fabricate this one instead! This is a family trait at least on my side of the family so we got a great laugh out of it in the end. Ironically enough, the name suits the spot perfectly. Sitting in a canoe in the middle of the water, you are surrounded by a wall of trees, tall and majestic. They block the wind and leave the surface of the lake placid and calm. Looking down into the water, there is a perfect sky in the reflection, with the wisps in every cloud. It is one of nature's most innocent surprises and one of my favorite spots in the world.

— Liz Knowles


Winter's Falling Light

Inspired by the poem Winter's Falling Light, and written for the solstice, the music is a memoir to the sweetest and most sorrowful parts of love. — Carolyn Anderson Surrick

Winter's falling light
Pours slowly through the window glass.
Clouded thick like skater's ice,
It's found its darker mass.
Old friends, old lovers rise and glide
Across the room in signature
The softest palm, one strong stone jaw.
A guileless gleam, a love still pure.

There was one who brushed my hair
To find its music so he said,
Before he found its truest shine
We'd wandered off to bed.
Another's laugh, crisp apple bite
And yet another's winsome smile
Knowing only love on roads
And life in measured miles.

In winter's angled, amber light
We bend to hear the past.
Which music rang on in the heart,
Which note was played the last.
Now shadows dance upon this wood
That I have caused to sing
The strings are stilled by gravity
And thoughts of other things.
Those fits and starts, the march of hearts
The stretch to touch
To desire too much
A compassion for che falling parts.

The first day of winter, the deepest night
Embrace it as you would a waltz and forever hold me tight.

— R.W.B (1995)


Aisling

Aisling, pronounced "esh-leen," means "beloved," or any endearing term: it also means "dream." Making music often involves going into a dream state and creating a world, a scene where you make things happen and they come out as music. When I play, I want to take people with me into the dream: though we all have different experiences there, we are also together in the adventure, the notes and sounds carrying us from thought to thought. Just think of the audience. listening to the same tune, with every person in their own dream world.

— Sue Richards


The Lady of the Lake

She said "Exactly what is this piece about?"
I told her it is about the inevitability of death.
Not the scary or painful part,
But rather the beckoning of silence.
The grace of end as beginning.
The knowledge of the truth of grief
And the solitary world we inhabit as we bear witness
To this most tender passage.

— Carolyn Anderson Surrick


The Dance Goes On

You meet someone, fall in love, get more and more deeply involved and then something goes wrong and things start to disintegrate. You sever the connection (in my case, never quickly...), suffer the pain of loss, begin to heal and are finally able to move on. Then unexpectedly, sometimes years later, that person comes back into your life and you begin again, redefining the relationship, not knowing where it will lead, but realizing that when it comes to affairs of the heart, anything is possible. And the dance goes on...

— Deborah Nuse


Sergeant Early's Dream/Tune for Kieran

When it comes to writing tunes, I still feel fairly new to the whole process. Yet it is that newness that keeps me coming back for more. Each tune seems to have a different birth and shows up in ways that I couldn't possibly plan. A certain inevitability, I guess! It would be presumptuous to think that I am contributing to the vast and awesome tradition of Irish music, so I will tell you that the truth is that I do it because I love to write. The joy for me is in the realization of that tune in others' hands and the first listen to it outside of myself, like I imagine the feeling of seeing one's own child from across the room for the first time. This set began with the second tune, Tune for Kieran. I began only knowing that I wanted to write a slower reel that could stand on its own. It didn't really want to end so I felt it only appropriate to name it for Kieran O'Hare, the only person I have ever met that represents the meaning of forever. For you, my dear Kieran. The second tune, Sergeant Early's Dream, struck me as I was reading through Martin Mulvihill's tune book one day. It is my practice to play tunes I am reading at all speeds to get a feel for what the tune can do before I learn it. This one thrived at a slow improvised pace and served as a beautiful transition into mine.

— Liz Knowles


Under the Full Moon

I love being awake late at night when the rest of the world is asleep. The day's pressures are gone, or at least put on hold, and everything is peaceful and quiet. It feels like time is standing still. This tune came into being one balmy, sweet-scented mid-summer's night while I was out walking a bouncy Bijon puppy. There was electricity and excitement and mystery and magic in the air. And the moon was very, very full.

— Deborah Nuse


About the Group

What does Ensemble Galilei look like on tour? We travel with lots of suitcases, many boxes of CDs, and more instruments than you can imagine. At the beginning of the tour we talk and laugh a lot, and at the end we are sleeping on the plane. And on the shuttle bus. And in the airport. We live on different schedules, never sit together on a flight, and have very different musical tastes (check out the radio settings in each member's car). What we share is a desire to make music together, and a great love for traveling the world playing concerts.

You can tell who Liz is by what she carries on the plane. Fiddle in one hand, laptop in the other, with a bag of books on her shoulder, she is a seasoned traveler. Two years of touring as the solo fiddler for Riverdance, living in hotels and ordering room service, taught her more than just how to pack. A brilliant fiddler and composer, she effortlessly captivates the audience with her playing. Whether there are four hundred or four thousand people in the hall, her fiddle speaks with clarity of intention, one moment elegant and reserved, the next on fire. It is neither her classical training nor her commitment to Irish music that has given her this gift; it simply is Liz Knowles at work.

Tall, willowy, and beautiful, Deb Nuse carries her pipes in a small battered suitcase in one hand, and a fiddle case in the other. On the plane, or at the airport, or beside the pool, with pen in hand, she is usually writing or drawing or composing yet another stunning tune. Quick to laugh, and ready to play, with a musical style all her own, Debbie owns the stage when she's playing her pipe solo. While her playing has been described as mesmerizing, evocative, and haunting, she has been known to tell very funny bagpipe jokes from the stage. Lots of them.

Striding through the baggage-claim with a purple knapsack on her shoulder and steering her Celtic harp atop its wheels is Sue Richards. She looks like someone who could win the US National Scottish Harp Championship four times, and she plays like it. With dining guides and maps in hand, Sue is ready for adventure. Stopping at roadside stands, exploring the back roads and out-of-the-way towns (yes, they do sell pig brain sandwiches in Ohio, but we didn't try them), her playing reflects her life—full of grace, extraordinary insight, and humanity.

Sarah is the first person at the rental car counter because she knows the who, what, where, and when of everything we do on tour. The same qualities that make her the most organized member of Ensemble Galilei got her through more advanced degrees than any of the rest of us will ever see. Determined and disciplined, Sarah Weiner plays the oboe, pennywhistle, and recorders, and reminds us when we have forgotten that there is indeed a difference between French Baroque performance practice and Renaissance ornamentation. That is, when she is not hiking up a mountain, studying Italian, or threatening to teach us to ski.

I am the one leaving the airport wearing sunglasses, carrying a bass viola da gamba and a black satchel, and headed for the next concert hall. I answer questions from our agent, call the presenter to make sure everything is in place, and look for really good food. If I am lucky, there will be a bike or a kayak or a horse waiting for me at the hotel, or at least nearby. At home I write liner notes, poetry, and heart-wrenching tunes, but on tour I spend my time with my cell phone attached to my ear putting out fires, conspiring with the band to create a future, playing the gamba. and looking for the best tiramisu in America.

—cas



Special thanks to:

Bob Woods, Elaine Martone, and Erica Brenner at Telarc for believing in our work and this project and for encouraging and enabling artists to create music every day of the year, and to Michael Bishop whose engineering never ceases to amaze us. To Rob and Mark, for hanging in there, and to Mark Quackenbush at the Gordon Center, for making our visit so effortless. Thanks to two wonderful musicians who have lent their talents to EG, Jan Hagiwara and Nancy Karpeles, and to Charlie Pilzer and Frank Morgan who from the beginning have helped guide us along our way. To Ian Shuman and Kieran O'Hare for all they do all the time, and to Bill Tydings for giving errant musicians a home away from home. Thanks to Florence and Harry Nuse for their lifelong love and support, and to Donna. Chris, and Lydia Fimmano for always having the welcome mat out (even at 2:00 a.m.). Claire Owens once again provided spectacular food for the sessions, and many of us will never forget the spinach risotto, chicken Mirabella and peach dessert brought by Bill Richards. Thanks to our agents, Martha Woods and Kenneth Wentworth, to Phyllis Dixon and Ruth Weiner, our guardian angels, and to Bill and Phil Monica!, for your special attention to all things speaking gamba. And thanks for R.W.B. for inspiration through the years, and to Tinker Beatty for everything all the time. Thank you all.

—cas (2000)