The Court of Leaves / Erutan

---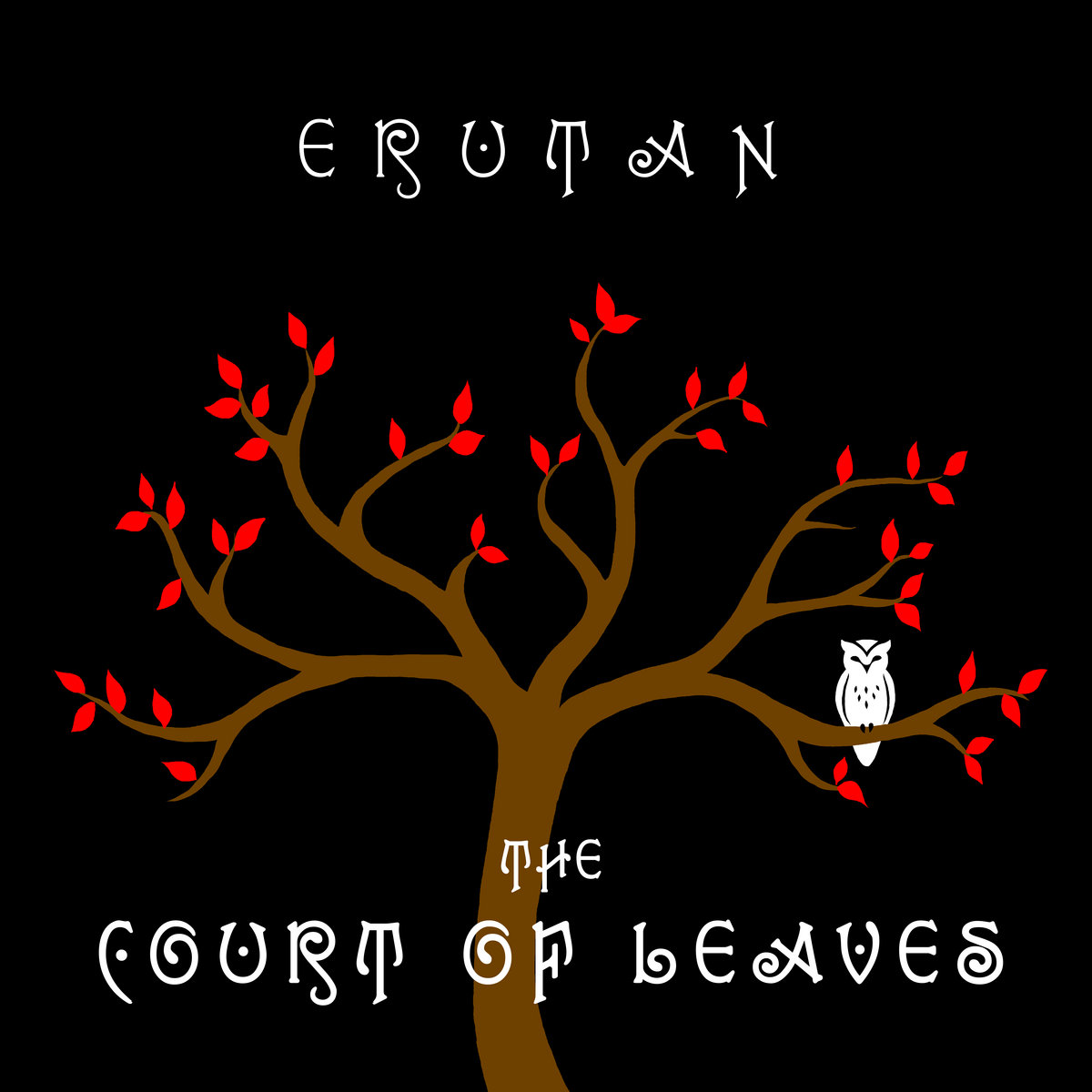 erutanmusic.com | bandcamp.com | amazon.com
deezer.com | spotify.com
Erutan
2014
[70:12]








1. Branle Des Chevaux [3:50]

2. Two Rondos From Danserye [6:19] Tielman SUSATO


3. Welcome To Cork [4:13]

4. Road To Lisdoonvarna [3:07]

5. Quen A Omagen [4:51] CSM 353

6. Banish Misfortune [5:24]

7. Byrd One Brere [2:48]

8. Corn Yairds [4:56]

9. Reis Glorios [3:05] Guiraut de BORNELH

10. Cooley's Reel · Congress Reel · Boys of Bluehill [5:50]

11. Loibere Risen [4:51] Vitslav von RÜGEN

12. Cuncti Simus [2:30] LV 6

13. Fairy Dance [5:00]

14. Star Above The Garter · Monaghan's Jig · Water Under the Keel [6:10]

15. Dame Ne Regardez Pas [3:45] Guillaume de MACHAUT

16. Newcastle [3:34]








The Songs


Branle des Chevaux
Origin: France
Also known as: Horses Bransle, Horse's Branle, Horses Brawl
Instruments Used: Tin Whistle, Vielle, Bodhran, Tambourine, Tar, Celtic Lever Harp

This traditional dance tune was first published in the dance treatise 'L'Orchesographie' in 1589, along with dance steps specific to the piece which are meant to emulate the pawing of horse's hooves.. The actual melody is believed to date back to the 13th century.
In 'L'Orchesographie', the dance steps and musical notation provided only cover the first two melodic sections of the Branle des Chevaux - the third minor-key section is not included. Today, people who would like to re-create the dance usually use a mixture of the steps from both the Branle des Chevaux and the Branle des Montarde.


Two Rondos from Danserye
Origin: The Netherlands
Composer: Tielman Susato
Also known as : Mon Amy, Pour Quoy
Instruments Used: Recorder, Bodhrán, Tambourine, Lute

The Danserye is a collection of dance music written and published in 1551 by Tielman Susato. Susato was also a calligapher, instrumentalist, and most notably, the first music publisher to start printing sheet music in The Netherlands. At his publishing house, which used special movable music type, he printed and published all of his own works as well as the works of other contemporary Flemish composers.
Before the arrival of the invention of the printing press, most sheet music was painstakingly written out by hand. Because of the amount of time and labor necessary to create handwritten copies, the majority of sheet music was created by monks in order to preserve sacred texts and musical notation for the church. It is why so little secular (non-religious) music survives from those times. With the arrival of the invention of the printing press, sheet music was suddenly no longer a rarity, easily obtainable and far less expensive.


Welcome to Cork
Origin: Ireland
Also known as: Failte Romad Sa Corcac/Corcaige
Instruments Used: Violin, Celtic Lever Harp, Recorder

This is a an obscure traditional Irish dance tune which I have greatly slowed down into a slow aire.
The tune's namesake is the city of Cork, one of the oldest cities in Ireland. The city's earliest recorded inhabitants lived in a monastery built in the 6th or 7th centuries. The city was attacked regularly by Vikings and other invaders, but eventually became a booming trading center.


The Road to Lisdoonvarna
Origin: Ireland
Instruments Used: Tin Whistle, Violin, Baroque Guitar, Gothic Harp

The town of Lisdoonvarna is famous for its mineral springs, discovered in the early 19th century. The waters contain sulphur, magnesium, and iron, which can help ease a variety of health complaints like rheumatism, arthritis, skin ailments, and infections. Lisdoonvarna was transformed into a bustling spa town as people traveled from all over to 'take the waters'. Due to the sheer numbers of people visiting Lisdoonvarna every year, it became an ideal place to meet your future husband or wife, and thus a matchmaking tradition began. Lisdoonvarna still hosts an annual matchmaking festival, the largest one of its kind in the world!


Quen a Omagen
Origin: Galicia
Also known as: Cantiga de Santa Maria no. 353, Quen a Omagen
Instruments Used: Kantele, Celtic Lever Harp, Recorder, Tambourine, Glockenspiel, Vielle

This melody comes from a collection of 420 texts, songs, and illustrations called the Cantigas de Santa Maria. Each song depicts a different religious miracle. The collection was commissioned in the 13th century by King Alfonso X, a great patron of the arts and sciences. It remains amongst the largest surviving collections of songs from the Middle Ages.
King Alfonso X was also responsible for commssioning the Alfonsine tables, a system for tracking the positions of the sun and moon. Due to his great interest and encouragement of astronomic discovery, the moon crater, Alphonsus, is named after him.


Banish Misfortune
Origin: Ireland
Also known as: Dibir Anachain, Díbir Mí-Ádh, The Horse Under The Stairs, The Mangled Badger, The Little Bag Of Meal, Mammy's Horse Is Dying, Humours Of Mullinafauna
Instruments Used: Violin, Gothic Harp, Recorder, Djimbe

In the past, Irish traditional tunes were picked up by ear alone, never written down. The original composers are almost never known. However, due to Ireland's rich musical culture, even some of the oldest tunes have survived - passed down through the generations by memory alone.


Byrd One Brere
Origin: England
Also known as: Bird on a Briar, Brid one Brer
Instruments Used: Ocarina, Gothic Harp, Recorder

This is one of the earliest, if not the earliest, surviving love song in English. It was hastily scrawled in the 13th century on the back of a papal bull (which is a letter of import written by the Pope and bearing his seal). The song was written anonymously, although in order to have access to the papal bull, the author would have to have been a cleric or a monk. It is a strange irony to think that a cleric would have written a secular song on the back of an important religious document!


Corne Yairds
Origin: Scotland
Also known as: Corne Yards, Corn Gairds
Instruments Used: Lute, Recorder, Hammered Dulcimer, Vielle, Djimbe, Doumbek, Tambourine

This is a tune from a book of traditional Scottish lute pieces called Sir William Mure's Lute-Book of Songs and Music (also known as the Rowallan Lute Book). It was compiled and published in 1620 by Sir William Mure of Rowallan, who was a writer, war veteran, and politician, as well as a musician.
'Corne' in the 17th century, referred to major cereal grains like wheat and oats (the Maize plant known today as corn, was only just being introduced to Europe, and was only a garden curiosity). Corne was used to make flours both fine and coarse, and also pastries and treats, just like today.


Reis Glorios
Origin: France
Composer: Giraut de Bornelh
Instruments Used: Ocarina

This piece was written in the late 12th century by Giraut de Bornelh, a successful poet and composer of the times. Bornelh grew up in Southern France and eventually found work with the viscount of Limoges. He is said to have gone on the Third Crusade, although this is still a matter of speculation.
Reis Glorios means 'Glorious King' in the Old Occitan language. The song is about a man praying to God, asking him to aid his friend who is currently committing adultery, whom he fears will be caught. It is a common form of song from the Middle Ages called an alba which means 'sunrise', and usually chronicles tales of lovers who have secretly passed a night together and then must separate with the coming of the dawn.
It has a very free-flowing melody that can be done many different ways. There is no time signature.


Cooley's Reel · Congress Reel · Boys of Blue Hill
Origin: Ireland
Instruments Used: Gothic Harp, Tin Whistle, Bohdran, Violin, Hammered Dulcimer

Cooley's Reel
Also known as: The Tulla Reel, Put the Cake on the Dresser
Congress Reel
Also known as: The Congress
Boys of Blue Hill
Also known as: The Beaux Of Oak Hill, Buachaillí An Chnoic Ghoirm, The Lad Of Bluehill, The Lads Of North Tyne, Mildew On My Mind, Na Buacaillide Ua Cnoc-gorm


Loibere risen
Origin: Principality of Rügen (German/Danish)
Composer: Vitslav von Rügen
Instruments Used: Celtic Lever Harp, Recorder, Lute, Vielle

This winter song was written in the 14th century by the author and minstrel, Vitslav von Rügen. Vitsav's compositions numbered 27 in all, and are preserved in the Jenaer Lieder Handschrift.
It is very probable that the last Slavic ruler of Rügen, Prince Vitslav III, and the minstrel, Vitslav von Rugen, are the same person.


Cuncti Simus
Origin: Spain
Also known as: Cuncti Simus Concanentes
Instruments Used: Glockenspiel, Kalimba, Ocarina

Cuncti Simus is from a large collection of devotional texts and melodies called the Llibre Vermell de Monsterrat, or 'Red Book of Montserrat'. The book was written out entirely by hand in 1399 by the monks of the legendary Montserrat monastery, high up in the mountains outside Barcelona, Spain. Many centuries later, the book was restored and rebound with a red velvet cover, and has been known as the 'Red Book', ever since.


The Fairy Dance
Origin: Scotland
Also known as: Largo's Fairy Dance, Old Molly Hare, Ronde des Vieux
Instruments Used: Recorder, Vielle, Celtic Lever Harp

This popular Scottish dance tune was first published in 1809 as half of a larger work called Largo's Fairy Dance. The other half, a slow march called The Fairies Advancing, has since been lost. However, The Fairy Dance is as popular today with Celtic musicians as it was when it was first published.
Many sources list either Nathaniel Gow, or his father (famous Scottish fiddler Niel Gow,) as the composer for this melody, and others suggest the Gow published the work but did not originally compose it. Either way, The Fairy Dance is always associated with the Gow family.


Star Above the Garter · Monaghan's Jig · Water Under the Keel
Origin: Ireland
Instruments used: Violin, Celtic Lever Harp, Ocarina, Bodhran

Star Above the Garter
Also known as: An Realt Os Cionn An Ghairteir, The Kerry, Lisheen No.1, The Lisheen Slides
Monaghan's Jig
Also known as: The Clay Pipe, Coleman's Jig, The Mighty Sparrow, Port Mhuineacháin
Water Under the Keel
Composed by Shaun Davey
This jig was composed for the orchestral suite, The Brendan Voyage, and is the youngest piece on this album!

About Sets
A group of two or more dance tunes strung together is called a 'set'. For dancers, changing the melody up during a dance creates extra energy and keeps up the momentum. Usually tunes of the same time signature are used in a set - jigs with jigs, reels with reels. Most Celtic dance bands create their own sets and allow them to become signature parts of their performances. With hundreds of thousands of tunes available, the possibilities for sets are endless.


Dame ne Regardez Pas
Origin: France
Composer: Guillaume Machaut
Instruments Used: Lute, Gothic Harp, Vielle

Originally a duet for two voices. It was written by Guillaume Machaut in the 14th century. Mauchaut was a prolific composer and poet, and was quite famous and in demand for his work. He was regularly employed by the nobility.
He survived the Black Death pandemic of 1348-1350, and went on to write over 400 poetic and musical works.


Newcastle
Origin: England
Also known as: Barndance, Come you not from Newcastle
Instruments Used: Hammered Dulcimer, Mountain Dulcimer, Bodhran, Tambourine, Gothic Harp, Recorder

Newcastle is an English country dance tune, complete with specific dance steps. In the mid 16th century, country dances were a welcome change from the complicated court dances of the past. They were dances that were easy to learn and remember, and did not require lessons to execute. An anthology of these sorts of dances were published by John Playford in 1651 under the title, 'The English Dancing Master'. Today they are simply known as 'The Playford Dances'. While the dances emulated the true country dances of the common people, these newly written dances were meant for wealthy society that wanted some simpler dances to enjoy.








The Instruments


Vielle
Also known as: Medieval Fiddle, Fidule

The vielle is the Medieval ancestor of the modern violin. It is played with an arching bow (it resembles the shape of a bow that you would shoot arrows with, thus the name). Historically, vielles were strung with 4, 5, and sometimes even 6 strings made of gut. The modern violin is similar in length, but the vielle is somewhat wider and has a deeper body. The sound is dark and earthy. A player can play the instrument like a violin (with the base of the vielle tucked under the chin), reversed like a cello, or with the base of the instrument resting in the crook of the elbow against the chest.
My vielle is a historical reproduction by luthier, Matthew Farley, and has 4 strings.


Kantele
Also known as: Baltic Psaltery

A traditional instrument from Finland with a bell-like tone. It is traditionally strung with horsehair or wire, and is played with the fingers by strumming or plucking the strings. In Finnish mythology, the original kantele was a magical instrument made from parts of living things (the instrument's body from the jawbone of a pike fish, the strings from the hair of a maiden, etc) and could charm all the world's creatures when played. Kanteles can have anywhere from 5 to 40 strings, depending on the make.
My own kantele is a 15 string wire-strung kantele.


Recorder
Also known as: Blockflöte, Flauto Dolce

The recorder is a type of end-blown flute. It comes from the family of fipple flutes (or block-flutes) which contain a block in the mouthpiece to constrict the air flow. It was a major instrument in medieval times and enjoyed lots of popularity all the way up through the early 18th century. Today it is played by musical historians and school children alike! You can find recorders in around 8 different sizes. Some are small enough to hide in your pocket, and others are much taller than a man and require some truly skilled lungs to play. The sizes you can find (from smallest to larges) are: Garklein, Sopranino, Soprano, Alto, Tenor, Bass, Greatbass, Contrabass, Subgreatbass, and Subcontrabass.
I have the Sopranino through Tenor sizes - one wooden and the others, plastic.


Hammered Dulcimer
Also known as: Hammered Psaltery, Salterio

The hammered dulcimer is a type of psaltery with two of each string pitch, strung in unison. Instead of plucking the strings with fingers as you would with a traditional psaltery, the strings are struck with thin wooden mallets. These mallets are usually bare, but can also be covered with thin pieces of leather or felt to soften the edge of the sound. Types of hammered dulcimers are found all over the world in various forms. The santur, cimbalom, and khim are all types of hammered dulcimers.
I use a beginner's dulcimer, which has a lovely tone all the same, and bare wooden mallets.


Tin Whistle
Also known as: Penny Whistle, Feadog Stain, Tin Flageolet

The Tin Whistle is a 6 hole end-blown flute, and like the recorder, is a type of fipple-flute. It originated in the British Isles, and is primarily used to play traditional Celtic music. The first tin whistles appeared in 1840, and could be purchased for a penny each (their nickname, 'penny whistle' is in reference to this). Mass produced and widespread due to their price and availability, they quickly gained extensive popularity as a household instrument.
Modern tin whistles can be found in an array of materials, including brass, nickel, and plastic.
I own plastic tin whistles which are considerably louder than their metal counterparts!


Lever Harp
Also known as: Celtic Folk Harp, Troubadour Harp

The lever harp is used traditonally in the British Isles. It is a medium-sized harp with levers attached, that, when raised or lowered, can change the pitch of the string by a half-tone. It is designed for music with relatively few accidentals (sharps and flats outside of a specific key) and so is perfect for folk and traditional Celtic music.
My harp has 34 strings and levers on my C's, F's, and B's only!


Ocarina

The Ocarina is a type of woodwind instrument, typically rounded in shape, with a sweet warbling tone. You can find them made out of a variety of materials, including clay and porcelain, wood, plastic, bone, and metal. It has very ancient ancestry with versions of the instrument dating back almost 12,000 years!
In the 19th century, an instrument maker in Bologna, Italy, formally named the instrument 'ocarina' which means 'little goose', and transformed it into the sweet potato-shaped ocarina that is so common today.

My alto and soprano ocarinas are both 12-holed instruments, and are made of clay and porcelain.


Lute

Lutes are guitar-like plucked instruments with deep round backs. The strings are usually in groups of two, and are known as 'courses'. In the higher-pitch courses, the two strings are tuned in unison, but on lower courses are tuned an octave apart. The very top course is usually kept as a single string, and that is called the 'chanterelle'. Since it is a main melody string, this string is often at a higher tension than other strings.
The lute has ancient ancestry and relatives across many cultures. The European Lute, Arabic Oud, Chinese Biwa and Pipa, Japanese Shamisen, Persian Tambur, Greek Bouzouki, African Xalam, Russian Balalaika, and Iranian Saz are all descended from the same ancient instruments.
My lute was made by luthier Lawrence K. Brown and has 15 strings (8 courses).


Baroque Guitar

The Baroque Guitar is the 16th century version of the Modern Guitar. It is small and delicate and generally has 9 strings grouped into 5 'courses' Like lutes, the baroque guitars tend to be ornately decorated with inlays, carved rosettes, and special carvings. Playing technique is also decidedly more lute-like than modern guitar-like.
Baroque guitars made by luthiers are extremely expensive, so I have a factory-made instrument. While the sound is a bit muted compared to luthier-crafted instruments, it has a sweet and lovely voice.


Gothic Harp
Also known as: Tudor Harp

Gothic harps are the version of harp most prevalent in the 14th through 16th centuries. They are relatively small compared to modern harps, have a very narrow appearance, and are extremely light and easy to carry. Their distinctive sound works extremely well with lute and other plucked instruments. Most of of these harps had an average of 24 strings made of gut.
My Gothic harp has 19 nylon strings.



Violin
Also known as: Fiddle

The smallest of the modern family of bowed stringed instruments, the violin is an extremely versatile instrument, capable of fitting into almost any musical situation. It can be strung with strings made of steel, gut, and synthetic core materials, depending on the sound that the violinist is wanting to achieve. The modern violin was refined from its older stringed ancestors by Italian instrument makers starting in the 16th century. Many of the instruments made by these pioneering luthiers (including Stradivarius, Amati, and Guarneri) are still in existence, and, though fragile, are still played. Older violins tend to be sought after for their rich, unique voices, due to the aging of the materials.
My violin is currently 115 years old and was made by luthier M.C. Harris in 1908


Bodhrán

The Bodhran is a type of frame drum native to Ireland. It is played with a two sided wooden beater, known as a 'tipper'. It can also be struck with the hands. Some bodhrans have crossbars inside to allow for easier holding while playing. Bodhráns with no crossbars enable a player to lay their hand against the underside of the drumhead to adjust timbre and volume while playing with the tipper.
My bodhran has crossbars and I use a wooden tipper that my uncle made!


Mountain Dulcimer
Also known as: Appalachian Dulcimer, Fretted Dulcimer, Lap Dulcimer

The Mountain dulcimer is a fretted instrument native to the United States. It has a very long fingerboard which runs the length of the instrument, and is played with a plectrum, pick, or with the fingers. Traditional Mountain Dulcimers were fretted in a diatonic scale and were not capable of producing accidentals, but modern dulcimers can be found in both diatonic and chromatic forms.


Kalimba
Also known as: Mbira, African Thumb Piano

The Kalimba is the modern descendent of the mbira, a traditional African instrument. It is played by holding the instrument in both hands and plucking the tines with the thumbs.
The type of kalimba that I play was developed by Hugh Tracey in the late 1950's. He took the traditional mbira and re-invented it with the Western diatonic scale in mind.


Tambourine

The Tambourine is a small frame drum with jingles attached to the sides. You can find tambourines with drumheads and without. It is primarily played with the hands. The instrument originated in the ancient Fertile Crescent area, and was traditionally used in religious ceremonies. The Daf, Riq, Pandeiro, Kanjira, and Timbrel are all forms of the tambourine found in other cultures.
My tambourine is 12 inches in diameter and has a drumhead.


Glockenspiel
Also known as: Concert Bells, Carillon, Orchestral Bells

The glockenspiel is a xylophone-like instrument made out of metal, with a pure bell-like tone. The name is German - glocken, meaning bells, and spiel, meaning play. It is played by striking the keys with mallets, which have heads made out of either metal, rubber, or plastic, depending on the sound that the player is trying to achieve. A rubber-headed mallet will produce a softer tone, whereas mallets with metal heads produce a very brilliant tone suitable for orchestral use.


Frame Drum and Tar
Also known as: Shaman Drum, Bendir

A frame drum is any drum that is wider than it is deep. There are hundreds of different sorts of frame drums found in different cultures all over the world. It is amongst the most ancient of instruments. These drums are perfect for playing with the hands, but can also be played with a soft mallet. Sometimes jingles are attached to the drum for extra effect (a tambourine is also considered a frame drum).

I use a large 22 inch diameter frame drum, and a Tar, which is a medium sized frame drum from North Africa with a slightly deeper depth.