Seasons of love and song / Trobairitz

---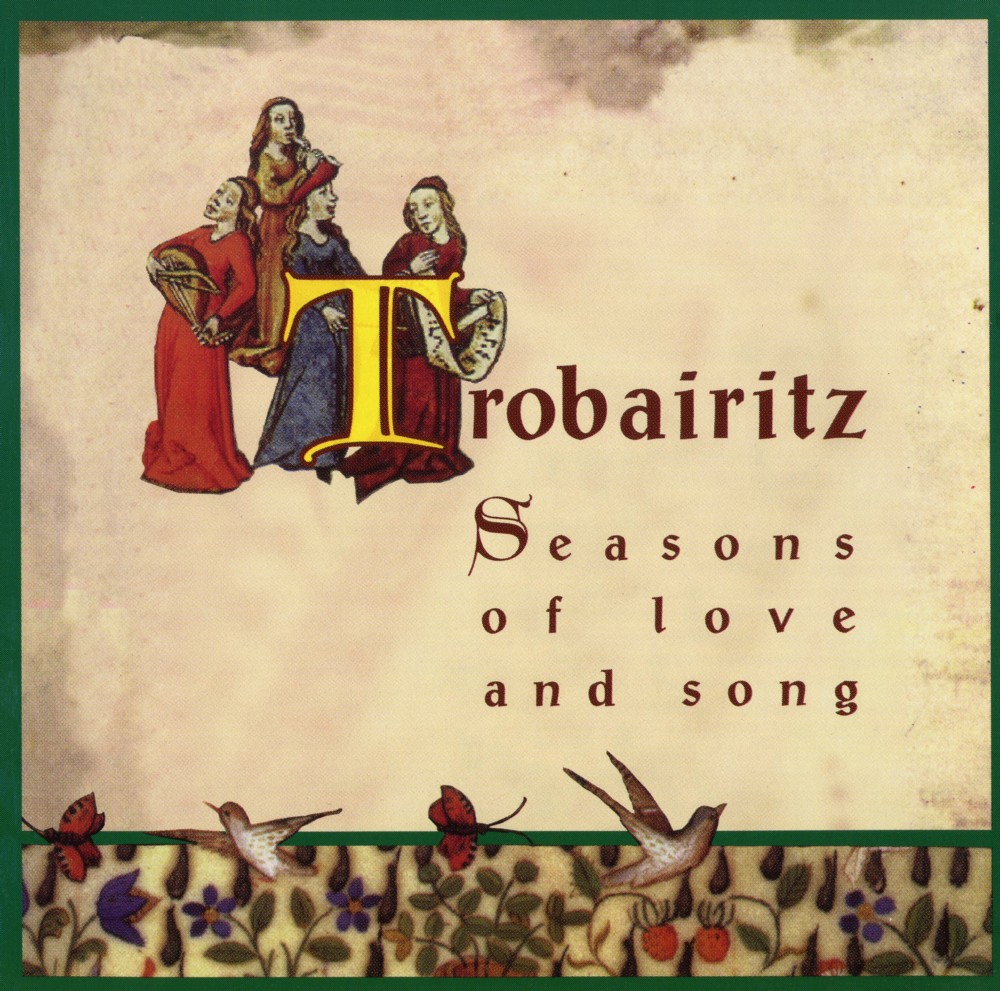 discogs.com | worldcat.org
ARKTOS 99034
1999
[65:40]










Spring



1.

Kalenda maya

[2:38]


Raimbaut de Vaqueiras

(c. 1155-1207)

2.

Quant voi la fleur

[1:11]
Anonymous (13th century)

3.

Can l'erba fresch' e.lh folha

[4:10]


Bernart de Ventadorn

(c. 1125-1180)

4.

Au renouvel du tens

[4:03]
Anonymous (13th century)

5.

Le doulz prinstemps

[2:08]
Anonymous (c. 1380)




Summer



6.

Under der linden

[3:09]


Walther von der Vogelweide

(c. 1170-1230)

7.

En ce gracieux tamps

[3:27]


Jacob Senleches

(1378-95)

8.

Alle psallite cum luya

[1:54]
Anonymous (13th century)

9.

A chantar mer

[4:40]


La Comtessa de Dia

(fl. 1212)

10.

Quiconques veut clamors

[5:55]
Anonymous (c. 1380)


Autumn



11.

Lancan vei la folha

[3:52]


Bernart de Ventadorn

(c.1125-1180)

12.

Quant je parti

[4:15]
Anonymous (13th century)

13.

Miri it is while sumen ilast

[2:24]
Anonymous (c. 1230)

14.

Chanterai por mon coraige

[4:27]
attr.

Guiot de Dijon

(c. 1189)
also attr.

Dame de Fayel

(late-12th. century)




Winter



15.

La flours d'iver

[3:55]


Guillaume le Vinier

(c. 1190-1245)

16.

Mout m'abelist quant je voi revenir

[1:46]


Maroie de Dregnau de Lille

(13th century)

17.

Gabriel fram heven-king

[5:07]
Anonymous (c. 1250)

18.

Thys yool

[1:12]


Edmund

(mid-13th century)

19.

Je requier a tous amoureux

[2:26]


Guillaume Dufay

(1398-1474)

20.

Nouvele amor qui si m'agrée

[1:46]


Rogeret de Cambrai

(13th century)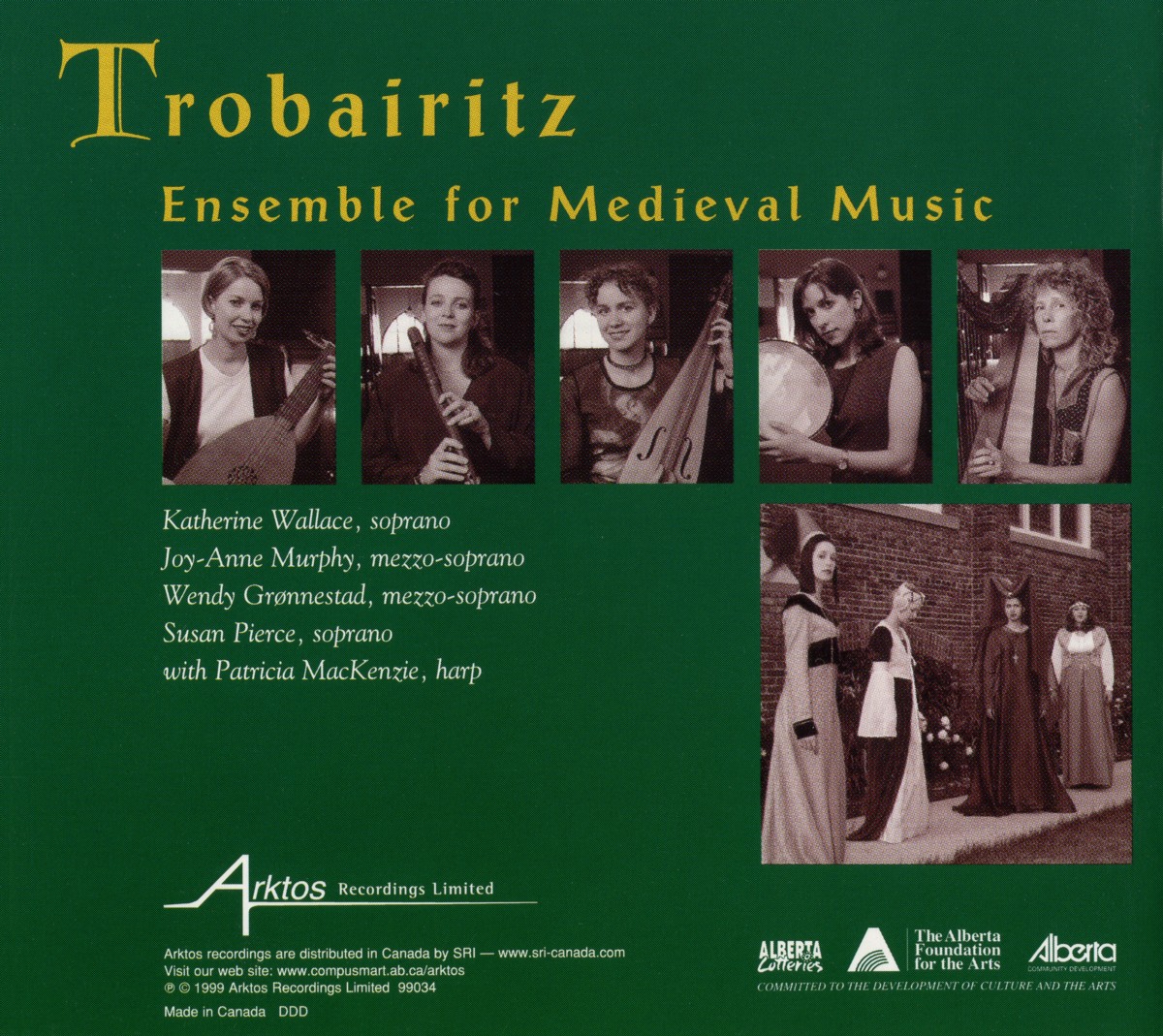 Trobairitz: Ensemble for Medieval Music

Trobairitz is an ensemble of active Edmonton musicians dedicated to the performance of Medieval music. Just as their name means a female troubadour, or composer from twelfth-century Provence, so their performance places particular emphasis on Medieval songs by and about women. Though their principal medium is the voice, the group incorporates the use of a variety of wind, string and percussion instruments suited to the performance of early repertoire, including recorders, lute, saz, dulcimer, crumhorns and cornemuse. In their interpretation of the Medieval sources, Trobairitz balances an approach which aims for as much historical accuracy as possible while investing these time-honoured songs with a freshness and vitality that brings them into an immediate accessibility for a modern audience.
The group has been performing together since 1997, and has produced numerous concerts including a fully staged production of Hildegard of Bingen's music drama Ordo Virtutum. On this recording founding members Katherine Wallace, Joy-Anne Murphy, Wendy Grønnestad and Susan Pierce are joined by harpist Patricia MacKenzie.


Trobairitz: Ensemble pour musique médiévale

L'ensemble Trobairitz, basé à Edmonton, est un groupe de musiciens qui s'est dédié a la performance de la musique du Moyen-Age. Tout comme l'indique le nom –trobairitz, qui en ancien occitan désignait une femme-troubadour ou femme-compositeur – l'ensemble Trobairitz cherche surtout a mettre en valeur les chansons du Moyen-Age dont le sujet est la femme, ou écrites par des femmes. Bien que le médium principal de ce groupe soit la voix, l'ensemble utilise de plus une variété d'instruments a vents, à cordes ainsi que des percussions, tous adaptés a jouer une musique ancienne. Parmi les instruments utilisés, on trouve les flûtes à bec, le luth, le tympanon, le saz, le cromorne, et la cornemuse. Avec ces sources médiévales, Trobairitz cherche un équilibre entre une interprétation qui reste autant que possible fidèle a la vérité historique, tout en infusant dans ces chansons, qui ont survecu plusieurs siècles, une fraîcheur et une vitalité qui les rendent accessible à l'auditeur moderne. L'ensemble, formé en 1997, a présenté de nombreux concerts, en particulier une production pour la scène de Ordo Virtutum, drame musical de Hildegarde von Bingen. Dans le présent enregistrement, la harpiste Patricia MacKenzie est venue se joindre aux membres originaux de Trobairitz: Katherine Wallace, Joy-Anne Murphy, Wendy Grønnestad et Susan Pierce.



Acknowledgements

Recorded April 1998 at Holy Trinity Anglican Church in Edmonton, Alberta
Recording, Editing, Mastering Garth Hobden
Producers John Mahon, Katherine Wallace
Notes Katherine Wallace
Graphic Design Michael Burrows
Translation Elizabeth Brodovich
Instruments courtesy of University of Alberta Department of Music, Centre for Ethnomusicology, Herb Taylor, Bill Damur; harp made by John Dorman
Photography Derryl Murphy
Thank-you to Darryl, Talia, George & Nadine; Ada & Gordon, Mike, Mark, Robert; David, Margaret & Roy, Gary; and Don, Erin & Noel; for your love and support.



Arktos Recordings Limited
Arktos
Arktos recordings are distributed in Canada by SRI — www.sri-canada.com
Visit our web site: www.compusmart.ab.ca/arktos
℗ © 1999 Arktos Recordings Limited 99034
Made in Canada DDD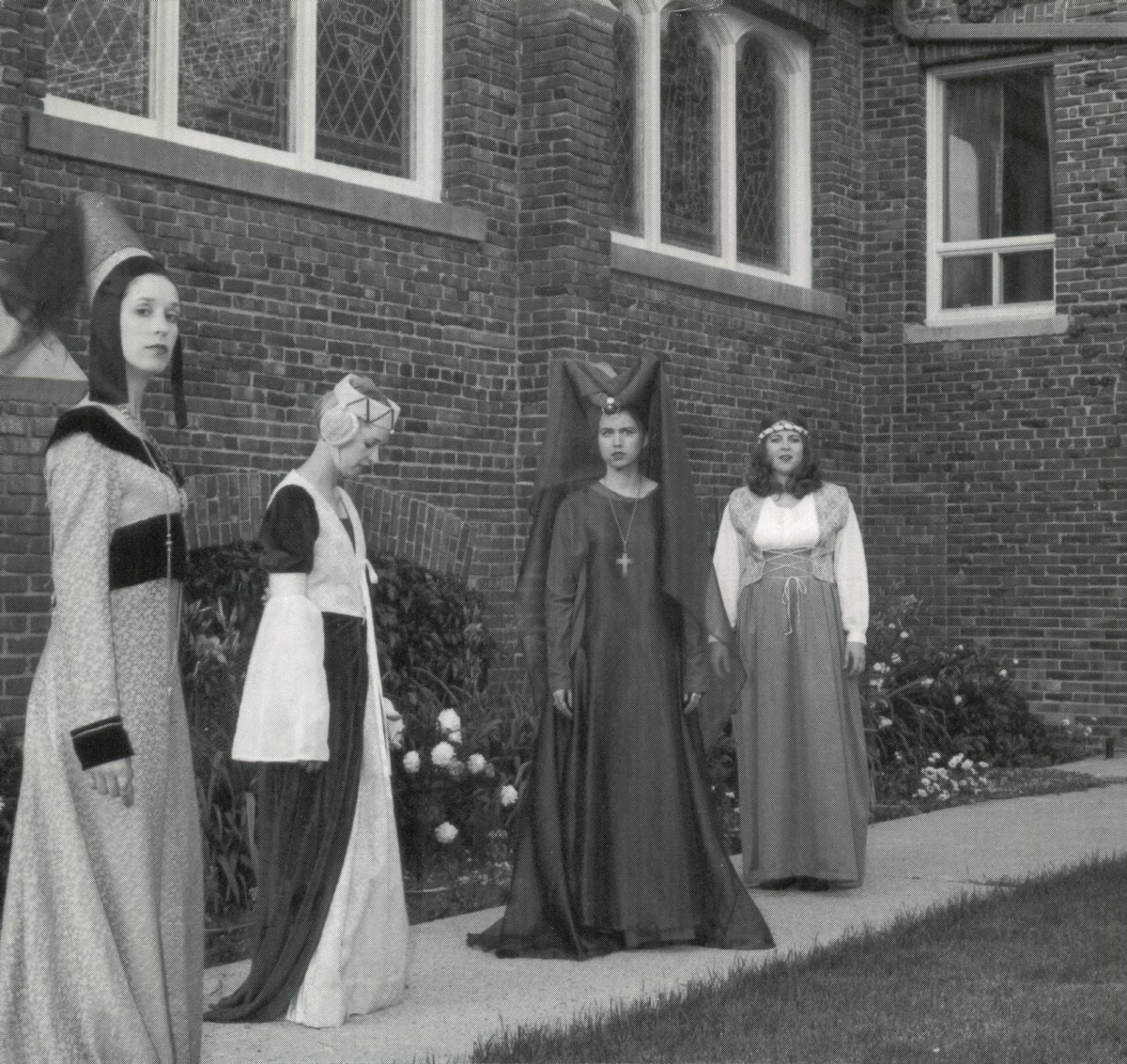 The Seasons and Love

The Cycle of the Seasons was a guiding force for men and women of the Middle Ages; it measured their days and years, dictated their work and recreational activities and informed their understanding of life's change and continuation. To some extent the seasons and their climactic changes still affect us in a very similar way; yet in a feudal, agrarian world devoid of the modern technology with which we combat Nature's power — without central heating, plumbing, convenient food supplies or easy means of travel — the seasonal wax and wane exerted a deeper influence than it does today, dominating even the smallest facet of Medieval life. It is no wonder then that so many European songs from the eleventh to the fourteenth centuries begin with references to nature, praising — or cursing — the seasons that dominate Medieval lives and art. Among courtiers, seasonal elements such as spring's budding growth or the falling leaves of Autumn become elaborate metaphors within the game of courtly love. The preeminent troubadour Bernart de Ventadorn begins nineteen of his forty-three songs with effusive praise of nature, ten of them referring to specific seasons. In less courtly circles, the people's reliance upon the natural world is evoked in the vibrant joy and the harsh reality of popular songs such as Miri it is.

Yet for the Medieval song-writer there is a force stronger than weather or climate, an all-encompassing element which occupies the mind and heart no matter what the season, and this is love. Whether the cold frost of winter or summer's stifling heat provides artistic stimulation, love is the poetic topic of choice across Medieval Europe. From Provence to Germany to England, love's themes infuse courtly rondeaux and virelais, earthy pastourelles, lively estampies, beautiful monodic cansos and exquisite polyphonic motets. The Medieval troubadour or trouvère worked hard to maintain a reputation as not only a gifted artist but more importantly a great lover; the equation of love and song is a conventional conceit throughout Medieval poetry. However, a poet's love does not change with the seasons, mirroring nature's alternately lush and barren landscapes; rather, his or her view of the seasons changes with love. Although some familiar associations, such as the juxtaposition of spring-time and new love, hot summer nights and seduction, or autumn and parting lovers, remain popular in Medieval songs, they are not always strictly adhered to. When the composer is happy in love, spring and winter alike will seem beautiful and inspiring; yet when love is far away or unrequited neither summer's warmth nor autumn's splendour can console the poet-lover.

More than change and contrast in the earth's beauty and human love, nature's unwavering renewing of the seasons accorded continuity to the Medieval world view, balancing ever-present reminders of mortality with the assured perpetuation of life. Thus the end of the old year and the beginning of the new were heralded with Christmas and Yuletide celebrations which brought the cycle of the seasons full circle, and reassured that winter would give way to spring once again. So in love as in life, as Guillaume Dufay reminds us, nature's unbroken cycle provided true hope for a better year to come.



Les Saisons et l'Amour

Le Cycle des Saisons en tant que force naturelle avait très grande importance pour la population du Moyen-Age; c'était ce qui mesurait les jours et les années, déterminait les périodes de travail et de loisirs, et était la raison des changements de la vie et de sa continuité. En fait, les saisons et les changements climatiques continuent a nous toucher d'une façon similaire. Pourtant dans la société agraire féodale, dépourvue de la technologie moderne dont nous disposons pour combattre les forces de la nature, – sans chauffage central, ni plomberie, ni accès facile à la nourriture ou encore au voyage – l'arrivée et la disparition des saisons exerçaient une influence plus profonde que maintenant, dominant jusqu'aux aspects les plus insignifiants de la vie médiévale. Il n'est donc pas étonnant que tant de chansons européennes du onzième au quatorzième siècle commençaient avec une référence à la nature, en louant (ou en maudissant) les saisons qui dominaient la vie et les arts médiévaux. A la cour, les activités saisonnières – le bourgeonnement au printemps ou la perte des feuilles en automne – devenaient des métaphores élaborées dans le jeu de l'amour courtois. Dix-neuf des quarante-trois chansons du prééminent troubadour Bernart de Ventadour commencent avec un ardent hommage a la nature, et dix font référence explicite à l'une des saisons. Dans les milieux plus simples, les interactions du peuple avec le monde naturel – à la fois association intime et dépendance – se manifestaient par une joie éclatante ou par une dure réalité exprimées dans des chansons populaires telles que Sumer is icumen in et Mri it is.

Cependant il existait, pour le compositeur de chansons au Moyen-Age, quelque chose déplus puissant que le beau ou le mauvais temps ou les saisons, et c'était la force de l'amour. Même si la froideur de l'hiver ou la chaleur étouffante de l'été étaient source de stimulation artistique, l'amour reste le topos poétique par excellence de l'Europe médiévale. De la Provence jusqu'en Allemagne, en passant par l'Angleterre, les rondeaux et les virelais de la cour, les pastourelles robustes, les estampies vives, les belles cansos monodiques et les motets polyphoniques exquis sont tous infusés du thème de l'amour. Le troubadour ou le trouvère médiéval s'exerçaient à maintenir leur réputation de grand artiste, mais plus notablement leur réputation de grand amant: l'équivalence entre l'amour et la chanson est une conception conventionnelle qui dominait la poésie médiévale. Pourtant l'amour du poète ne change pas avec les saisons afin de s'accorder avec un paysage foisonnant ou dénudé; sa perception des saisons au contraire s'accorde avec sa perception de l'amour. Bien que quelques unes des associations conventionnelles – par exemple, la juxtaposition du printemps avec le début de l'amour, les nuits d'été chaleureuses avec la séduction, l'automne avec la séparation des amants – soient toujours populaires dans les chansons médiévales, ce ne sont pas des conventions auxquelles se tiennent strictement les compositeurs. Si le poète est heureux en amour, le printemps aussi bien que l'hiver deviennent beaux, et l'inspire, mais s'il se trouve loin de son amour, ou se trouve repoussé, ni la chaleur de l'été ni les splendeurs de l'automne ne suffiront a le consoler.

Plus que les changements et les contrastes des beautés du monde naturel et de l'amour, c'est le renouvellement inaltérable des saisons avec ce rappel constant à la fois de la mortalité et de la perpétuation de la vie qui apportait continuité dans la vision que le Moyen-Age avait de son monde. C'est pourquoi la conclusion de l'année en cours et l'annonce de la nouvelle année se faisaient proclamer par les fêtes de Nöel et du Nouvel An, assurant la fermeture de la boucle du cycle des saisons et assurant aussi le passage de l'hiver au renouveau du printemps. Ainsi en amour comme dans la vie, nous rappelle Guillaume Dufay, le cycle incassable de la nature apporte le "Vrai Espoir" pour une meilleure année a venir.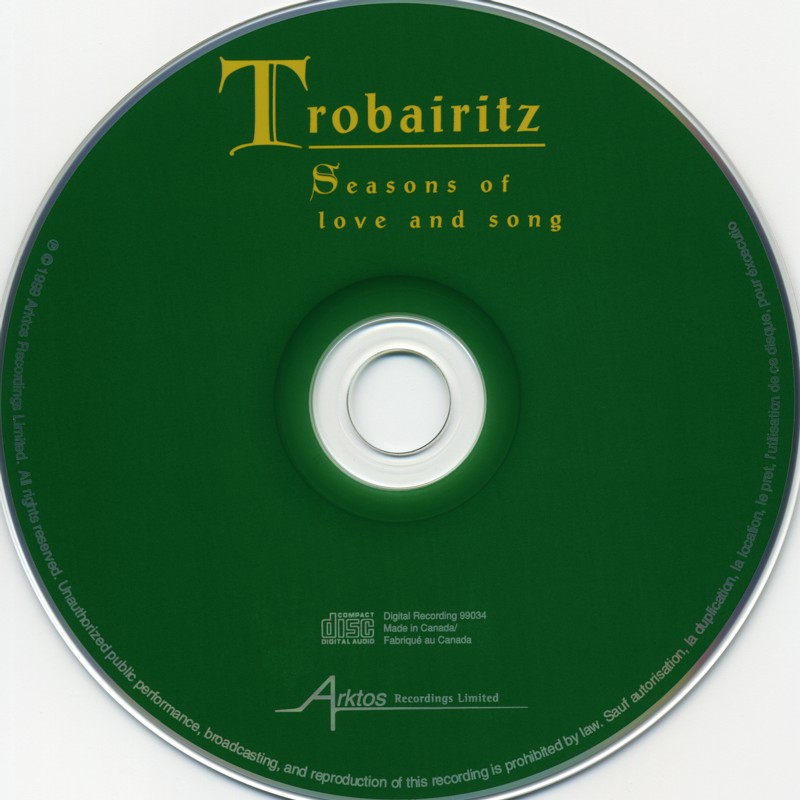 Kalenda maya
Raimbaut de Vaqueiras (c. 1155-1207)
Paris, Bibliothèque nationale, MS fr. 22543, f. 62.
This lively, rhythmic song was created when the composer troped (added new words to) a popular estampida, or stamping dance, which he heard played on a vielle.
Cette chanson rythmée et vive, emploie une mélodie d' estampida (fr. estampie: frapper le sol avec le pied) originalement jouée à la vielle; le compositeur y a ajouté de nouvelles paroles (trope).


Quant voi la fleur
Anonymous/Anonyme (13th century/XIIIe s.)
Montpellier, Faculté de Médecine, MS H 196, ff. 264v-265.
The familiar peasant hero, Robin, figures in this delightful pastourelle from the Montpellier Codex, the largest extant repertory of secular thirteenth-century polyphony.
Robin, le bel amoureux de la petite bergère est le héro de cette pastourelle tirée du Codex de Montpellier, le plus grand recueil de musique polyphonique séculaire du treizième siècle.


Can l'erba fresch' elh folha
Bernart de Ventadorn (c. 1125-1180)
Paris, Bibliothèque nationale, MS fr. 22543, f. 57v.
This hauntingly beautiful ode to spring, by one of the most celebrated troubadours of Provence, clearly demonstrates the literary convention of the artist who finds inspiration in spring and love's awakening.
Cette superbe ode au printemps écrite par l'un des plus célèbres troubadours provençaux, est un bel exemple d'usage par l'artiste d'un thème conventionnel: l'éveil de l'amour avec l'apparition du printemps.


Au renouvel du tens
Anonymous/Anonyme (13 th century/XIIIe s.)
Paris, Bibliothèque de l'Arsenal, MS 5198, ff. 340-1.
This light-hearted pastourelle describes the kind of argument that may have taken place in Countess Marie de Champagne's famed court of love, where ladies and noblemen congregated to debate matters of the heart.
Une pastourelle légère, un débat qui aurait pu se dérouler à la célèbre cours de Marie de Champagne, où les nobles dames et seigneurs se réunissaient pour juger des affaires du coeur.


Le doulz prinstemps
Anonymous/Anonyme (c. 1380)
Florence, Biblioteca nazionale, MS Panciatichi 26, f. 40v.
Mannerist motets such as this one often combine musical dissonance with more obscure poetry and were revered for their artistic romanticism.
Ce genre de motet écrit dans un style maniéré présente souvent des dissonances musicales en combinaison avec un choix de poésie assez obscure; ce genre était apprécié pour son romantisme.


Under der linden
Walther von der Vogelweide (c. 1170-1230)
Paris, Bibliothèque de l'Arsenal, MS 5198, f. 366.
The greatest of the Minnesingers, Walther von der Vogelweide learned his art in Vienna and gained the patronage of three emperors through his powerful political songs. This suggestive love song is actually a contrafacta (it borrows the melody) of an anonymous trouvere chanson.
Le plus célèbre des Minnesingers, Walther von der Vogelweide a appris son art et Vienne, et pendant sa carrière a gagné le patronage de trois empereurs grâce a la force de ses chansons politiques. Cette chanson d'amour qui ne dit pas tout, est en fait un contrafactum; c'est à dire, la mélodie emprunte à une chanson d'un trouvère anonyme.


En ce gracieux tamps
Jacob Senleches (1378-95)
Paris, Bibliothèque nationale, nouv. acq. fr. 6771 f. 58v.
In this enchanting onomatopoeic virelai the nightingale, messenger of love, competes with the cuckoo, whose cry is a sign of unfaithfulness.
Un virelai ravissant caractérisé par l'utilisation d'onomatopées: le rossignol, messager d'amour, fait compétition avec le coucou dont le chant est signe d'infidélité.


Alle psallite cum luya
Anonymous/Anonyme (13th century/XIIIe s.)
Montpellier, Faculté de Médecine, MS H 196, ff. 392r-v
In a Medieval liturgical trope, newly composed words and music are added to an existing official chant, especially to the Alleluia section of mass. In this case, new text has been inserted right in the middle of the word "Alleluia!"
Dans un trope du genre liturgique, mots et musique sont composés pour être insérer dans un chant déjà en place; par exemple dans l'Alleluia de la messe. Ici, le nouveau texte se situe entre les syllabes du mot Alleluia.


A chantar m'er
La Comtessa de Dia (fl. 1212)
Paris, Bibliothèque nazionale, MS fr. 844, f. 204.
Female troubadours, or trobairitz as they are called in old Provençal, drew on the conventions of the male tradition but transformed them to suit their own more direct and realistic poetry. While we have texts for over thirty trobairitz songs, only the Comtessa de Dia's A chantar m'er survives complete with its original melody.
Les femmes-troubadours (trobairitz en ancien occitan) suivaient les mêmes conventions que des troubadours, mais les ont adaptées pour produire une poésie plus directe et plus réaliste. Il nous reste les textes de plus de trente chansons écrites par les trobairitz; A chantar de la Comtessa de Dia est la seule à nous parvenir avec la mélodie originale.


Quiconques veut d'amors joir
Anonymous/Anonyme (c. 1380)
Cambrai, Bibliothèque communale, MS 1328, f. 8r.
This exquisite virelai by an anonymous French composer demonstrates the highly flexible lyricism often found in late fourteenth-century polyphony.
Ce virelai exquis d'un compositeur français anonyme démontre le lyrisme et la flexibilité qu'on trouve souvent dans la musique polyphonique du quatorzième siècle.


Lancan vei la folha
Bernart de Ventadorn (c. 1125-1180)
Paris, Bibliothèque nationale, MS fr. 22543, f. 58.
Another canso by the master troubadour, Lancan vei la folha may have been written for Bernart's patron and reputed mistress Eleanor of Acquitaine who had just left Provence to marry Prince Henry of England. Some biographical accounts record that Bernart's grief for her absence was so great that he entered a monastery.
Une autre canso du maître troubadour; il se peut que cette chanson ait été composée pour Aliénor d'Aquitaine qui, selon la tradition patronait Bernart tout en étant sa maîtresse. Aliénor venait tout juste de quitter la Provence pour épouse le prince Henri d'Angleterre. Plusieurs biographes prétendent que la douleur éprouvée par Bernart à la suite du départ d'Aliénor était insupportable et l'a poussé passer le reste de ses jours dans un monastère.


Quant je parti
Anonymous/Anonyme
(13th century/XIIIe s.)
Montpellier, Faculté de Médecine' MS H 196, ff. 242v-243.
This compelling song, with its graceful, sad motetus and an instrumental tenor derived from a Latin chant, is one of a large collection of two-part motets in the Montpellier codex.
Cette chanson intéressante est un motetus gracieux et triste avec accompagnement d'un ténor instrumental. Elle a pour source un chant latin, et fait partie d'un vaste recueil de motets pour deux voix trouvé dans le codex de Montpellier.


Miri it is white sumer ilast
Anonymous/Anonyme (c. 1230)
Oxford, Bodleian Library, MS Rawlinson G. 22, f. 1v.
We can easily relate to this popular Middle English lyric which describes a peasant's dismay at the onset of harsh winds and cold weather.
Il est facile de comprendre la consternation du paysan lorsqu'il voit arriver le froid et le mauvais temps. Chanson séculaire en anglais moyen.


La flours d'iver
Guillaume le Vinier (c. 1190-1245)
Paris, Bibliothèque nationale, MS fr. 20050, f. 52r.
This chanson in conventional aab form extols the beauty of nature's harshest season. The 'Lord Nonesuch' in the envoi is a pseudonym for the poet's beloved.
Cette chanson construite d'après un schéma conventionnel aab, glorifie la beauté de la plus dure des saisons. Le seigneur Sans-pareil (signeur Nomper) qui s'addresse l'envoi est un pseudonyme pour la bien-aimée du poète.


Mout m'abelist
Maroie de Dregnau de Lille (13th century/XIIIe s.)
Paris, Bibliothèque nationale, MS fr. 844, f. 181.
One of the few female trouvères for whom music is extant, Maroie de Dregnau de Lille's chanson has just one seven-line strophe preserved in Le Manuscrit du Roi.
Cette chanson de Maroie de Dregnau de Lille, une des rares trouvères femmes dont la musique nous est parvenue, comprend une seule strophe de sept vers. Elle est conservée dans le Manuscrit du Roi.


Gabriel fram heven-king
Anonymous/Anonyme
(c .1250)
London, British Library, MS Arundel 248, f. 154.
This Middle English depiction of the annunciation and Virgin birth was popular enough to produce over five variant versions, including one in Latin, and is even mentioned in Chaucer's Miller's Tale.
Cette chanson sur l'Annonciation à la Vierge écrite en moyen anglais est très connue; on en connaît au moins cinq variantes, dont une en latin. La chanson est mentionnée dans un des contes (Le Conte du Meunier) de Chaucer.


Thys yool, thys yool
Edmund (c. 1250)
Cambridge, University Library, MS Additional 5943, f.162.
The making of new year's or, in this example, yuletide resolutions dates back to the Middle Ages and was a common addition to the festive celebrations which marked this season.
Former de bonnes intentions à l'occasion du Nouvel An est une tradition qui date du Moyen-Age, et se pratiquait couramment pendant les fêtes.


Je requier a tous amoureux
Guillaume Dufay (1398-1474)
Oxford, Bodleian Library, Cod. Canonici Misc. 213, f. 139.
This charming rondeau for new year's day demonstrates the gifted fifteenth-century composer Guillaume Dufay's skill at reinventing a late Medieval genre with beautiful, romantic sensibility.
Ce rondeau charmant à l'occasion du Jour de l'An démontre la facilité avec laquelle Guillaume Dufay, compositeur du quinzième siècle, réinvente avec une sensibilité romantique un genre littéraire de la fin du Moyen-Age.


Nouvele amor qui si m'agrée
Rogeret de Cambrai (13th century/XIIIe s.)
Paris, Bibliothèque nationale, MS fr. 845, f. 127r-v.
This bright dance song, which exists in both Occitan and French versions, speaks of a new love which causes the Medieval poet to sing and play a new song.
Il existe une version occitane et française de cette chanson joyeuse composée pour la danse. Il s'agit d'un nouvel amour qui inspire ce poète du Moyen-Age à chanter et à jouer sa nouvelle chanson.