Songs & Dances of the Middle Ages
Sonus Ensemble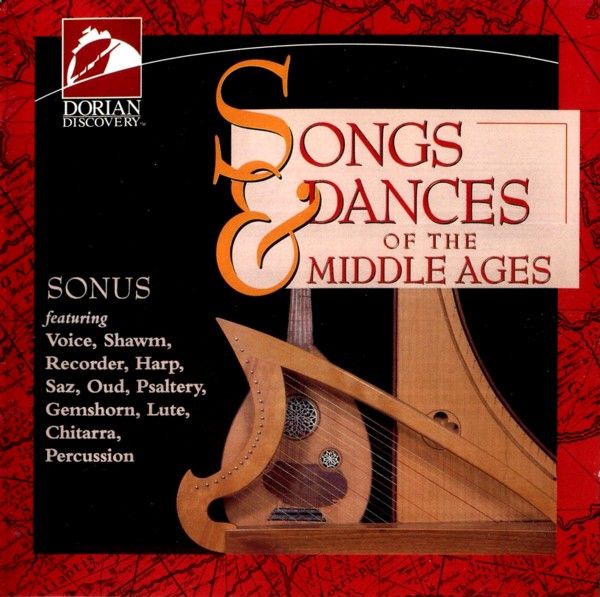 medieval.org
Dorian Discovery DIS-80109
1993








1. [8:28]
Dança · improvised
Lamento di Tristano · Italian (14th c.)
Instanpitta Gaetta · Italian (14th c.)


Galicia
ALFONSO X (13th c.). Cantigas de Santa Maria:
2. A Virgen que de Deus Madre [4:39] CSM 322
3. Quen a omagen [2:57] CSM 353
4. Se ome fezer [3:07] CSM 207
5. A Virgen mui groriosa [2:46] CSM 42

6. Ay ondas [2:09] Martin CODAX (13th c.) ca VII


Tedesca
7. Der kuninc Rudolf [1:07] Der UNVERZAGTE (13th c.)
8. Loibere risen [3:19] Wizlaw von RÜGEN (14th c.)
9. Sic mea fata [2:08] Carmina Burana CB 116
10.Palastinalied [1:23] Walther von der VOGELWEIDE (ca. 1170—ca. 1230)
11. Chançoneta tedesca [2:15] anonymous. (14th c.)


Songs from the Llibre Vermell of Montserrat (Spanish, 14th c.)
12. Stella splendens [2:38] LV 2
13. Mariam matrem [1:46] LV 8
14. Inperayritz [4:06] LV 9
15. [3:27]
Los set gotx LV 5
Cuncti simus LV 6
16. Polorum regina [2:50] LV 7


Chevalerie
17. Can vei la lauzeta mover [2:20] Bernard de VENTADOUR (d. 1195)
18. Quant je voi yver [1:45] Colin MUSET (ca. 1200—ca. 1250)
19. Hocket In seculum [2:04] anonymous French (13th c.)

Guillaume de MACHAUT (1300?—1377)
20. Dame ne regardez pas [3:23]
21. Comment qu'a moy lointeinne [3:33]

22. Reis glorios [3:19] Giraut de BORNELH (12th c.)
23. Estampie real [3:33] anonymous French (13th c.)





[tracks 17-21 as listed in the back cover:
17. Hocket In seculum — 18. Can vei la lauzeta mover — 19. Quant je voi yver
20. Comment qu'a moy — 21. Dame ne regardez pas]




Performed by SONUS

James Carrier:
shawms, recorder, harp, saz #1 2, oud #5 15, psaltery #8, gemshorn, percussion #23

Hazel Ketchum:
voice, saz #1, lute #1 3 19 20, percussion

John Holenko:
chitarra #19, 20, saz, psaltery, oud #14, recorder #13, percussion #5





SONUS

The Sonus ensemble was formed in 1988 to perform the medieval secular repertoire. In search of a "sound picture" they explore a broad spectrum of improvisational and timbral aspects in their presentation of this literature. They were featured at the Piccolo Spoleto series in 1991, '92 and '93.

James Carrier received B.M. and M.M. degrees from Boston University where he studied bassoon and music history. In 1973 he joined the Cincinnati Early Music Consort and toured with that ensemble through 1981. Since 1988 he has been a regular performer on the Piccolo Spoleto Early Music series, performing with Sonus, Charleston Pro Musica, Ensemble Courant, and others. In 1991 he played for the Spoleto production of L'Incoronazione di Poppea.

Hazel Ketchum began her musical career as a drummer, singer and songwriter at age 14. She received her M.M. degree from the University of Southern California, and studied guitar with James Smith and William Kanengiser as well as early instruments and voice with Donna Curry and James Tyler. Specializing in the art of self-accompanied song, she plays lute and classical and historic guitars. She has been featured on radio programs in New York, Los Angeles and on NPR's Performance Today. She has performed across the United States appearing with Los Angeles Musica Viva, Charleston Pro Musica, Early Fusion Consort, Sonus and others.

John Holenko graduated from the New England Conservatory of Music and the University of Southern California, studying guitar and historical performance at both institutions. As a guitarist he regularly performs contemporary music and has premiered numerous compositions. He has performed at the Piccolo Spoleto series with Sonus, Charleston Pro Musica and in concert with Hazel Ketchum. In addition to teaching, he hosts the program Fretwork on South Carolina Public Radio and coordinates his own Fretwork series for Piccolo Spoleto.





INSTRUMENTS HEARD ON THIS RECORDING:
Shawms, Eric Moulder, Gunter Korber
Recorder, Levin-Silverstein
Harp, S. Brook Moore
Psalteries and gemshorn, Ben Bechtel
Lute, C. Satoh
Chitarra, Larry Brown
Oud, Syria (Anon.)
Chitarra Morescha (Saz), Turkey (Anon.)
Percussion, assorted Middle Eastern (Anon.)

SOURCES AND EDITIONS CONSULTED
London, Brit. Mus., Add. 29987.
Paris, Bibl. Nat. fr. 846.
Paris, Bibl. Nat. fr. 22543.
Paris, Bibl. Nat. fr. 844.
Paris, Bibl. Nat., lat. 3719.
Bavarian State Library, Codex latinus 4660
H. Angles: La Música de las Cantigas de Santa María del Rey Alfonso el Sabio, 1943-59.
O. Ursprung: Zeitschrift fur Musikwissenschaft, 4, 1921-22.
I. Pope: "Medieval Latin Background of the Thirteenth Century Galician Lyric", Speculum 9, 1934.
W. Thomas and B. Seagrave: The Songs of the Minnesinger Wizlaw von Rügen, Chapel Hill, 1967.
E. Jammers: Ausgewahlte Melodien des Minnesingers, Tubingen, 1963.
L. Schrade: Polyphonic Music of the Fourteenth Century, Monaco,1956.
Y. Rokseth: Polyphonies du XIII siecle, Paris, 1935-39.
F. Saran, G. Holz, and E. Bernouilli: Die Jenaer Liederhandschrift, Leipzig, 1901.
Carmina Burana, Publications of Medieval Music Manuscripts, Institute of Medieval Music, Brooklyn, 1957.
U. Sesini: La melodie trobadorische nel canzoniere provenzale della Biblioteca Ambrosiana R. 71 Sup., Turin, 1942.


Recorded at Leonard Gibbs Recording Studios, Charleston, South Carolina
Producers: James Carrier, John Holenko, Hazel Ketchum
Engineers: Leonard Gibbs, Marshall Todd
Mastering Engineer: Brian C. Peters
Booklet Preparation & Editing: Brian M. Levine
Graphic Design: design M design W


Manufactured and distributed by The Dorian Group. Ltd. under license from Sonus
© 1993 Sonus ℗ 1993 DORIAN DISCOVERY
Cover photography by Leonard Gibbs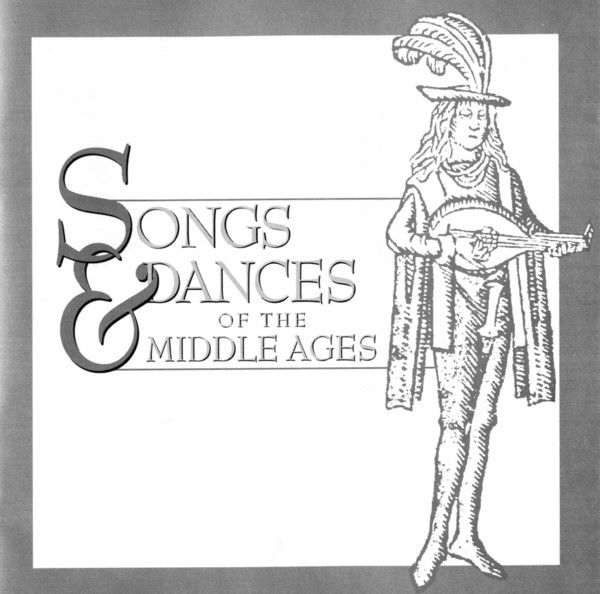 Presented here is a variety of secular music from the middle ages. There are songs of love and chivalry, worship and pilgrimage; and there is music for dancing.

Dance music of the period has come down to us in just a few precious manuscripts. Presuming that we do not possess all of the dance music of the 13th and 14th centuries, we have fashioned dances and purely instrumental interpretations of some originally texted material. The dances contained the Italian source (listed as Add. 29987 in the British Library) are just famous and it has been suggested that they are perhaps a form of chamber music for listening as well as dancing. The first piece, Dança, is not to be found in any historical source but was improvised by the ensemble.

The Galician-Portuguese Cantigas de Santa Maria were assembled at the court of Alfonso X of Castile and Leon. The 400 songs recount the miracles of the Virgin Mary. Of the four cantigas presented here, two are sung and two performed instrumentally. Seven songs by the 13th century composer Martin Codax have been preserved. One of them, Ay Ondas, has a note pattern so suggesting the dance that we have treated it as such.

From the German repertoire we have the romantic nature song Loibere risen and Sic mea fata (Carmina Burana No. 116). Der kuninc Rudolf is a tongue-in-cheek homage to this patron and we use it as a fanfare-prelude to this set. The Palastinalied of Walther von der Vogelweide is such a famous song that we decided to present it as pure instrumental melody, while attempting to preserve the character of the text.

A special collection is the Catalonian Llibre Vermell from the monastery of Montserrat. It contains a pilgrims' book of sacred songs and canons in praise of the Virgin. Three of the monophonic songs, Los set gotx, Cuncti simus and Polorum Regina, are given here along with the two-part Stella splendens and Inperantz, and the tightly-composed three-part Mariam matrem.

The hocket was both a musical technique and a genre, a sort of musical game, and great fun to perform. The word "hocket" is based on the French equivalent of "hiccup", and designates a vocal or instrumental piece in which the phrases of each musical line are broken up by rests, and the resulting gaps are filled in by one of the other lines. This example is constructed over the In Seculum tenor.

The influence of the troubadour movement was felt in other monophonic song of the time and the music of the troubadours and trouvères is richly varied in melodic style and forms. If Guillaume de Machaut is the last in this great tradition, the monophonic Comment qu'a moy is a late great example, while Dame, ne regardez pas gives us Machaut as a brilliant polyphonist.


— James Carrier