Carmina Sanctorum / Rondellus
---
Music from the Middle Ages in Praise of Saints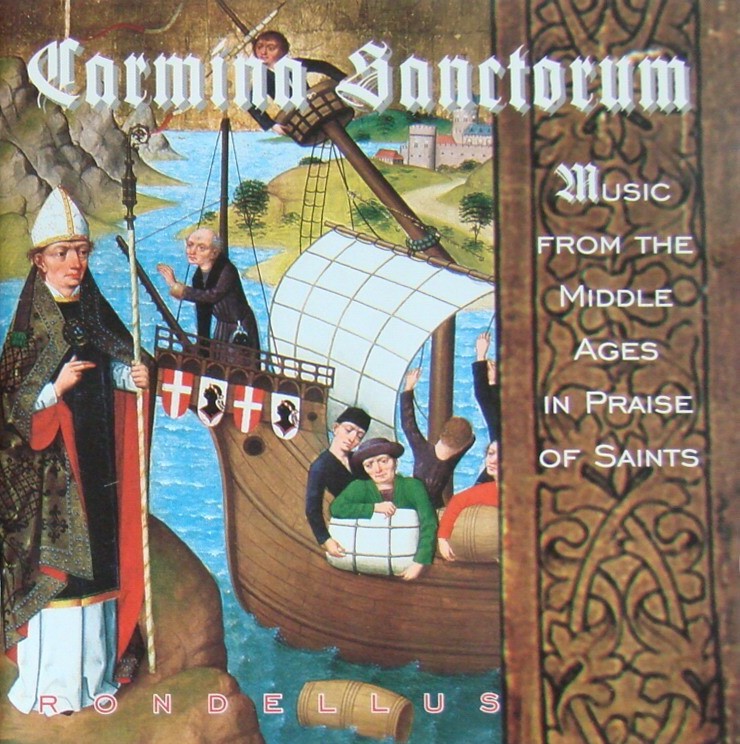 rondellus.ee
RS Records, RS 9804







To St. Nicholas
1. Nicholae presulum [3:18]
Florence Manuscript, 13th c. | voices MS ML VK, symphony MS, fiddle, percussion

To St. Stanislaus
2. O beate Stanislae [2:02]
Cracow Manuscript, 15th c. | voice MS

To St. Mary, the Blessed Virgin
3. Flos ut rosa [3:45]
Florence Manuscript, 13th c. | symphony MS, fiddle, lute, psaltery, percussion
4. Salve sancta parens [5:19]
English, early 14th c. | voices VK MS ML
5. Salve virgo virginum [4:22]
Florence Manuscript, 13th c. | voice MS MS ML EK, symphony, fiddle, psaltery, percussion

To St. James
Codex Calixtinus, Santiago de Compostela, 12th c.
6. Nostra phalanx [3:03] cc 95
voices MS ML
7. Exultet celi curia [3:22] cc 79
voices ML MS EK, symphony MS, fiddle
8. Rex cunctorum [3:21] cc 89*
voices MS ML EK

To St. Mary, the Blessed Virgin
9. Flos vernalis [2:05]
Robertsbridge fragment, c.1320 | positive organ
10. Ave generosa [4:57]
HILDEGARD von BINGEN (1098-1179 | voices MS VK
11. Ave Maria, Virgo virginum [3:39]
Florence Manuscript, 13th c. | voices MS ML, symphony, fiddle, percussion
12. O Clarissima [8:44]
HILDEGARD von BINGEN (1098-1179 | voices MS ML EK, positive organ
13. Edi beo thu [2:05].
English, late 13th c. | symphony MS, fiddle, psaltery, percussion

To St. Hedwig
14 - Beata Hedwigis [2:54]
Cracow Manuscript, 15th c. | voices ML MS EK

To St. Barbara
15. Barbara simplex animo [1:06]
English, early 14th c. | voices MS ML VK

To St. Catherine
16. Letare, mater ecclesia [4:52]
Florence Manuscript, 13th c. | voices MS ML, fiddle, symphony RS

To St. Mary, the Blessed Virgin
17. O Gloriosa Domina [1:00]
Buxheimer Orgelbuch, 15th c | positive organ
18. Pulcherrima de virgine [0:49]
Buxheimer Orgelbuch, 15th c | positive organ
19. Gemma nitens [2:39]
English, 14th c. | voices MS VK

To St. Rupert
20. Quia felix pueritia [2:10]
HILDEGARD von BINGEN (1098-1179 | voice MS, positive organ

To St. Mary, the Blessed Virgin
21. Ave regina celorum [3:13]
Florence Manuscript, 13th c. | voices VK MS ML EK, symphony MS,fiddle,percussion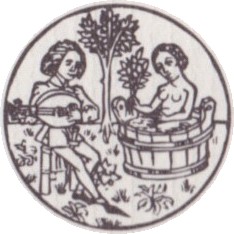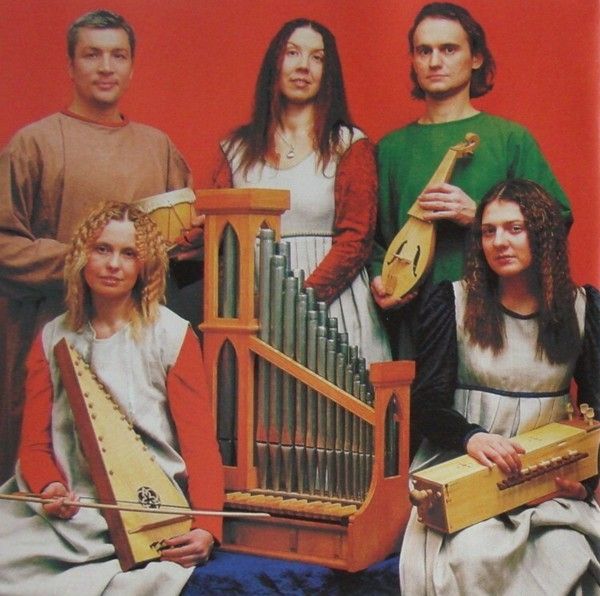 RONDELLUS

Maria Staak, voice MS, symphony MS
Marilin Lips, voice ML
Veikko Kiiver, voice VK
Svea Juckum-Bentz, fiddle
Robert Staak, lute, symphony RS

with guests:
Marju Riisikamp, positive organ
Eve Kopli, voice EK
Tuule Kann, psaltery
Riho Ridbeck, percussion

Recorded at the Tallinn Merchant Guild, from 3rd to 6th February, 1998.
Recording engineer: Maido Maadik
© Ⓟ 1998 Estonian Radio/RS Records
Producer: Robert Staak
Design: LeArt
Cover: Reproductions from the altar painting of St. Nicholas Church, Tallinn, by Herrnen Rode, 15. century
© The Art Museum of Estonia,
used by permission
www.rondellus.ee
Photo of Rondellus by Toomas Volkmann




Carmina Sanctorum
Music from the Middle Ages in Praise of Saints
While they were among us they moved, ate, were tired or sick - like all of us. But their thoughts and deeds were accompanied by a particular light, a gleam of holiness. Invisible to the eye, it retrains incomprehensible, but those who are like them in spirit understand them and the greatness of their deeds. Some of them may be among us even now...

To date the Catholic Church has canonised innumerable such souls. Some lose their importance as time passes, others take their place, but all have stood out from those around them for something special. However, their contemporaries and their environing world have seldom valued these great spirits and their deeds during their lifetime; usually the strength of their light is measured after a passage of years, and them according to officially acknowledged rules. Because of their particular greatness and singularity, they have been numbered among the souls in heaven, where they can extend their protecting hand and power over those they guard.

So that we should not lose contact with the saints who have lived and moved among us, for the most important of their memorial days have been established, and congregations, churches, monasteries, even towns have been dedicated to then. In return, care and protection are sought from them.

Like an inextinguishable sun, the sweet and blessed Holy Virgin shines above this brilliant assembly - Mary the humble mother of God's only begotten son. She, the soul singled out for this great deed even before her birth, was an ordinary mortal. Therefore she knows and feels all the sorrows and the joys of earthly life. For giving birth to the redeemer she was taken up to heaven, where she is seated near her son, so she can intercede with him for us here below and ask for our redemption.


Veikko Kiiver






THE VIRGIN MARY
The gospels of Luke and Matthew tell of the Virgin Mary's life as a Nazarene girl who became the mother of God's only son. She has been heralded by the Church as a redeemer of humanity and has a special connection with Estonia. To complement Palestine - the Land of the Son - Estonia was declared a Land of the Mother, Maarjamaa (Land of Mary). Even today the name is used as a poetic synonym of Estonia.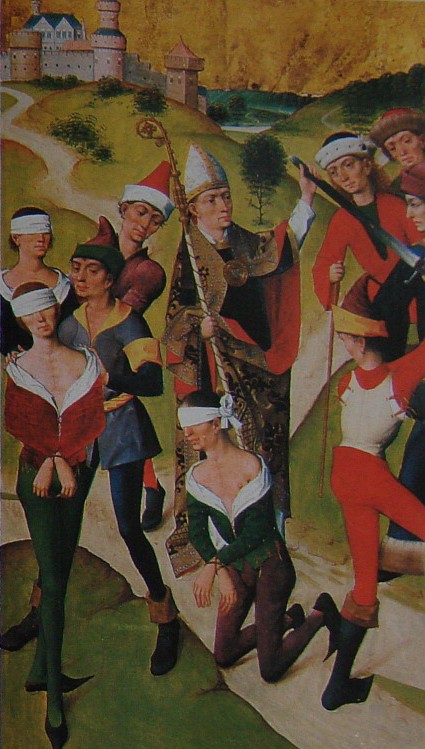 NICHOLAS OF MYRA (c. 270-342)
This legendary bishop and miracle-worker lived in the town of Myra in Lycia, Asia Minor (today's southwestern Turkey). He was the prototype of Santa Claus. According to legend he secretly gave money to a poor man's three daughters, thus saving them from a life in the brothel. Soon after he was named bishop of his home town. His most famous miracles were saving ships in distress; bringing people back to life; saving those under sentence of death; appearing to the emperor Constantine in a dream demanding freedom for three knights who had been falsely accused.

Saint Nicholas' cult spread throughout Europe after 1087. His remains were brought from Myra to Italy, where then were finally laid to rest in the town of Bari in the church of San Nicolo, built especially for the occasion. During the 12th and 13th centuries St. Nicholas took his place in the Catholic pantheon as one of the 14 Auxiliary Saints.


HEDWIG (1174-1243)
The patron of Silesia, known in Poland as Jadwiga, she was the daughter of Count Berthol. Hedwig was married to the Duke of Silesia and established an order of nuns in the region. Site became known for her charitable work, asceticism and rnystic visions. She died a member of the Trebnitz nunnery, which she had helped to establish. She was canonised in 1267. Hedwig's day is 15 October.


BARBARA (d. c. 306)
The virgin martyr came from Nicomedia and is one of Christianity's chief virgins. According to the Golden Legend, she was the daughter of king Dioscorus, and because of her beauty was imprisoned in a tower to keep wooers away. Under the influence of her Christian maid, Barbara accepted Christianity and had her tower window divided into three sections to represent the Trinity. When the pagan Dioscorus arrived home from an expedition and heard that his daughter had turned Christian, he flew into a rage and beheaded her.

It is believed that praying to St. Barbara ensures a painless and peaceful death. Because of the tower, she has been made the patron saint of artillerymen and builders. She is characterised by a tower with three windows and a martyr's palm. Her day used to be observed on 4 December, but since 1969 Catholics have not been obliged to celebrate it.


JAMES THE GREAT (d. 44)
According to the New Testament he was a member of the Holy Kindred, a cousin of Jesus and one of the twelve disciples. It was near the Sea of Galilee that Jesus invited James to join him. James was involved in the activities of Passion Week until Jesus was arrested. He was executed in Jerusalem as a Christian in 44, during the reign of Herod Agrippa. His remains are believed to lie in Santiago de Compostela.

James is patron saint of pilgrims and of Spain and Uruguay. He is characterised by his pilgrim's crook and cockle shell. James's day is celebrated on 25 July.


CATHERINE OF ALEXANDRIA (d. c. 305)
She was a legendary virgin martyr, one of the three chief Christian virgins. According to legend, when Emperor Maxentius came to Alexandria to defeat the Christians, he fell in love with the daughter of the city's Christian leader and wanted her as his concubine. But Catherine declared herself a "bride of Christ". Neither Maxentius nor 50 pagan philosophers were able to force the stubborn virgin to give up her Christianity. In revenge the offended emperor sentenced both the philosophers and Catherine to death. The execution wheel was destroyed by heavenly intervention but Catherine was eventually executed by the sword.

Because of her wisdom and the manner of her death, Catherine is the guardian of schoolgirls, philosophers, libraries and handicraftsmen who make wheels and sharp instruments. She is characterised by a sword and broken wheel. Her day is 25 November.


RUPERT OF SALZBURG (d. c. 710)
He was a missionary and a promoter of salt mining. He established the town of Salzburg and was its first bishop. He is characterised by a salt scoop or saltcellar. Rupert's day is 27 March.


STANISLAUS OF CRACOW (1010-79)
He was a bishop and martyr, murdered during a holy mass. He is characterized by a sword and a dead body. His memorial days are 7 May and 11 April.


HILDEGARD VON BINGEN (1098-1179)
She is known primarily as a composer, poetess and naturalist. She was abbess of a nunnery in Rupertsberg near Bingen. She died on 17 December and is characterised by a letter, a comb and three shining towers. Feast: 17 September.



Jüri Kuuskemaa
translation by Helve Truman and Arthur Kincaid