ensemble Peregrina /
Cantrix

.

Medieval Music for St. John the Baptist




from the Royal Convents of Sigena (Hospitallers) and Las Huelgas (Cistercians)






medieval.org
Raum Klang RK 3204
2013







1. Mulierium hodie/INTER NATOS [2:02]
motet, Germany, 14th c.
A.M. Tutton, Lorenza, Eve (motetus), A. B-Bennet, Hanna, Kelly (tenor), Baptiste (bells)

2. Inter natos. V. Hic venit/Preparator veritatis [4:05]
responsonum with prosula, Sigena, 14th-15th c.
Hanna (verse), A. B-Bennet & Lorenza (prosula), Kelly, Eve, A.M. Tutton

3. [2:13]
a) Mulierum hodie/MULIERUM
motet, Huelgas, 13th-14th c
Kelly, Hanna
b) Prima dedit femina/MULIERUM
motet, Paris, 13th c.
A. B-Bennet, Hanna
c) Mulierum/Prima dedit/MULIERUM
motet, Paris, 13th c.
Kelly, A. B-Bennet, Hanna

4. Precursor Domini. V. Hic est enim propheta [2:34]
responsorium, Sigena, 14th-15th c.
Lorenza (verse), A. B-Bennet, Kelly, Hanna, Eve, A.M. Tutton

5. Helisabet Zacharie [6:45]
sequence, Huelgas, 13th-14th c.
A. B-Bennet, Kelly, Lorenza, Eve, A.M. Tutton

6. Iohanne [2:00]
instrumental piece
A. B-Bennet (), Baptiste (vielle)

7. Prodit lucis radius/MULIERUM [0:48]
conductus-motet, Paris, 13th c.
Kelly, A. B-Bennet, Hanna

8. Descendit angelus. V. Ne timeas [2:40]
responsorium, Sigena, 14th-15th c.
RK (verse), A. B-Bennet, Kelly, Lorenza, Hanna, A.M. Tutton

9. Benedicamus/Hic est enim precursor [1:43]
Benedicamus trope, Huelgas, 13th-14th c.
A. B-Bennet & Hanna (trope), Lorenza, Eve, A.M. Tutton

Peire Vidal
10. S'ieu fas en cort [7:04]
troubadour song, Aquitaine, 12th c.
Mathias, Baptiste (vielle)

Rostainh Berenguier de Marselha
11. La dousa paria [2:34]
estampie
A. B-Bennet (harp) Baptiste (vielle)

12. Ut queant laxis [1:09]
hymn (instrumental)
Baptiste (bells)

13. Adsit Iohannes Baptista [1:14]
polyphonic prosa, Aquitaine, 12th c.
Kelly, A. B-Bennet

14. All. Tu puer propheta [1:35]
Alleluia verse, Sigena, 14th-15th c.
Kelly (verse), A. B-Bennet, Lorenza, Hanna, Eve, A.M. Tutton

15. Elisabeth ex opere. V. Nullus deffidat [2:39]
rhymed responsorium, Sigena, 14th-15th c.
A. B-Bennet (verse), Lorenza, Hanna, Eve, A.M. Tutton

16. Perhibentur cunctis rerum [2:56]
Benedicamus trope, Huelgas, 13th-14th c.
Kelly

17. [2:28]
a) La bele etoile/La bele en cui/IOHANNE
motet, Paris, 13th c.
Eve, Lorenza, Hanna, A. B-Bennet
b) Celui en cui/La bele estoile/La bele en cui/IOHANNE
motet, Paris, 13th c.
Eve, Lorenza, Hanna

18. Ingresso Zacharia. V. Et Zacharias turbatus est [2:04]
responsorium, Sigena, 14th-15th c.
Kelly (verse), A. B-Bennet, Lorenza, Hanna, Eve, A.M. Tutton

19. Ioanne Yelisabet/IOHANNE [0:48]
motet, Paris, 13th c.
A.M. Tutton, A. B-Bennet

20. [3:52]
a) Mulieris marcens/[MULIERUM]
b) Mulier misterio/[MULIERUM]
motets, Huelgas, 13th-14th c.
Lorenza, Eve, A. B-Bennet (harp), Baptiste (vielle)

21. Precursorem summi regis [4:05]
prosa, Aquitaine, 11th c.
A. B-Bennet, Kelly

22. S'ieu fos en cort [4:44]
estampie
Baptiste (vielle)

23. Benedicamus/O quant sanctum [1:39]
Benedicamus trope, Huelgas, 13th-14th c.
Lorenza (trope), A. B-Bennet, Hanna, Eve, A.M. Tutton

24. Benedicamus Domino [2:09]
Huelgas, 13th-14th c.
Lorenza, Eve, Kelly (solo) - Hanna, A.M. Tutton, A. B-Bennet & Baptiste (bells)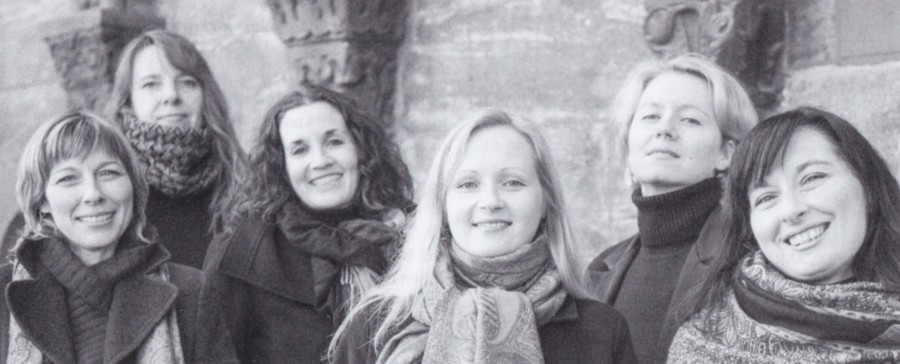 ENSEMBLE PEREGRINA
AGNIESZKA BUDZIŃSKA-BENNETT

Agnieszka Budzińska-Bennett — voice, harp
Kelly Landerkin — voice
Lorenza Donadini — voice
Hanna Järveläinen — voice
Eve Kopli — voice
Agnieszka M. Tutton — voice

Baptiste Romain — vielle (#6 10 11 20 22) — bells (#1 12 24)
Mathias Spoerry — voice #10


Instruments
Vielle (13th c.)— Roland Suits, Tartu (EE), 2006
Vielle (14th c.) — Judith Kraft, Paris (F), 2007
Romanesque harp — Claus Henry Hüttel, Düren (D), 2001
Medieval bells — Michael Metzler, Berlin (D), 2012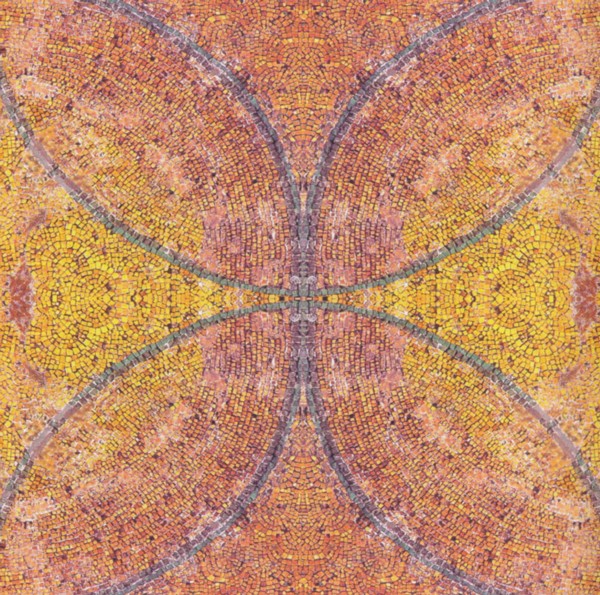 Main sources:
Huesca. Archivo Histórico Provincial, ms. 48 (processionale of Sigena): #2, 4, 8, 14, 15, 18
Burgos, Santa Maria la Real de las Huelgas, ms. IX (olim s. s.) (Codex Las Huelgas): #3a, 5, 9, 16, 20, 23, 24

and
El Escorial, Palacio Real, Biblioteca de San Lorenzo, ms L.III.4 (breviary of San Juan de la Peña?): #2
Madrid, Biblioteca Nacional, ms. 204136: #19
Barcelona, Biblioteca Nacional de Catalunya/Biblioteca Central ms. 911 (processionale of Girona): #5
Paris, Bibliothèque Nationale, f, lat. 3549: #13
Paris, Bibliothèque Nationale, f. lat. 1139: #21
Paris, Bibliothèque Nationale, f. fr. 22543 (Chansonnier d'Ufré): #10
Paris, Bibliothèque Nationale, f. fr 12472 (Chansonnier Giraud): #11 (text only)
Montpellier, Faculté de Médecine, H 196 (Codex Montpelher): #17
Bamberg, Staatsbibliothek, Lit. 115 (olim Ed IV.6.)(Codex Bamberg): #3c
London, British Museum, Add. 27630 (LoD): #1
Firenze, Biblioteca Medicea Laurenziana, Plut. 29.1 (F): #7
Woffenbüttel, Herzog August Bibliothek, Cod. Guelf. 1099 Helmst. (W2): #3b

Transcriptions / performing editions prepared by:
Agnieszka M. Tutton [2,4,8, 14-15, 18-19, 24],
Agnieszka Budzińska-Bennett [2-6, 8-9,13-19 21, 23],
Kelly Landerkin [16] and Mathias Spoerry [10].

Polyphonic additions: Agnieszka Budzińska-Bennett [1, 5, 9, 23]
Instrumental pieces, interludes and accompaniments:
Baptiste Romain [6, 10-11, 20, 22] and Agnieszka Budzińska-Bennett [6].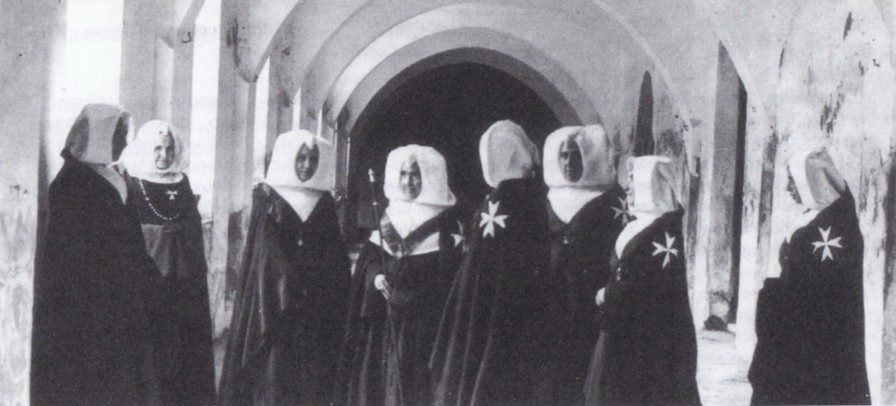 We are very grateful for the generous financial and spiritual support from the Swiss Association of the Sovereign Order of Malta and honoured to be able to research, record and revitalize a forgotten repertoire of the Hospitaller nuns.

The ensemble would also like to thank the following persons and institutions for help and assistance:

Pfarrer Christian Schaller, Reto Zimmermann & Kirche Heilig Kreuz Binningen-Bottmingen BL (CH)
Michael A. Anderson | Veronika M. Frazer
Adrian Steger, Musikinstrumentensammlung Willisau LU (CH)
Tina Purtschert | Thomas Fritsche | Gregory R. Tutton | Harry R. Tutton
Magdalena Ingling | Lucas Bennett | Gerald D. Bennett | Thomas Kelly
Abbaye Saint Benoit de Port-Valais, Bouveret VS (CH)
Toni Gröli & Männerchor Oberwil BL (CH)
Anna Mateos | Piotr Urbański | Marcin Loch | Łukasz Kozak
Jerzy Pysiak | Juan Díaz de Corcuera | İlke Aydoğmuş

As part of the 900th anniversary celebrations for the Order of Malta in 2013, honoring the Papal Bull "Pie postulatio voluntatis" promulgated by Pope Paschal II on 15 February 1113 officially recognizing the Hospitallers of St. John of Jerusalem as a religious order, our project is a contribution toward further discovering and highlighting the spiritual roots of the Order's development since its inception.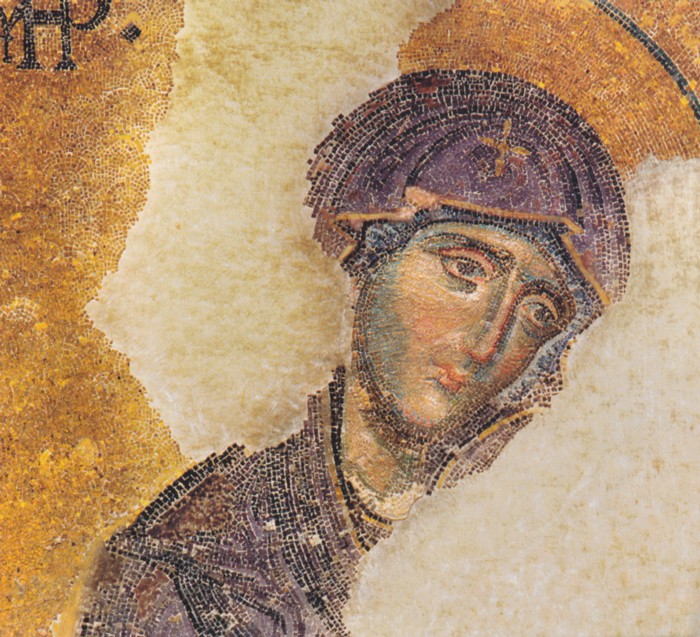 Impressum
Recorded: Kirche Heilig Kreuz, Binningen-Bottmingen BL (CH), November 5-9, 2012
Producer: Helvetische Assoziation des souveränen Malteserordens / Sebastian Pank (Raumklang)
Recording and editing: Małgorzata Albińska-Frank
Programme idea: Agnieszka M. Tutton
Project management: Agnieszka M. Tutton, Paul Weibel
Booklet editing: Agnieszka Budzińska-Bennett, Ute Lieschke
Translations: Michael A. Anderson (1, 3, 5, 7, 17, 19, 20a, 23), Veronika M. Frazer (10)
Übersetzung: Hans-Ueli Gubser (1-5, 7-9, 13-16, 18-24), David Probst (10, 17), Tina Purtschert (Einführung)
Traduction: Valerie Cordonier CNRS (1-4, 7-9, 13-16, 18-19, 20b, 21-24), Mathias Spoerry (10 & introduction)
Photos: Susanna Drescher (ensemble)
Picture credits (digipak): Deesis Mosaic, 13th c., Hagia Sophia, Istanbul
© photos by Tahsin Aydoğmuş
Lady and minstrel in a palace and lion attacking a soldier, Sigena, around 1200, Barcelona
© MNAC - Museu Nacional d'Art de Catalunya, by Calveras/Merida/Sagrista
Graphic design: Anna Ihle

RK 3204 Helvetische Assoziation des souveränen Malteserordens / Raumklang 2013 @ Raumklang 2013










And I, Sancha, by God's grace Queen of Aragon, [..], offer myself to the Lord God and the Blessed Virgin Mary and Blessed John, as well as to the poor sick of the Hospitallers of Jerusalem in life and in death. And I choose this place for my burial, and I cannot be transferred to any other religion.

Libro de la Fundación, ms. 37, fol. 2v
Huesca, Archivo Histórico Provincial
(copy from 1695)



Sancha — the Queen

Queen Sancha is a key figure in the history of Sigena (1188-1936), one of the first and, ultimately longest surviving, female monasteries of the Order of St. John of Jerusalem, known then as the Knights Hospitallers, and today as the Order of Malta. Considered as a founder of the female branch of the Order, she presents a strong female character engaged across diverse activities, as a politically astute and administratively active Queen, as a devoted wife and a caring mother, and finally as a pious nun and a Servant of God of the Catholic Church.

Sancha of Castile and Poland (ca. 1154-1208) was the only daughter of King Alfonso VII of Castile & Leon and Princess Richeza of Poland, and was raised at the Castilian court in Leon by her aunt. In 1174, Sancha married King Alfonso II of Aragon. The ambitious politics of the Kingdom of Aragon were focused on the re-conquest of the Iberian Peninsula, as well as upon increasing the impact of Aragon in the Pyrenees region and throughout the Mediterranean basin. Through marriage, she entered into this powerful and rapidly growing kingdom of Aragon, appearing to take an active role in the administration of the kingdom, as she was a signatory on both financial and political documents. She even used her own seal in the administration of the kingdom.

With her husband's consent Sancha made two key decisions that were to shape the kingdom. First, she vowed never to remarry, if her husband died before her, in order to prevent the division of the kingdom's land and wealth. Second, she sought to establish a royal burial place to strengthen the identity of the dynasty of Aragon. In order for Sancha to fulfill these vows, a new royal monastery was founded where she could retire and maintain sufficient freedom to rule the kingdom and to support her children. She chose as the patrons of her new monastic foundation her husband's favourite military order, the Knights Hospitaller.

King Alfonso II was a well-known patron of troubadours and a poet himself, and during his reign court life flourished with music and the arts. Sancha herself was greatly influenced by the ideals of royal patronage, most likely as a result of her childhood spent at the Castilian court and in a Cistercian cloister, where she was well educated and made politically aware of her royal role in society. Sancha was soon to become one of the Hospitallers most generous supporters in Aragon.

The Hospitallers had allowed female vocations for many years, and, approving of Sancha's plans, gave the Queen sufficient freedom to write a new rule of monastic life based on the Hospitaller's Rule of Raymond du Puy (1154) and on the Rule of St. Augustine. These two rules together provided the context for a perfectly regulated day-to-day life. In a letter written by Sancha in 1187 to Ermengol de Aspa, the Prior of Saint-Gilles and the Castellan of Amposta, she wrote of the desire to offer herself completely in life and in death for the benefit of the Order, stating: "Et ego Sancha, Dei gratia Aragonis regina, [...], offero me ipsam Domino Deo et Beate Virgini Marie et Beato Johani et infirmis pauperibus Hospitalis Iherosolimitanorum in vita et in morte. Et eligo mihi sepulturam in supradicto loco, et non possim me alten religioni unquam transferre." With such a commitment by the Queen to the Hospitaliers, the monastery was founded.

The Hospitallers approved her Rule on 6 October 1188. Sancha oversaw the construction of the monastery and maintained control over all religious aspects of the cloister's life, including the appointment of the Prioress to lead the convent. Though married, she longed to enter cloistered life. After the death of King Alfonso II in 1196, Sancha enter the Sigena monastery as a sister (soror). She received special protection for herself and the monastery from Pope Innocent III in 1203, independently ruling the monastery until her death on 9 November 1208.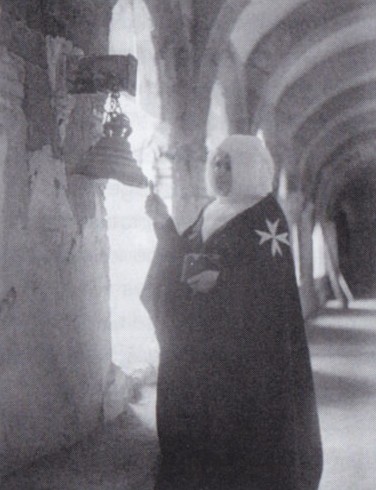 Sigena — the Place

The monastery in Sigena is located in a remote region along the pilgrimage route to Santiago de Compostela, in a humid and unfavorable climate, at the spot where an image of the Virgin Mary was believed to be miraculously found. The location was of strategic importance between key cities of the kingdom of Aragon and in a close proximity to Huesca. Although the new Gothic architectural style in vogue at this time was already starting to dominate religious sites on the Iberian Peninsula like the Cistercian monastery at Las Huelgas, Sancha had a different vision. She decided to build Sigena in the Romanesque style to accentuate the stability of the dynastic burial place. Ultimateiy only she and three of her children, Dulce, Peter, and most probably also Leonor, were buried at Sigena. This cosmopolitan queen, as well as princess Constanza, her daughter, provided the cloister with exquisite decorations of Sicilian-Byzantine and Mudéjar frescoes, similar to images found in the Winchester Bible. The cycle of frescoes depicts scenes from the Old and New Testaments, from Creation to the Redemption of Mankind. Sadly, Sigena was plundered and burned during the Spanish Civil War, and today only black-and-white photos from 1936 and modern reconstructions reveal this great artwork from the early 13th century.


Sigena — the Manuscripts

For hundreds of years Sigena served as an archive and a royal depository, and it is fortunate that many documents related to Sigena were rescued from the destruction of the Civil War. The most important of these documents relating to the monastery at Sigena are the Rule of 1188 and the Processional from the 14th-15th century, both of which are now well preserved in the Archivo Histórico Provincial in Huesca. Another important Sigena source from 1547 is called the Breviarium secundum ritum Sixenae monasterii: Ordinis Sancti Ioannis Hierosolimitani, kept today in Madrid. This Breviarium contains important information concerning the manner in which the sisters in Sigena celebrated the Divine Office.

The Sigena Rule of 1188 is a practical manual of daily life for the Hospitallers' community. Strict canonical hours and each activity in the cloister were announced by the sound of bells of different sizes (cimbalum). The most important aspects of life in the cloister were constant prayer for the living and the deceased, the education of young girls (puellae), and the care of sick nuns. The community was supposed to live in an atmosphere of common respect and dignity proper to the noble origin of its members. Interestingly, the rule does not mention any external charitable work apart from donating the personal belongings of a deceased sister to the poorest. Although charitable activities outside the cloister may have been introduced at a later time to Sigena, it seems most likely that the monastery was devoted solely to the spiritual works of mercy.

The Rule of 1188 outlines many details about the liturgies celebrated in the community and gives specific names to particular liturgical functions. Among the most often mentioned functions are female solo singers, called cantrix, paraphonista and precentrix. These singers led the choir of nuns, intoning the hymns, responsories, antiphons, alleluias and other forms of chant sung during the Mass, the Office and the liturgical processions of the community, which were widely practiced in the medieval church.

Research into these historical manuscripts of the royal monastery of Sigena has provided an unique window into the long history of the Order of St. John of Jerusalem, and allowed us to understand not only the particularities of the liturgy of the Hospitaller nuns, but also the incredible richness of their musical and spiritual lives, revealing the genius of their founder, the remarkable Queen Sancha of Aragon.

Agnieszka M. Tutton


The Texts

Most of the pieces on our recording are concerned with St. John the Baptist, the patron of the Order of Malta ("Sovereign Military Hospitaller Order of St. John of Jerusalem of Rhodes and of Malta") founded in Jerusalem around 1048. The cult of St. John, somewhat overshadowed today by other Christian cults, was widespread in early medieval Western Europe and Byzantium. John's particular role as the herald of the Redeemer and his unique position of kinship with Christ and the Virgin Mary made him a popular subject in music and visual arts. This includes a powerful idea of the deesis, a traditional Byzantine and Orthodox iconic representation of Christ Pantocrator ("Almighty") with the Virgin Mary on one and John the Baptist on the other side, an image also found in Western Europe.

Various aspects of the saint's life, mostly taken from the Gospels of Luke and Matthew, are present in the texts sung here. His birth was foretold to Zachariah by the angel Gabriel while Zachariah was performing his duties as a priest in the temple of Jerusalem. Zachariah had lost his speech in the presence of the angel and it was not restored until his wife Elizabeth, believed to be barren, gave birth to a boy, and Zachariah could name him John, according to God's wish. Two responsories, Descendit angelus [8] and Ingresso Zacharia [18], refer to this event. The motif of Elizabeth's age and infertility ("withering womb") being blessed by God's grace in form of the child that will "lighten the [old] Law" is poetically depicted in several motets praising this event as a divine mystery and a wonder (in this recording they form a small sequence of short vocal-instrumental pieces: Mulieris marcens/[MULIERUM] and Mulier misterio/[MULIERUM] [20]). The meeting of Elizabeth and Mary, both pregnant, is the theme of the short motet Ioanne Yelisabet [19] and the responsory Elisabeth ex opere [15]. "Prima vox leticie mulierum", the joyous voices of women, Elizabeth, Mary and symbolically of all of womanhood set free from the original sin of Eve, is the subject of several motets built on the tenor MULIERUM taken from the alleluia verse Inter natos mulierum non surrexit major lohanne. In this recording they are: Mulierum hodie/INTER NATOS [1] and Mulierum hodie/Prima dedit femina/MULIERUM [3]. Numerous motets on the tenor MULIERUM ("of women") seem to imply the saint's particular connection with women, even though he himself is said to have remained celibate all his life. The four-part French motet Celui en qui je me fi/La bele estoile de mar/ La bele en qui je me fi [17], based on the IOHANNE tenor taken from the same chant, shows John's particular connection to Mary. While two voices of this polytextual composition, motetus and quadruplum, present a seemingly secular plea to the beloved for mercy, the triplum of the motet makes clear that the unnamed beloved is the Virgin Mary. This motet has also a purely Marian contrafactum in Latin, Ave plena gracia/Psallat vox ecclesieA/IOHANNE. Unfortunately for John, it will also be women, Herodias and her daughter Salome, who are responsible for his imprisonment and beheading by Herod. The prosa Precursorem summi regis [21] refers to these events.

The analogies between John and Jesus are worth mentioning. According to the Scripture, the births of both children were announced by the angel Gabriel, first to Zacharias, then six months later to Mary. This six months' difference also defines the temporal symmetry of the two important liturgical feasts: the Nativity of John the Baptist (24th of June) and Nativitas Domini (25th of December), which mark the summer and the winter solstice respectively. We can find further analogies. So, for example, it is by no means accidental that the Alleluia. Tu puer propheta [14] for John the Baptist uses the same melodic formulae as the Alleluia. Dies sanctificatus for the Feast of the Nativity. The Precursor and Christ meet already in their mothers' wombs when Mary comes to visit Elizabeth and speaks the famous Magnificat. John, as yet unborn, senses the presence of the King; this moment is celebrated in the responsory-prosula Inter natos mulierum/ Preparator veritatis [2]. Thirty years later John recognizes Jesus as the Messiah and baptizes him in the River Jordan, which marks the beginning of Christ's ministry, as recounted in the text of Benedicamus/O quam sanctum [23].

All four canonical Gospels acknowledge John as Christ's predecessor, describing John as an itinerant preacher and hermit wearing clothes of camel-skin and eating locusts and wild honey, as we can hear in the Benedicamus tropes Hic est enim precursor [9] and Perhibentur cunctis rerum [16], in the responsory Precursor Domini venit [4] or in the long sequence Helizabet Zacharie [5], which summarizes the saint's entire life. The prophet proclaiming Christ's arrival was himself mentioned in Malachias' prophecies (Malachi 3:1). Malachias described a precursor Domini who would "prepare the way of the Lord". Jesus himself regarded John as "a burning and a shining light" (John 5, 35), and indeed words suggesting light, lantern, ray of the sun and fires can be found in many pieces in this collection, not least in the conductus-motet Prodit lucis radius/MULIERUM [7].


The Music

The main corpus of this program consists of several pieces from the Processional of Sigena (14th-15th cen-
tury, Huesca, Archivo Histórico Provincial, ms. 48), a monastery for noble ladies founded by the pious Queen Sancha (1154/5-1208) in 1188. The Processional is a beautifully written source of liturgical music from this important Hospitaller women's cloister in Aragon, and it is a testimony to the rich vocal culture of Spanish nuns. The pieces for John the Baptist are numerous: we find one alleluia verse and four responsories for the saint's Nativity. Following the practice of singing prosulae for major liturgical feasts mentioned in the Breviarium Sixenae Monasterii (printed in 1547), we have enriched one of the responsories with a prosula probably originating in the nearby monastery of San Juan de la Peña. Another piece from this processional, Elisabeth ex opere [15], is a rare example of a rhymed responsory for the feast of Visitatio. We chose to contrast these monophonic liturgical pieces sung by the Sigena nuns with polyphonic pieces and more modern compositions from the royal monastery Santa Maria la Real de Las Huelgas, founded in 1187 by Sancha's nephew, Alfonso VIII de Castille, and the twin of Sigena.

The progressive musical production of the Cistercian Abbey of Las Huelgas was related to the famous Notre Dame style, whose achievements in the development of musical genres such as organum, motet, conductus and musical notation were described by Franco of Cologne, papal chaplain and himself a Hospitaller priest, in his influential work Ars cantus mensurabilis. The famous Las Huelgas Codex (Burgos, Santa Maria la Real de las Huelgas, ms. IX, olim s. s.) contains nearly 50 monophonic and 150 polyphonic pieces, mostly from the first half of the 13th century, many of which are known only from this manuscript. The music in the Codex was meant to be sung by the nuns of the Abbey. During the 13th century, the monastery had a choir of up to a hundred nuns who could have sung both the monophonic and the polyphonic music written especially for their use. In the Las Huelgas Codex we find pieces meant for practicing solfeggio along with the three-part Benedicamus Domino [24], a canon and the last piece in our collection, which might have been used as a warming-up exercise for the singing nuns.

We also find in this manuscript an important group of pieces concerning John the Baptist: the fragmentary sequence Helizabet Zacharie [5], completed here thanks to Cantorale from Gerona, two motets on the MULIERUM tenor and three Benedicamus Domino tropes not found elsewhere. These are the two-part Hic est enim precursor [9], the monophonic O quam sanctum [23], which uses the text of two strophes of the previously mentioned sequence, and Perhibentur cunctis rerum [16], written on the last pages of the manuscript and thus hardly legible, partly reconstructed here. Some of these pieces are attributed in the manuscript to a certain Johannes Roderici (the pieces carry the remark "iohannes roderici me fecit") who must have been one of the composers, scribes or compilers of the Las Huelgas manuscript. We rounded out our choice of pieces with motets from related 13th century Notre Dame sources [3, 17, 19 & 20], based on two Johannite tenors MULIERUM and IOHANNE. They are built on short melodic and textual passages taken from the Alleluia. Inter natos mulierum mentioned above and used as the basis for two-, three- and four-part compositions in Latin and French. Two prosae from Aquitanian sources of the 11th and 12th centuries are Precursorem summi regis [21], for the feast of Decollatio, and the polyphonic Adsit lohannis Baptista [13], showing clear traces of the simple improvisatory technique of parallel intervals contrasted with the impressive range of two octaves in the upper voice.

The song of the troubadour Peire Vidal S'ieu fos en cort [10] also belongs to the Aquitanian tradition, a love song in Provençal praising in its last strophe the founder of the Sigena cloister, the Queen Sancha. Sancha and her husband Alfonso II presided over a notable troubadour court, and Peire Vidal, who probably travelled throughout Western Europe, seems to have been one of their guests in his early years. In his tribute strophe to Sancha he calls her "the noble queen in Aragon", "blameless", "generous, loyal and gracious to men and pleasing to God". Similar descriptions survive in later chronicles where she is praised as a pious or even a saintly queen, la santa reina doña Sancha. Another troubadour's song in this collection is La dousa paria by Rostainh Berenguier de Marselha, himself a chevalier de Malte, here presented as an instrumental estampie reconstructed by Baptiste Romain [11]. After her husband's death in 1196, Sancha became a Hospitaller nun herself, entering the monastery in Sigena, which continued to thrive and expand for the next centuries and left us many testimonies of its spiritual life. With this program we are happy to remind today's listener of the concept of cantrix (a woman singer) and to revitalize the repertoires of singing nuns from the two royal monasteries of Sigena and Las Huelgas.

Agnieszka Budzińska-Bennett