Music of the Gothic Era
The Early Music Consort of London, David Munrow


LP
medieval.org
DG Archiv 2723 045
1976
...

CD
medieval.org
DG Archiv Codex 453 185
DG Archiv Codex 469 027-2GCL
DG Archiv "Blue" 471 731
1987
...





MUSIC OF THE GOTHIC ERA
MUSIK DER GOTIK • MUSIQUE DE L'EPOQUE GOTHIQUE


I. NOTRE DAME PERIOD (ca. 1160-1250)
LEONINUS: Organa
PEROTINUS: Organa Viderunt omnes, Sederunt principes

II. ARS ANTIQUA (ca. 1250-1320)
Motets from the Bamberg and Montpellier Codices
Instrumental pieces (Hoqueti)

III. ARS NOVA (ca. 1320-1400)
Motets from the Roman de Fauvel and the Ivrea and Chantilly Codices
Guillaume de MACHAUT: Motets, Hoquetus David


The Early Music Consort of London
James Bowman, Charles Brett, David James (counter tenors)
Rogers Covey-Crump, Paul Elliott, Martyn Hill, John Nixon, John Potter (tenors)
Geoffrey Shaw (bass)

David Munrow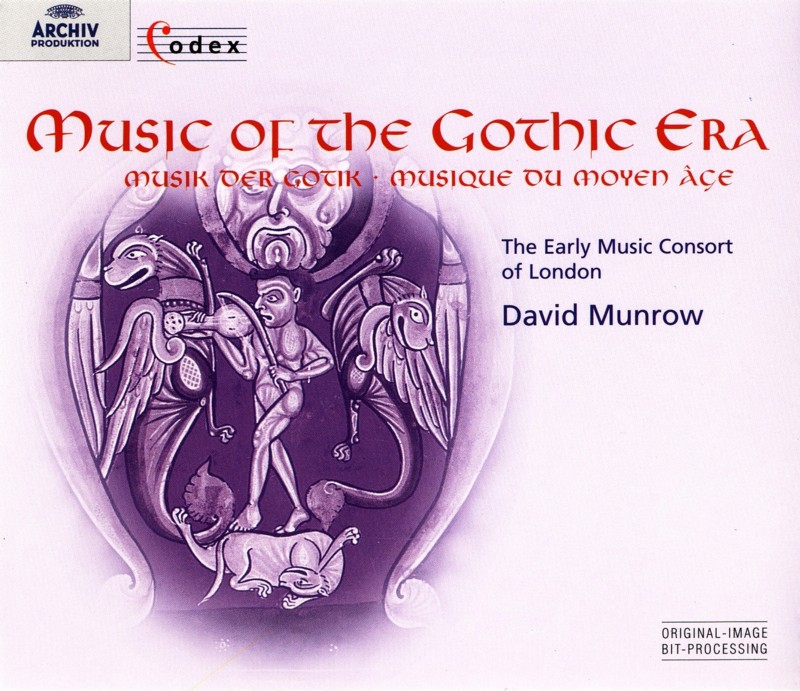 These recordings trace the history of polyphonic music based on plainsong through a period of just over 200 years, starting with the organa of Léonin (composed probably between 1160 and 1170) and ending with motets from the Chantilly codex (compiled about 1380-90). This period was one of the most eventful in the history of early music since it covers both the beginnings and the rapid development of measured part-music. At first the main centre was Paris, but by the early 14th century distinctive and independent schools of composition were flourishing in Italy and England as well as France, and the principal forms of medieval polyphony had been established: mass movements, motets and conductus inside the Church, and outside it the formes fixes of courtly music-making; the French rondeau, virelai and ballade and the Italian madrigal, ballata and caccia. The works selected are all French in origin however, and are all connected by their use of a plainsong (or occasionally plainsong substitute) tenor. They demonstrate not only a fascinating process of evolution in musical composition but a form of historical evolution too. The transition from a sacred to a secular milieu epitomized by the progress of the motet illustrates the extent to which purely musical developments have been brought about by contemporary social, economic and political factors.


DAVID MUNROW



Recording: Godalming / Surrey, Chapel, Charter House, 4.-5. 4. 1975
& London, Conway Hall, 22.-30. 10. 1975
Production: Dr. Andreas Holschneider
Recording Supervision: Dr. Gerd Ploebsch
Recording Engineers: Hans-Peter Schweigmann, Klaus Hiemann

℗ 1976 Polydor International GmbH, Hamburg
"The Gothic Era: political, social and literary background": © 1976 Michael Freeman
"Music of the Gothic Era": © 1976 David Munrow
Translations of the texts / Übersetzungen der Gesangstexte / Traductions des textes chantés:
© 1976
Latin-English: Dr. Hans Heimler, University of Surrey, Guildford
Lateinisch-Deutsch: Dr. Hans Heimler
Latin-Français: Daniel Henry, Universität Hamburg
French-English and French Glossary: Dr. Michael Freemann, University of Leicester
Französischch-Deutschy: Dr. Dieter Beyerle, Universität Hamburg

The Illustrations Front cover of box: Bible de Saint-André, 2nd half of the 12th c.
Bibliothèque des Beaux-Arts, Paris
Design: Werner Koberstein, Hamburg
Title page of booklet: Tree of Jesse, French manuscript
Anno 1411/London British Museum, 19 D III, fol. 458
(Archiv für Kunst und Geschichte, Berlin)

The instruments of the kings:
shawm, buysine, mandora, recorder or cornet / trumpet, harp, fiddle, nakers / rebec, lute, psaltery


[CD: 1985 Dr. Wolfgang Dömling
Cover: Bible de Saint-André / Bibliothèque des Beaux-Arts, Paris / Agence Giraudon/ Lauros, Paris
Art Direction: Fred Münzmaier]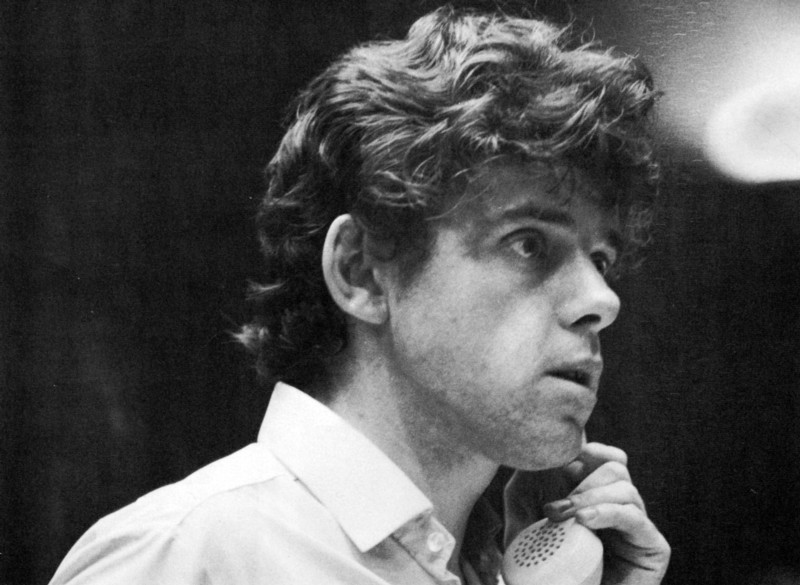 During the final stages of the editorial work on this production we learned that David Munrow had died at the age of 33. He was an exceptional man. His aim was to bring the music of the Middle Ages and the Renaissance to life and make it convincing in our quite different world. With the basic study of the sources as his starting point, he had the rare ability an understanding to excel both as a musicologist and as a performer, and he was a man who radiated an extraordinary musical energy and intensity.







bringing
the middle ages to life

David Munrow and the Early Music Consort of London transformed our view of medieval music. The impact of their performances far surpassed any that had gone before: by demonstrating how medieval music could sound normal, they created a niche for it in the concert hall and on record that it has never lost. Yet, looking back across a quarter of a century, one has to pause and think for a moment in order to grasp how they did it. They were far from being the first group to specialize in early repertoire. Programmes resembling "Music in the Gothic Era" were already being heard in France, Germany, Austria and Switzerland during the 1910s and 20s. A fantastical arrangement for chorus and orchestra of Perotin's four-voice organum Sederunt was performed during the 1930s, and as late as 1950 it was conducted by Eugen Jochum. Also in the 30s specialist early music groups (notably Safford Cape's Pro Musica Antigua) began to form and to make records using medieval-style instruments. The tradition continued to develop after the Second World War, both in Europe, where Thomas Binkley's Studio der frühen Musik dominated in the 1960s, and the USA, where the New York Pro Musica and the Waverly Consort showed that medieval music could be riotously colourful.

Thus by the time Munrow founded his Early Music Consort in 1967, there was a well-established tradition of performing and recording medieval music. Some of it, above all the work of the London-based Musica Reservata, was remarkably adventurous, challenging preconceptions about early music with styles derived from the folk tradition. But the very peculiarity of medieval music tended to put people off. Reviews from before the advent of David Munrow speak of the curiosity and "academic" value of early music performances, but few were genuinely bowled over by it. Munrow's importance, then, did not come either from undertaking medieval music in the first place or from offering a new theory as to how it was meant to sound. His ideas about performance practice — which instruments and voices to use, and how to distribute them — were actually quite conventional, derived from the assumptions of scholars for decades past. Until late in his all-too-brief career he had no compunction about mixing medieval and Renaissance (even Baroque) instruments in any combination that would be convenient and effective. As a multi-talented (and entirely self-taught) player of every conceivable woodwind instrument, he found mixing and matching them an irresistible opportunity to try out as many different sounds as possible.

What really made the Early Music Consort a runaway success, and a model for all who followed them, was Munrow's practice of hiring outstanding musicians — and especially outstanding singers — and his ability so to inspire them that energy, precision and beauty shone through every piece they performed. His audiences, for the first time, heard medieval music performed as something alive. They heard a style and manner of performing that were not strange or alien though executed on instruments that were distinctly unusual, even — in the case of some of Munrow's more obscure specimens — hilarious. They heard sequences of pieces that had been meticulously planned to make coherent programmes. And they were amused and enlightened by Munrow's uniquely enthusiastic, illuminating and evocative commentaries.

The results were enormously influential. A whole generation of scholars became interested in medieval and early Renaissance music because they went to Munrow's concerts as children and grew up with his recordings. New groups sprang up to succeed him after his death, to meet some of the demand for early music performances that he himself had generated, and they all followed essentially the same formula. Even though beliefs about how medieval music was originally performed have changed out of all recognition since he died — the instruments that for him were the raison d'être of the whole enterprise eventually being muted by scholarly disapproval — his approach to planning, presentation and the use of particular types of voices, has served as an ideal for groups up to the present day.

Of all Munrow's recordings, none achieved greater impact and influence than his last, "Music of the Gothic Era", which showed how beautiful the more ambitious chant-based compositions of the later Middle Ages could be, worth hearing in detail and at length. "I can think of no better introduction", wrote Hugh Keyte, an early reviewer, "for anyone coming to medieval music for the first time [...] it is sure to become an essential part of the collection of both the most instinctive of early music lovers and the most specialized of academics". And that is exactly what happened.

The performances of organum of the Notre Dame School (CD 1, #1-6), from the late-12th and early-13th centuries, unlike any predecessors both steady and lovely, came as a particular revelation. The first four tracks, two-voice pieces attributed to Léonin (now thought to have been a canon of Notre Dame, a writer of sacred-erotic Latin poetry), were based on an edition whose strict 6/8 rhythms many scholars now reject, favouring an alternation of free organum and measured discant sections. But, as ever with medieval music, other experts disagree and, regardless of one's view, the performances themselves are persuasively musical. Tracks #5-6 were for many listeners and critics the highlight of the set in its original release, offering the two famous four-voice organa ascribed to Pérotin, Viderunt and Sederunt, in performances full of beautiful effects, illuminated by experiments with some of the ornaments described by 13th-century writers. If, according to current thinking, Munrow occasionally made rather too much use of the bells, his outstanding achievement was to show that this music need only be sung well to succeed: the instrumental ensembles that accompanied several previous recordings were simply not necessary. Given the lack of evidence from contemporary sources for the use of all those instruments in church, this was an influential demonstration that we could trust medieval music to speak to us persuasively without a supporting cast.

A much more extensive use of instruments in the motets, both 13th-century (CD 1, #715) and 14th-century (CD 2, #2-19, 21-23), made the same point in a surprising way, and here credit must go to the Archly Produktion recording team. Although the digital pro- cessing in this CD reissue has given greater depth to the stereo image, the warmth and colour achieved by the original engineers remains just as it was, enabling voices and instruments to blend in a way that seemed quite novel at the time. It was a sound that, later on, made the transition to all-vocal performances much easier to imagine. Just as interesting were the instrumental hockets (CD 2, #1 and 20), previously puzzling pieces that here, in such precise performances, sounded perfectly rational.

Daniel Leech-Wilkinson