Folie Douce

/ Doulce Mémoire


Renaissance Improvisations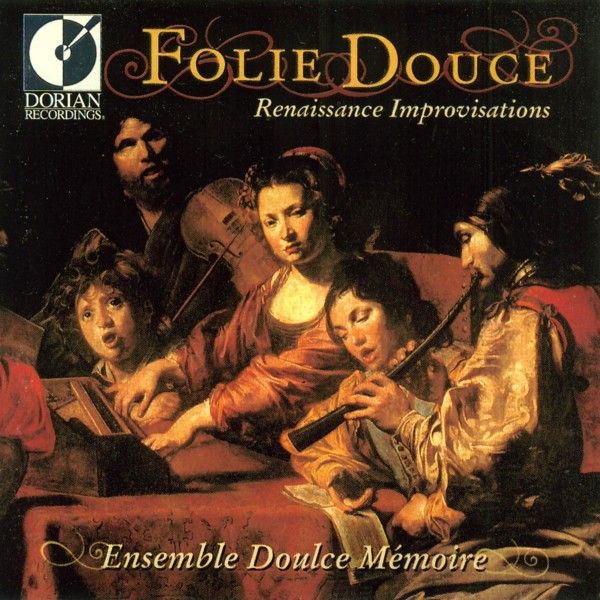 This program is based upon the idea of improvisation based on interval & cadential patterns, as well as the art of diminution and a free interpretation of rhythmic accent in the surviving scores. In short, it is an attempt to adopt the same degree of freedom which the actual performers undoubtedly enjoyed.
The specialty of Ensemble Doulce Mémoire is in revealing the forgotten arts of embellishment and improvisation in Rennaissance music. Using ten didactic works works published in Italy between 1535 and 1620 as reference, they have reconstructed these techniques to capture the spirit and style of popular 16th Century musical performance. The result is an intoxicating sound that has injected new energy and an adventurous sense of fun that has won praise (and awards) from the most demanding critics.
Dorian DOR-90262
enereo de 1998
Troy, NY






Suite from Terpshichore (1612), Michael Prætorius
01 - Bransle de la Royne 1 & 2 · Michael Prætorius [2:12]
02 - Bransle Gay double VIII (3) & Bransle double de Poictu IX · E. Caroubel / M. Prætorius [2:56]

Suite from Terpsichore (1612), Michael Prætorius
03 - Ballet CCLXIV, 1, 2 & 3 · incerti [1:45]
04 - Gaillarde CCXCVIII · Prætorius [2:32]
05 - Courante-Sarabande CIV · Prætorius [2:51]
06 - Courante. 'La Rosette' CIX [2:04]
07 - Courante CLVII · incerti [1:33]

08 - Contrapuncto primo · Vincenzo Galilei [4:20]

Suite, V. Haussmann & E. Widmann
09 - Pavana (VII) & Nachtanz · V. Haussmann [3:48]
10 - Sophia (XII) & Regina (XI) · E. Widmann [1:55]
11 - Clara (XVI) · E. Widmann [0:54]
12 - Euphrosina (XVIII) · E. Widmann [2:19]

Johann Hermann Schein (1617)
13 - Padouana [2:09]
14 - Courente [1:36]
15 - Gagliard [3:02]
16 - Allemande & Tripla [2:03]

17 - Ballo del Gran Duca (Aria di Firenze). Ballo, Gaillarde, Canario (improvisation) [6:30]

18 - Fantasia - Eda Milano [?] · J. Matelart [2:45]
19 - Meza Note gagliarda (XI) · (improvisation) [2:40]
20 - Pavane d'Espagne · (improvisation) [1:59]
21 - Gaillarde XV · Pierre Attaingnant (Ed.) [2:30]
22 - Gaillarde · Pierre Attaingnant (Ed.) [2:46]

23 - Spagnoletta · (improvisation) [5:28]

Suite from Terpsichore (1612), Michael Prætorius
24 - Ballet CCLIX · incerti [1:54]
25 - Volte CCXXII · Prætorius [1:38]
26 - Courante XC · Prætorius [1:38]
27 - Courante XCVII · Prætorius [2:09]

28 - Ballet XXVI · Paul Peuerl [1:43]
29 - Courante VI · Peuerl [3:09]







Ensemble Doulce Mémoire
Denis Raisin-Dadre

Pascale Boquet, lute, renaissance guitar
Jean-Paul Boury, cornet, mute cornet, recorder
Bruno Caillat, tambourine
Freddy Eichelberger, harpsichord, cittern
Denis Raisin-Dadre, recorders