Shakespeare Songs / Deller Consort
Shakespeare Songs and Consort Music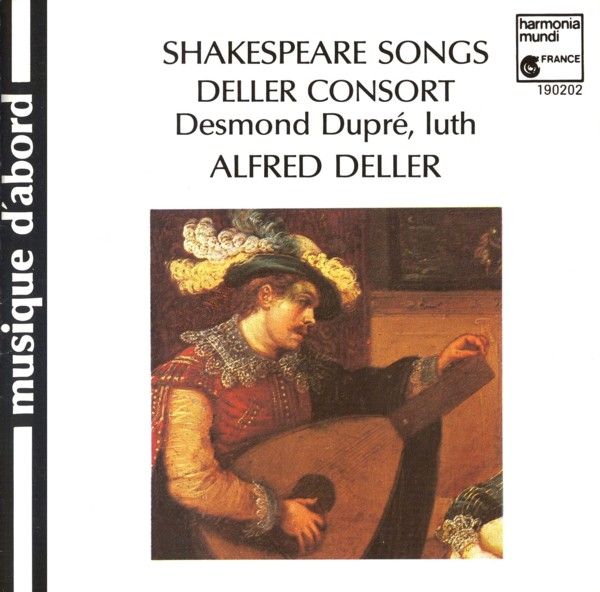 medieval.org

LP: Harmonia mundi HM 202
1967
Boughton Aluph All Saints, Kent
CD: Harmonia mundi «Musique d'Abord »HMA 190 202
1987









01 - Thomas MORLEY. It was a lover and his lass · As you like it, V. 3 [2:56]

02 - John WILSON. Take, O take those lips away · Measure for measure, IV. 1 [1:32]

03 - Thomas MORLEY. O mistress mine · Twelfth night or What you will, II. 3 [1:22]

04 - Thomas WEELKES. Strike it up, Tabor [1:38]

05 - Willow song · Othello, IV. 3 [4:53]

06 - Robert JOHNSON II. Where the bee sucks · The Tempest, VI. 1 [1:21]

07 - How should I your true love know · Hamlet, Prince of Denmark, IV. 5 [1:48]

08 - Francis CUTTING. Walsingham variations [2:58]

09 - We be soldiers three [1:58]

10 - When griping griefs · Romeo and Juliet, IV. 5 [3:00]

11 - Robert JOHNSON II. Full fathom five · The Tempest, I. 2 [1:56]

12 - Caleno custure me · Henry V, mention à IV. 4 [3:09]

13 - Then they for sudden joy did weep · King Lear, I [1:20]

14 - Bonny Sweet Robin [0:43]

15 - When that I was · Twelfth night, V. 1 [2:29]

16 - Kemp's jig [0:48]

17 - Greensleeves [3:24]

18 - He that will an alehouse keep · Mélismes de Ravencroft [0:57]

19 - William BYRD. Non nobis Domine [1:18]






DELLER CONSORT
Alfred Deller

Alfred Deller, haute-contre
Philip Todd, Max Worthley, ténors
Maurice Bevan, baritone

Desmond Dupré, lute




enregistrament: Church of Broughton Aluph, Kent, U.K.
septembre 1966
prise de son Peter WillemoŽs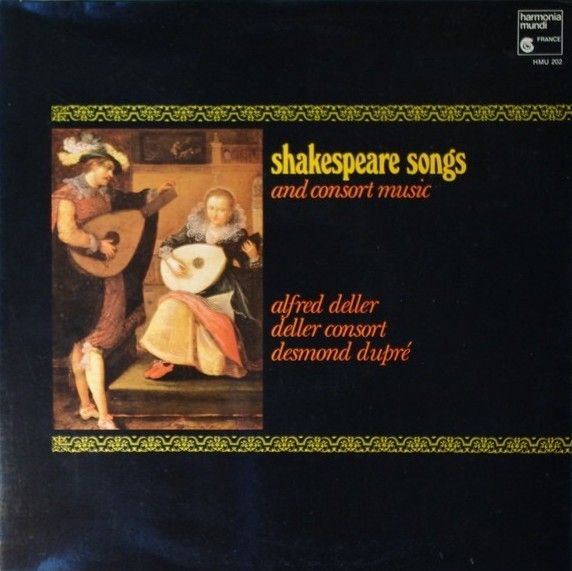 EN ECRIVANT SES PIECES DE THEATRE POUR DES TROUPES d'acteurs adultes, Shakespeare avait moins d'exigences musicales pour ses interprètes que son contemporain Marston, dont les pièces étaient exécutées par les Enfants de la Cathédrale St-Paul. Shakespeare indique rarement les instruments en dehors des trompettes et des tambours habituels aux scènes martiales. L'accompagnement musical courant pour les circonstances normales était le «broken consort», composé de dessus et de basses de violes, d'une flûte alto, d'un luth, d'une cithare et d'une pandore (ces deux derniers instruments à cordes métalliques pincées avec un plectre remplissaient le même rôle que de nos jours les guitares rythmiques et les guitares basses). Quant au luth, il est fréquemment indiqué comme instrument d'accompagnement solo.

Shakespeare devait se plier aux considérations pratiques: si la première édition de «Hamlet» prévoit l'entrée d'Ophélie jouant du luth, les autres éditions annoncent simplement «entrée d'Horatio avec Ophélie distraite»; quand le jeune garçon qui jouait Ophélie ne savait pas jouer du luth, le luth devait disparaître... De la même façon, les chants prirent une place plus importante dans les pièces quand l'acteur Will Kemp fut remplacé par Robert Armin, meilleur musicien.

Évidemment, quand sur scène un acteur avait les mains occupées, de telle sorte qu'il ne puisse tenir un luth, le chant restait sans accompagnement. Pendant que Desdémone se fait déshabiller par une servante en chantant le «Willow song», ni l'une ni l'autre ne peuvent jouer du luth, et l'accompagnement d'époque ne pouvait pas être interprété sur scène, comme il l'est sur ce disque. Mais nous pouvons affirmer que le public de l'époque élisabéthaine n'exigeait pas un si parfait réalisme qu'un luthiste ne pût accompagner le chant de Desdémone depuis les coulisses. Dans son ouvrage «La musique dans les tragédies de Shapespeare», F.W. Sternfeld a insisté sur l'intégration vraiment unique des «songs» dans la substance des pièces. Ils sont faits pour éclairer le caractère du personnage qui chante ou la situation dramatique ou encore pour créer une certaine atmosphère. Les chants de caractères étaient généralement chantés par des voix d'hommes, ceux d'atmosphère par des voix d'adolescents; la voix du contre-ténor est la seule qui puisse interpréter correctement les deux genres. Il est très rare qu'un héros principal issu d'un rang social élevé se mette à chanter, car les gens de bonne éducation ne devaient pas faire étalage de leurs talents musicaux en public. C'était se rabaisser au rang des serviteurs, des valets, qui seuls étaient à même d'exécuter des œuvres musicales. Il est permis à Desdémone de chanter sur scène, étant donné que l'émotion la bouleverse et qu'elle se trouve dans le privé de ses appartements. Mais la représentation publique d'Ophélie est un solécisme: on ne la tolère que parce qu'on la sait folle.

Desmond Dupré


SHAKESPEARE'S AUDIENCE RANGED FROM THE HIGHEST nobles to the lowest commoners; between them they knew a great variety of music ranging from the complex fancies for a consort of viols to the bawdiest folk songs. A tune like Walsingham was known to all and served as the basis of many compositions, such as Cutting's variations on it heard in the present recording.

Instrumental music was used to place the mood of many settings or to accompany a tender love scene. Drums and trumpets heralded the entrances of royal personages and sounded alarms during battles. «Solemn musick» accompanied funerals and processions, and any banquet scene included such dances as Kemp's Jig. Tavern scenes or gatherings of soldiers always included a round or a part song such as He that will an alehouse keep or We be soldiers three.

Perhaps the most beautiful music in the plays is that set to Shakespeare's own lyrics. Clowns always sang or broke into such songs as O mistress mine. «Twelfth Night», in fact, closes with a clown singing When that I was, which serves as the epilogue to the play. Pages are also usually endowed with a gift for song. During a scene in «As You Like It» Audrey and Touchstone are discussing their forthcoming wedding, and a page nicely sums up the situation in It was a lover and his lass. Sometimes a song is used to set a mood or to tell us a character's innermost thoughts. In «Measure for Measure», the fourth act opens as Mariana enters with a page who sings Take, O take those lips away. Nothing could express the somber mood at this moment more eloquently.

Occasionally the main characters are required to sing. Ariel in «The Tempest» has several songs. He greets the survivors of the shipwreck with Full fathom five, and when he is finally promised his longed-for freedom, he expresses his joy in Where the bee sucks there suck I. Two of Shakespeare's heroines are called upon to sing in their most dramatic moments. As Desdemona prepares for bed she sings the haunting Willow Song. It offers a still moment which sets off the tragedy that follows. Ophelia's mad scene is laced with plaintive little ditties which tell us more about her state of mind than anything she speaks. The first of these, How should I your true love know, sums up her whole relationship with Hamlet. Bonny sweet robin, played in this recording on the lute, is another one of the melodies Shakespeare asks her to sing.