The End of Asia
Danceries · Riuichi Sakamoto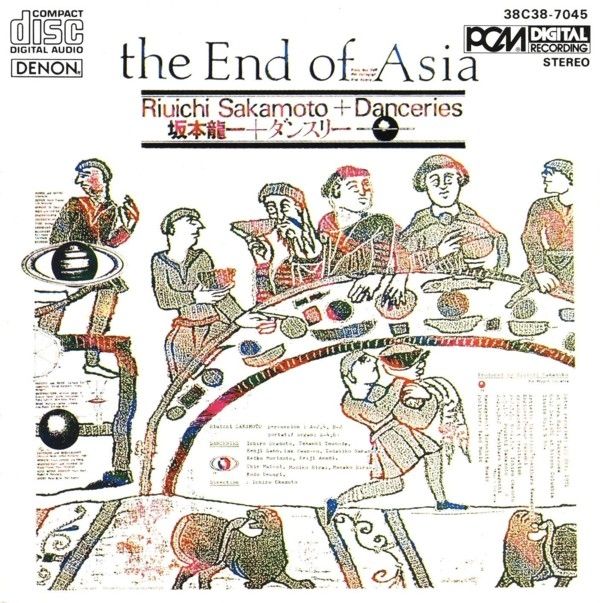 danceries
Denon 38C38-7045
1981










01 - Dance (Sakamoto 1981) [2:40]

02 - Tielman SUSATO. Two Rondes [Danserye, Nederland s.XVI] [3:10]

03 - Fa la la la lán [Cancionero de Upsala, España s.XVI] [2:01]

04 - Boku no Kakera (Sakamoto 1981) [3:59]

05 - Instrumental Motet. In seculum (France s.XIII) [2:29]

06 - Grasshoppers (Sakamoto 1978-81) [3:25]

07 - Thibaut de NAVARRE. Pour ce se d'amer (trouvère s.XIII) [6:01]

08 - The End of Asia (Sakamoto 1978) [4:43]

09 - A l'entrada del ten clar, Eya (troubadour s.XIII) [1:36]

10 - Istampita. Isabella (Italia s.XIV) [3:55]

11 - River (Sakamoto 1981) [1:45]








DANCERIES
Ichiro Okamoto

Ichiro Okamoto, guitar, lute, saz, oud, jamisen
Takashi Tsunoda, lute, oud
Kenji Sano, lute, cromorne, percussion
Pak Kwan-su, rebec
Tadahiko Nakamura, cromorne
Keiko Morimoto, viola, fiddle
Keiji Asami, santour
Mamiko Hirai, vocals
Chie Matsui, vocals
Tomoé Matsui, vocals
Toshifumi Sakamoto, fiddle, viola
Hirohiko Nakamura, flutes, ney, crumhorns, gemshorn


Riuchi Sakamoto
percussion #2,4,8
portatif organ #4, 6


Arrangement & realisation:
#2, 3, 5, 7, 9, 10: Ichiro Okamoto
#6, 11: Riuichi Sakamoto
#1, 4, 8: Yoshiharu Kawaguchi
Producer: Riuichi SAKAMOTO

Recording:
1-2, Oct. 1981 at Vega Hall, Takarazuka
6 — 12, Dec. 1981 at Studio No.2 & No.3 Nippon Columbia, Tokyo
Recording Director: Yoshiharu Kawaguchi
Recording Engineer: Masao Hayashi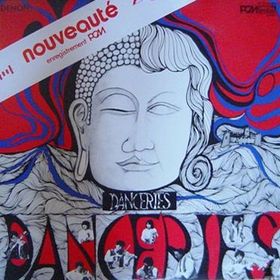 The group "DANCERIES" was formed in 1972 by Ichiro Okamoto with the intention of playing medieval and Renaissance music. It has an excellent reputation in Japan, as well as in Europe due to its five musical tours of France since 1974.

During these tours, in addition to medieval and Renaissance music, the group began to play arrangements of Japanese music including folksongs from Okinawa. Naturally, this was received in Europe with great interest.

In their first recording (1981), the group tried to play these folksongs in the same manner as the medieval pieces. For that recording, Japanese composers, such as Yuji Takahashi and Masahiko Sato, made new arrangements. This album is highly esteemed for its intellectual effect.

The group's experiments are based upon the hypothesis that European music before modernization has something in common with music that existed outside of Europe.

Riuichi Sakamoto, born in 1952 in Tokyo, graduated from the masters program of composition of Tokyo University of Arts and Music. In spite of such academic achievement, he has been active as a composer, arranger and musician in the field of popular music. The "Yellow Magic Orchestra," of which he is a member, has enjoyed great success since 1980, as a pop group with a unique electronic sound.

Thus, Sakamoto has become one of the most well-known figures in the Japanese musical world. He is interested especially in using non-European elements for the creation of a new popular music. This may be a common feature with the group "Danceries."

In this album, his old works written for the synthesizer are played in the same manner as those of European Middle Ages and Renaissance. Furthermore, two new pieces, "Dance" and "River," have been added.

In regards to the Middle Ages, Renaissance, modern European, pre-modern and or non-European musical language and the question of the popularity of music—in every respect, this recording should make a deep impression through the participation of Riuichi Sakamoto.


Translated by Toshiko SEKINE



"2 Rondes" are pieces contained in a dance album published by Tielman Susato (ca. 1500-1561/64), a music publisher in Antwerpen (Antwerp).

"Cancionero de Upsala" is an anthology of the Spanish songs of Susato's time. All its pieces consist of Villancicos, songs made up of plural verses with refrains, and it is called "Songbook of Upsala" because it was found at a library in Upsala, Sweden.

Motet originated in France in the early 13th century. It is a sort of polyphonic music composed by adding new vocal parts to the base of melodic structure of Gregorian chants. Instrumental motet, which appeared later, likewise exploits Gregorian chants for tenors somewhat altering their melodic lines.

"Trouvère" were wandering minstrels who were once active on the court scenes of Northern France from the mid-12th century to the late 13th century. They created poems on themes such as courtly love and crusades and sang them.

The art of "Troubadour," originating in the mid-11th century in Southern France, is thought to have been created under the influence of the Arab-Islamic culture which had passed through the Iberian Peninsula, and folk music such as popular dance music.

Estampie (Istampita), the most important of the dances of the 13th and 14th centuries, is instrumental music, usually composed of from four to seven sections played twice respectively.


Yoshio MIYAMA
Translated by Matthew RIFKIN