Primavera en Salónica

. Canciones de los Sefardíes y de sus vecinos


Songs of the Sephardim and their Neighbours

/ Judith R. Cohen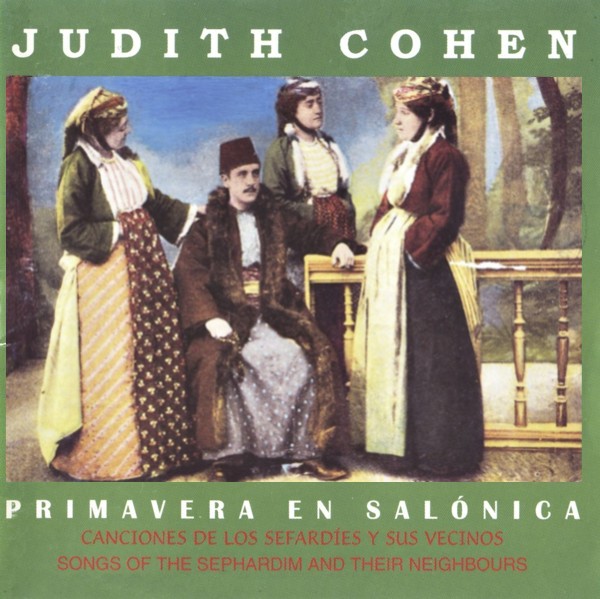 worldcat.org
Saga KPD-10.977
1999







1. Istemem babaciğim + No quero, madre [2:57] Judeo-español de Turquía
2. C'est dans la nouvelle France [1:54] Québec
3. Santa María amar Nº 7 [2:34] Alfonso X El Sabio CSM 7
4. Aber mi doide [2:21] Bitola - Monastir, Macedonia Eslava
5. Minush [3:21] Judeo-español de Turquía
6. Suite Usküdara [5:35] Turquía
7. Zolst azoy lebn [1:35] Yiddish - Askenazí
8. Primavera en Salónica [1:17] Judeo-español de Turquía
9. Ya se va el rabino + El doctor, mi madre [1:51] Judeo-español de Turquía
10. Hermanas reina y cautiva [2:20] Judeo-español de Bosnia
11. Delba delile [0:50] Macedonia Eslava, oeste
12. Kegn Gold + Rivkele di shabesdike [2:44] Yiddish - Askenazí
13. Suite "La vuelta del marido" [7:46]
14. La meva xiqueta [1:26] Valencia - España
15. U komšii svatba ima [2:01] Pirin - Bulgaria
16. Ako sam ja rozha [1:40] Gradisce - Croacia Austriaca
17. Ansí se me arrimó [1:49] Judeo-español de Marruecos
18. Ah siniora novia [1:19] Judeo-español de Bulgaria
19. Oy, qué buena [1:27] Judeo-español de Bulgaria
20. Reel de Sherbrooke [0:43] Québec
21. El Juicio del Rey Salomón [2:30] Judeo-español de Marruecos
22. Mayn Feter Elye [2:01] Yiddish
23. Maglorie [0:48] Acadie - Canadá
24. Ver klept es azoy shpeyt [2:03] Yiddish





© 1999 TECNOSAGA, S.A. | http://www.tecnosaga.com

℗ 1993 SAGA (Temas del 1 al 13) Primavera en Salónica

℗ 1991 SAGA (Temas del 14 al 24) Con viela y mochila




English liner notes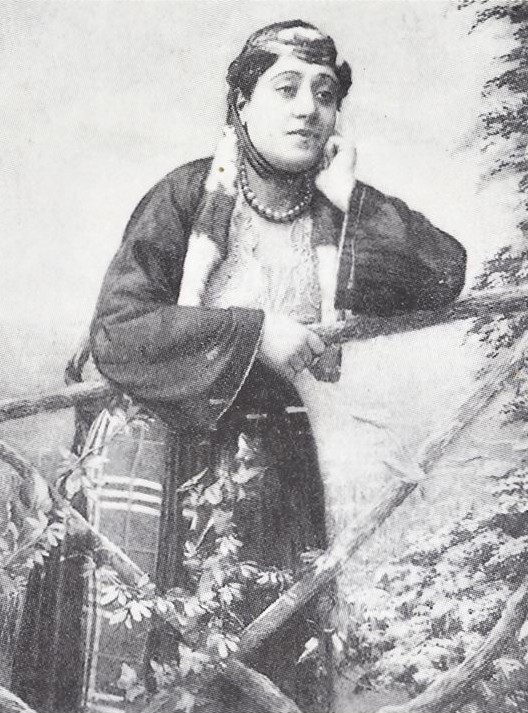 Canciones de los Sefardíes y de sus vecinos

Necesitaría muchas cintas para incluir temas de todos los países donde han vivido los sefardíes después de su expulsión de la Península Ibérica. Aprendí los temas que canto aquí de sefardíes en varios países, incluso Israel, Grecia, Turquía, Marruecos y Canadá, y de algunos de sus vecinos: la cultura askenazí, la Edad Media Española, Países Eslavos, Grecia y Canadá francés.

Todos los temas son tradicionales, salvo Santa María Amar, Cantiga n°7 de Alfonso X "El Sabio", siglo XIII, y la letra de Rivkele di Shabesdike, por Peysakh Kaplan, 1870- 1943. La inclusión de la cantiga mariana de Alfonso X refleja la presencia de músicos judíos, musulmanes y cristianos en la corte del rey, y la importancia de los sefardíes en la música y la poesía de la Iberia medieval.

Istemem Babaciğim + No quero madre: Judeo-Española, basada en una mezcla de lírica tradicional española y una canción de los Roma (Gitanos) de Estambul. Una joven rechaza a todos los pretendientes propuestos por su padre: "No quiero, padre!", pero por fin acepta al borracho. La versión judeo-española sustituye al padre por la madre. Aprendida de las mujeres del club "Las Amigas" y las del "Club Ladino" en Israel, 1991; versión turca también del disco "East of Athens" (1961). Gracias a Selma Erey (New York) y a Ilhammi Gökcen (Toronto), quienes me ayudaron con la letra turca y a José Manuel Pedrosa por su estudio de la historia del texto. (oud, derbukka, bendir).

C'est dans la Nouvelle France (Québec). Las dos primeras estrofas en voz de hombre, piensa en un lugar donde suele ir para beber y olvidar sus penas: "Sólo puedo ver a mi querida a la misa y en su casa, donde tengo miedo de su madre y de su corazón". Luego habla la joven: "Los pastores abandonan su ganado, el amor hace mas daño que cien lobos entre las ovejas". El amor ataca a todos: "Mi querido, utilicemos bien el tiempo, porque los dulces placeres del otoño valen más que los de la primavera". De las recopilaciones de E.Z. Massicotte, 1919 (en Marius Barbeau, Le Roi Boit, 1987) y de Marc Gagné, 1972 (en la grabación C'est dans la Nouvelle France, 1976).

Santa María Amar, nº 7: De las famosas Cantigas de Santa María del rey Alfonso X "El Sabio", siglo XIII. Como ya comentamos, había músicos judíos en la corte de Alfonso X, y participaron en la creación y la interpretación de las Cantigas de Santa María. En ese número 7, una abadesa se encuentra encinta, por lo visto por "uno de Bologna" pero en realidad por la travesura del demonio. Las monjas se lo comentan al obispo, y este último decide examinar a la abadesa. En el camino, ella se arrepiente, y María manda a dos ángeles, quienes le facilitan el parto y llevan al niño a Soissons ("Sansonna", rima con "Bolonna"). El obispo le examina rigurosamente, pero, constatando todo normal, castiga a las monjas por haber acusado falsamente a su superior. (viella de arco medieval).

Aber mi Doide. De la región de Bitola (Monastir) de Macedonia, donde antes había una comunidad sefardita que ya ha desaparecido. En 7/8 (3-2-2), con bordona tradicional. Una aventura de Goce Delchev, el héroe revolucionario: "Ven a Solun, van a ahorcar a Goce Delchev. Goce se pasea por el mercado, disfrazado de negro como los vendedores de carbón. Los soldados le preguntan: -tu, has visto a Goce Delchev?, -Aunque lo viera, no lo reconocería". Aprendido de Ethel Raim, New York, 1976.

Minush. Canción de amor para la encantadora "Minush", adaptada del turco al judeo-español. Existen más estrofas, pero casi todas las versiones judeo-españolas incluyen los siete tabakas (turco: "cielos") y mazal (hebreo: "fortuna"). Aprendí estas estrofas de unas mujeres residentes en el Asilo de Gente Mayor Sefardí de Brooklyn (New York, 1989) y de la Señora M. Lévy de Rodas y Zaire (Bruselas, 1991). Letra turca aprendida de Ilhammi Gökcen (Estambul) en Toronto, 1990, gracias también a Gad Nasi (Israel). (saz, bendir).

Suite Usküdara (arr. J. Cohen). La canción turca "Usküdara" tuvo tanto éxito en la opereta "Takhmidjian" de Horhor Agaz Leblebici (circa o ca. 1882), que en seguida fue traducida en varios idiomas y ya forma parte integral del folklore de Turquía. Aquí, canto una estrofa de la canción original, en la cual una joven encuentra el pañuelo de su querido en la calle, dos estrofas en judeo-español: "Caminé por toda la ciudad de Salónica, pero no encontré tu igual, si me quieres, mandaré telégrafos a todo mi pueblo"; dos estrofas en griego: "Una niña de doce años vino de tierras ajenas, danos o véndenos los lunares con que nos atormentas", tres estrofas de Alejandría (Egipto) en árabe, italiano, francés e inglés; y al final una versión instrumental del repertorio "klezmer" de los askenazíes, adecuadamente titulado "Der Terk in América". También existen versiones en hebreo, bosnio, serbio y otros idiomas. Gracias a Emilie Lévy (Alejandría) para la versión judeo-española, aprendida de ella en New York, 1991, a Markos Dragoumis (Grecia), para las estrofas griegas y la información sobre la opereta (Madrid, 1992, andando por la Calle de Santa Isabel); y a Julidé Avzaradel y Gad Nasi por su ayuda con la pronunciación turca (Israel, 1992). Versión de Alejandría de la grabación de Gloria y Emilie Lévy (1958); versión "klezmer" transcrita por Henry Sapoznik (The Compleat Klezmer, 1987). Aprendí la canción turca hace muchos años, Julidé Avzaradel, también Gad Nasi (Israel) me ayudaron con la letra. (oud, derbukka, bendir, pandereta, cucharas de madera turcas, flauta dulce soprano, guitarra).

Zolst Azoy Lebn. Yiddish (Askenazí). Una niña se queja por tener que cuidar al bebé y lavar sus pañales en lugar de jugar con sus amigas. Le dice al niño "Si no duermes, tu mamá me culpará". Recopilación de Ruth Rubin (New York). Dedicada a mis hermanas Sahra y Frannie, ya saben porqué. (guitarra).

Primavera en Salónica. La comunidad sefardí grande y floreciente de Salónica quedó trágicamente reducida por el holocausto a unos 1000. Esta canción recuerda una época más feliz, con la imagen de una joven cantando y tocando el oud. Es importante destacar las palabras adaptadas al judeo-español del turco, reflejando el pasado de Salónica (Thessaloniki): dertes (Tc. dert, pena), dzhilves, (Tc. cilve, gracia), shakas (Tc. saka, chiste); y el nombre judío del propietario del café. Recopilado por Giorgis Mafikis, 1985 (Folk Musicians and Singers Sing of Thessaloniki, 1668-1917). Gracias por la grabación a R. Amarilio (Salónica). Dedico la interpretación a los sefardíes que acudieron a Salónica en diciembre de 1991, y a Buena Sarfatty Garfinkle (Salónica / Montreal). (oud).

Ya se va el Rabino + El Doctor, mi madre (Judeo-Español turco). En el primer tema, el Rabino regala a su mujer (rubisa, Heb. ribisa, esposa del rabino, Tc. bulisa, bula, esposa) una camisa ornamentada (Tc. bundzhuk) y pan y dulces tradicionales (píta y halvá), que ella recibirá con mazal (Heb. fortuna). En el segundo, la conducta del "buen doctor" es algo dudosa. De los Archivos Nacionales de Jerusalén, recopilados por mi infatigable colega y amiga, Dra. Susana Weich-Shahak. (saz, derbukka, cucharas turcas).

Hermanas Reina y Cautiva ("Moricos los mis Moricos"). Romance judeo-español de Bosnia, en 7/8, del poema narrativo francés Floire e Blanceflor, siglo XII, y originalmente de las 1001 Noches. También cantado por los sefardíes de Marruecos ("La Reina Sherifa Mora"). A una reina mora le regalan como esclava a una condesa cristiana; las comadres truecan .a sus criaturas para que la reina tenga un niño y la cautiva una niña, pero las dos madres se reconocen como hermanas. De la grabación de E. Abínun (1968); interpretación dedicada a la memoria de Nina Vućković (Bosnia / Kahnewake). (saz, bendir).

Delba Delile. Macedonia. Canción de baile en 11/16 (2-2-3-2-2), con bordona. Las jóvenes del pueblo reparten los saqueos de la batalla, de los cuales a un cautivo moreno lo llevan a los baños y lo suben encima de un caballo blanco, pero se queda aun más moreno. Aprendida de Carol Freeman (1972) y de Pece Atanasovski (Macedonia), Toronto, 1991. (voz, bendir).

Kegn Gold / Rivkele di Shabesdike. Yiddish (Askenazí). Kegn Gold refleja una época optimista en la cual judíos ucranianos trabajaban en granjas colectivas: "Los campos son mi fábrica y el sol es mi patrón; tengo nuevos horizontes y una nueva canción". Rivkele es una contrahechura triste, unida quizás por la imagen de la fábrica. Los Nazis despertaron a todos los hombres judíos del ghetto de Bialystok, el sábado 12 de julio de 1942. A sus mujeres les llamaban las "Shabesdíke", "las de Sabat", porque la tragedia pasó en el día de sábado, sabat judío. Rivkele la "shabesdike" trabaja en una fábrica tirando los hilos uno por uno, mira por la ventana al ghetto triste y se pregunta si su marido vive aún o si sufre en las colonias de concentración. Peysakh Kaplan, autor de la letra de "Rivkele", se murió en el ghetto de Bialystok un año después. Aprendida de Adrienne Cooper, New York, 1989.

Suite La Vuelta del Marido (arr. J.Cohen). Cinco versiones de una narrativa muy difundida en el mundo hispánico y en otros países también. El marido muchas veces soldado, regresa disfrazado; su mujer (novia) le pregunta si ha visto a su querido, y él contesta que este se ha muerto y le ha rogado casarse con la mujer. La esposa (novia) declara su fidelidad al ausente, y el hombre descubre su identidad. Casi todas las versiones conservan los siete años (cifra mágica) que la mujer ha esperado. Empiezo con una versión del siglo XV, sigo con dos versiones judeo-españolas, marroquí y turca; luego canto una version de Acadie (Canadá francés marítimo) y una de un pliego suelto inglés. La versión de Acadie incluye el tema del "anillo roto": "Germaine, cuando nos despedimos, me abrazaste tan fuerte que se rompió tu anillo, y aquí lo tengo". La virtuosa mujer de la versión inglesa dice "si está muerto, moriré yo cuando decrezca la luna, si está casado con otra, les deseo felicidad". Gentilz gallans G. París, Chansons du XV siècle, 1875, Escuchis Señor Soldado aprendida de Alegría y Rafael Benamron, de Alcazarquivir (Marruecos), en Montreal, 1990; Arbolera recopilada por Israel J. Katz, Jerusalén, 1960, editada en 1972-5; Germaine recopilado por Dominique Gauthier, Chansons de Shippagan, 1975; "John Riley" grabada por Joan Báez, 196?. (viela de arco medieval, oud, guitarra).

La Meya Xiqueta, nana valenciana. Aprendida en Villarreal de los Infantes (Castellón), de Manuela Balanzá Pérez, 1972.

U Komši Svatba Ima. (Pirin - Bulgaria). Cantar de boda, describe a los invitados y a la novia sentada sobre un caballo. Aprendida en Toronto, 1987, de Irene Markoff.

Ako Sam Ja Rozha. (Gradisće, parte austríaca de Croacia). Diálogo entre un joven y una joven. Ella dice: "Aunque yo sea una rosa, sigo trayendo hierba para cuatro vacas. No puedes entrar, claveja (claveja simboliza muchacho), porque no te he dado mi falda". El contesta: "Poco me importarán tu falda y la rosa, ábreme la ventana". Aprendida de John y Anne Miletich, Toronto, 1985.

Ansí se me arrimó. Cantar de boda de los judíos del norte de Marruecos, la única canción con estribillo en árabe. Se refiere a la antigua costumbre con la que la suegra verificaba el estado virginal de la novia. Ritmo típico (derbukka y pandereta, "sonaža"). Aprendida de diferentes informantes, sobre todo de Hannah Pimienta (de Tánger, Montreal), ca. 1982; también en el repertorio de Gerineldo.

Ah, Siniora Novia. Cantar de boda de los sefardíes de Bulgaria, aprendida de una grabación de Kobi Zarko, Israel 1990.

Oy, Que Buena. Cantar de boda de los sefardíes de Bulgaria, con ritmo típico de 9 = 1-2, 1-2, 1-2, 1-2-3. Algunas palabras en hebreo: kiddushim, bendiciones; arvit, oficio sinagogal de las tardes; minyan / im-plural, diez hombres, la cuota para tener oficios formales en la sinagoga; burekitas, del turco burek, típico pastel relleno. Aprendida de la colección de Dra. Susana Weich-Shahak, Archivos Nacionales de Sonido (Tel-Aviv), ca. 1983.

Reel de Sherbrooke. Melodía de baile tradicional de Québec. Flauta dulce y cucharas. Aprendida de Chris Rawlings, Montreal, ca. 1978.

El Juicio del Rey Salomón. Romance bíblico, cantado únicamente por los sefardíes del norte de Marruecos. La aprendí en Montreal, Oro Anahory-Librowicz, del grupo Gerineldo, en 1981. Interpretado sin acompañamiento instrumental, a la manera tradicional.

Mayn Feter Elye (Mi Tío Elye). Canción en Yiddish. Mi Tío Elye va al mercado para vender sus cosas; cuando vuelve, no tiene dinero y su barriga también está vacía; para los niños ha traído regalos del cielo. Mi Tío Elye suele decir que el mundo es muy bonito, es un carrusel, pero que deberían tocar otros músicos (Klezmorim). Aprendida en New York, de Michael Alpert, 1989 (a capella).

Maglorie (nombre antiguo de niña). Del Canada Francés, la parte llamada Acadie, las zonas francesas de las provincias marítimas canadienses. "En París hay un sillar, lleno de oro y plata, Maglorie tiene una falda de oro y plata; se pone un sombrero de diamantes y se sube en su mula para irse como la luna". De la colección de Michael Aucoin, ca. 1978, en Moncton, Nuevo Brunswick (Canadá) (a capella).
Ver Klept es Azoy Shpeyt. Canción en Yiddish. Diálogo: "Ella -¿Quién es ese que golpea tan tarde?. ¨Él -Tu amante, déjame entrar. Ella -Tengo miedo de mi padre, de mi madre. El -No me quedaré mucho tiempo, y voy a entrar de todas maneras". De la antología Vinkovetsky.

Judith R. Cohen: voz; viela de arco medieval, flauta dulce, derbukka, pandero, pandereta, cucharas turcas, guitarra en tema 2.
Jaume Bosser: oud, saz, guitarra salvo tema 2.

Canciones recopiladas / seleccionadas y anotadas por Judith Cohen
Suites Usküdara y La Vuelta arr. J. Cohen 1992. Dedico ese proyecto a mi hija, Tamar Ilana Cohen Adams, a la memoria de mi madre, Ethel Quint Cohen.
Songs of the Sephardim and their Neighbours

It would take many recordings to include songs from all the countries where Judeo-Spanish-speaking Sephardim have lived since their exile from the Iberian Peninsula. I learned the songs included here from Sephardim in several countries, including Israel, Greece, Turkey, Morocco and Canada - and from their neighbours in time and space - Ashkenazi culture, Medieval Spain, Turkey, Slavic countries and French Canada.

All the songs are traditional, except "Santa María Amar", Cantiga N° 7 by Alfonso X "El Sabio" (13th century), and the words of "Rivkele di Shabesdike", by Peysakh Kaplan, 1870-1943. The inclusion of Alfonso X's cantiga reflects the presence of Jewish, Muslim and Christian musicians at his court and the importance of Sephardim in the music and poetry of medieval Iberia.

Istemem babaciğim + No quero, madre. Judeo-Spanish, based on a combination of traditional Spanish lyrics and a Turkish urban Roma ("Gypsy") song. The first and last verses are sung in Turkish; the others in Judeo-Spanish. A daughter rejects the suitors her father proposes: "I don't want [him], Father!" - until he suggests a drunkard, whom she thinks will be more fun. The Judeo-Spanish version replaces the father with the mother. Learned from the women of the "Las Amigas" and "Ladino" clubs, Israel, 1991; Turkish from the recording East of Athens (1963). Thanks also to Selma Erey (New York) and Ilhammi Gökcen (Toronto) for help with the words. (oud, derbukka, tambourine). I would also like to acknowledge José Manuel Pedrosa's study of the history of the lyrics.

C'est dans la Nouvelle France, Québec. The first two stanzas are in a man's voice: he speaks of his favourite drinking place, where he can forget his frustration at seeing his beloved only in church and at her home: "I fear her mother, and her heart". The other two stanzas are in a woman's voice: "shepherds abandon their flocks, love wreaks more havoc than 100 wolves among the sheep. Love spares no-one, beloved; let's use our time well, for autumn's gentle pleasures are sweeter than those of spring". E.Z. Massicotte, 1919 (M. Barbeau, Le Roi Boit, 1987), and Marc Gagné, 1972 (C'est Dans la Nouvelle France, 1976).

Santa María Amar n° 7. Cantigas de Santa María, King Alfonso X "The Learned", 13th century, in Galaico-Portuguese. These celebrated Cantigas recount Marian miracles: as mentioned earlier, Jewish musicians were included in Alfonso's court. In this Cantiga n° 7, an abbess finds herself pregnant, ostensibly by "someone in Bologna" but really through the devil's mischief. The nuns inform the bishop, who summons her to be examined, the abbess repents and Mary sends two angels to deliver the child and send it off to Soissons (it rhymes with Bologna in the original). The bishop's stringent examination of the abbess reveals nothing amiss and he chastises the nuns for falsely accusing their superior. (medieval vielle)

Aber mi Doide. From the Bitola (Monastir) region of Slavic Macedonia, once a thriving Sephardic centre, where no Jews remain today. This song, in 7/8 meter (3-2-2), with a two note drone, recounts an adventure of the revolutionary outlaw hero, Goce Delchev. "Come to Solun, they're going to hang Goce Delchev. Goce walks in the market place, disguised in black like the coal men: the soldiers ask him whether he's seen Goce and he replies, I wouldn't even recognize him". Learned from Ethel Raim, New York, 1976.

Minush. A Turkish love song for the charming "Minush", adapted into Judeo-Spanish. There are many other verses; most include the "seven heavens" siete tabakas: Turkish "heavens") and mazal (Hebrew: fortune, luck). Learned from residents of the Brooklyn Sephardic Home for the Aged. 1989; Mme M. Levy (Brussels, 1991) and others; thanks for the Turkish words to Ilhammi Gökcen (Toronto) and Gad Nasi (Tel Aviv). (saz, frame drum)

Usküdara Suite (arr. J.Cohen). The Turkish song Usküdara became part of Turkish folklore and was translated into several languages, following its appearance in a late 19th century operetta (Horhor Agaz Leblebici, Takhmidjian). Here are: one verse from the Turkish original, about a girl who finds her beloved's handkerchief in the street; two verses from a Judeo-Spanish version "I walked the streets of Salonica but could not find your equal, if you love me I'll send everyone a telegrafo", 2 in Greek: "a 12 year old girl came from, far away; give or sell us the beauty marks you torment us wiíth; 3 of an Alexandrian version in Arabic, French, Italian and English; and a klezmer version, aptly entitled Der Terk in Amerika. Hebrew, Bulgarian, Bosnian and other versions also exist. Emilie Levy (Alexandria / New York): the Judeo-Spanish versión; Markos Dragoumis: Greek version and background infomation, 1992; Emilie and Gloria Levy: Alexandria version (1958 recording); Julidé Avzaradel and Gad Nasi (Israel): help with Turkish pronunciation. Klezmer version as notated in Henry Sapoznik, The Compleat Klezmer (1987). (oud, derbukka, tambourine, bendir, Turkish spoons, recorder, guitar)

Zolst Azoy Lebn. Yiddish (Ashkenazi). A young baby-sitter glumly sings to the baby and washes diapers while her friends play and eat candy; the worst, she tells the baby, is "if you won't go to sleep your mother will yell at me!". From the collection of Ruth Rubin. Dedicated to my sisters Sahra and Frannie, they know why. (guitar).

Primavera en Salónica. "Springtime in Salonica". The once brilliant Sephardic community of Salonica, tragically decimated by the Holocaust, now numbers only 1000. The song reflects happier times: "I stopped by Avram Mazlum's café, a dark-eyed girl was singing and playing the oud, charming away our sorrows". Note Turkish words adapted to Judeo-Spanish: dertes (Tc. dert, sorrow), dzhilves (Tc. cilve, charm), shakas (Tc. saka, witticism) and the Jewish name of the café owner. Recorded in the Old Age Home of Thessaloniki, 1985, by Giorgis Malikis (Folk Musicians and Singers Sing of 1668-1917). Thanks to R. Amarilio (Salonica); dedicated to the Sephardim who welcomed me to Salonica in December 1991, also to Buena Sarfatty Garfinkle (Salonica / Montreal). (oud)
(nb. This was the original title of this recording when it was issued as a cassette in 1992; in deference to Sabina Yannatou's subsequent release of the same name, we have changed the title of this CD release).

Ya se va el Rabino + El Doctor, mi Madre. Turkish Judeo-Spanish. In the first, the rabbi sets out to buy gifts for his wife (Hebrew ribisa, rabbi's wife; Tk, bulisa, bula, wife): an ornamented shirt (Tc. bundzhuk); pita bread and halvah (tradicional sweet); her life is filled with mazal (Heb. fortune). The second song: "Mother, the doctor touches my face, surely this good doctor will cure me, now he touches my..." From the National Sound Archives in Jerusalem, recorded by my indefatigable colleague and friend Dr. Susana Weich-Shahak. (saz, frame drum, Turkish spoons)

Hermanas Reina y Cautiva ("Moricos, los mis Moricos"). Bosnian Judeo-Spanish version, in 7/8 meter, of a romance which traces its roots to the 12th-century French narrative poem "Floire e Blanceflor" and from there back to the 1001 Nights. Also a favourite among Moroccan Sephardim, who know it as "La Reina Sherifa Mora". A Christian noblewoman is given as a slave to a Moorish queen, midwives switch their babies to give the queen a boy and the "slave" a girl; eventually the two women realize they are long-lost sisters. From the singing of E. Abinun (1968). For the late Nina Vućković (Bosnia/Kahnawake). (saz, frame drum).

Delba Delile. Macedonia. A dance song in 11/16 (2-2-3-2-2) meter, with two-note drone. The village girls divide the battle spoils, including a dark young prisoner; they take him to the baths and seat him on a white horse: the horse looks whiter and he looks even darker. Learned from Carol Freeman (1972) and Pece Atanasovski (1991). (voice, frame drum)

Kegn Gold / Rivkele di Shabesdike. Yiddish (Ashkenazi). Kegn Gold reflects a period of optimism when Ukrainian Jews worked on collective farms: "the field is my factory, the sun is my foreman: new horizons, a new song". Rivkele is a sad contrafactum, linked perhaps by the image of the factory. The Nazis deported the Jewish men of the Bialystok ghetto on Saturday July 12, 1942: Saturday is the Jewish Sabbath, so the wives of these men became known as the "Sabbath ones". "Rivkele'di Shabesdike", the "Sabbath one", works in a factory; she pulls the thread through the needle, looks out at the bleak ghetto and wonders if her beloved is alive, or suffering in a concentration camp. Words by Peysakh Kaplan, who died in the Bialystok ghetto the next year. Learned from Adrienne Cooper: New York, 1989.

La Vuelta del Marido Suite (arr. J.Cohen). Five versions of a romance popular in the Hispanic world and elsewhere, of the husband's return, combining elements from various related ballads. The husband (often a soldier) returns disguised. His wife or fiancée asks if he has seen her beloved; he replies that the latter is dead and has told him to marry her, but the faithful woman refuses, upon which he reveals himself. The magic number 7 is usually present: she has waited 7 years for his return. I begin with a late 15th century French version, Gentilz gallans de France; then sing Judeo-Spanish versions from Alcazarquivir, Morocco and from Turkey, continue with Germaine, a related version from Acadie (Maritime French Canada), and end with an English broadside version, John Riley. The Acadian version is related to the "broken token" or broken ring as identification theme: "Germaine, when I left you embraced me so hard your ring broke, and here it is". In the English version, John Riley tests his fiancée's love: "What if he's married someone else?" Her saintly reply: "Then I wish them every happiness". 15th century version: Gaston Paris, Chansons du XVe siècle, 1875; Moroccan: learned from Rafael and Alegría Benamron, Alcazarquivir/Montreal, 1990, Turkish: recorded by Israel J. Katz in Jerusalem, 1960; Acadian: D. Gauthier, Chansons de Shippagan, 1975; English: early Joan Baez recording. (medieval vielle, oud, guitar).

La Meva Xiqueta. Lullaby from Valencia. Learned in Villarreal de los Infantes (Castellón) from Manuela Balanzá Pérez, 1972.

[U komšii svatba ima]

Ako sam ja rozha. (Gradisće, Austrian area of Croatia). Dialogue between a young girl and a young boy: She says, "though I be a rose, still I bring grass for four cows. Carnation (i.e: young man), you can't come in, I've not given you my skirt". He answers, "I care little for your skirt or for the rose: open your window for me". Learned from John and Anne Miletich, Toronto, 1985.

Ansi se me arrimó. Wedding song of the Moroccan Sephardim, with an unusual refrain in Moroccan Arabic. It refers to the now out-dated custom of the bride spending the night before the ceremony with her future mother-in-law, who confirms her virginal state. Learned from various Moroccan Sephardim, especially Hannah Pimienta. (Tangier / Montreal), ca. 1982; also as sung by the group Gerineldo.

Ah Siniora Novia. Wedding song of the Bulgarian Sephardim, learned from a recording by Kobi Zarkar, Israel, 1990.

Oy, que buena. Wedding song of the Bulgarian Sephardim, in a typical 9/8 rhythm: 1-2, 1-2, 1-2, 1-2-3. There are several words in Hebrew: kiddushim (blessings), arvit (afternoon synagogue service), minyan (quorum of ten men needed for an official service, plural: minyanim). Also, from the Turkish: burekitas, small "bureks" (Turkish filled pastries). From the collection of Dr. Susana Weich-Shahak, National Sound Archives, Israel, ca. 1983.

Reel de Sherbrooke. Traditional dance tune from Quebec, played on recorder and spoons. Learned in 1978 from Chris Rawlings, in Montreal.

El Juicio del Rey Salomón. Biblical ballad, sung by the Moroccan Sephardim; the story of King Solomon and the two babies. As learned from Oro Anahory-Librowicz, of the group Gerineldo, Montreal, 1981.

Mayn Feter Elye. "My Uncle Elye". Yiddish. "My Uncle Elye goes to market to sell his wares; when he comes back he has no money and his belly is empty as well; he's brought presents from heaven for the children. Uncle Elye says the world is beautiful, like a carousel, but the wrong musicians ("kapelye" or group of "klezmorim") are playing..." Learned from Michael Alpert, New York, 1989.

Maglorie. From Acadie, in Maritime French Canada. A very rare, old song fragment: "In Paris there is a bench, of gold and silver; Maglorie wears a gold and silver skirt, she puts on her hat of diamonds and sits on a mule to go off like the moon". From the collection Vautour/Aucoin, ca. 1978, Centre for Acadian Studies Archives, Moncton, New Brunswick.

Ver klept Es Azoy Shpeyt. A dialogue song: the young girl asks who knocks so late, and when her lover answers tells him she's afraid of her father, her mother, her brother. He tells her not to worry and he's going to come in anyway! From the Vinkovetsky anthology.

Judith R. Cohen: vocals, medieval vielle, recorder, derbukka, frame drum, tambourine, Turkish spoons, guitar on #2.
Jaume Bosser: oud, saz, guitar except #2.

Songs collected / selected and annotated by Judith Cohen; Usküdara and Vuelta suites arr. J. Cohen 1992.

This recording is dedicated to my daughter, Tamar Ilana Cohen Adams, and to the memory of my mother, Ethel Quint Cohen.