In Taberna

. Medieval Passions


Medieval Songs and Dances

/ Corte Antica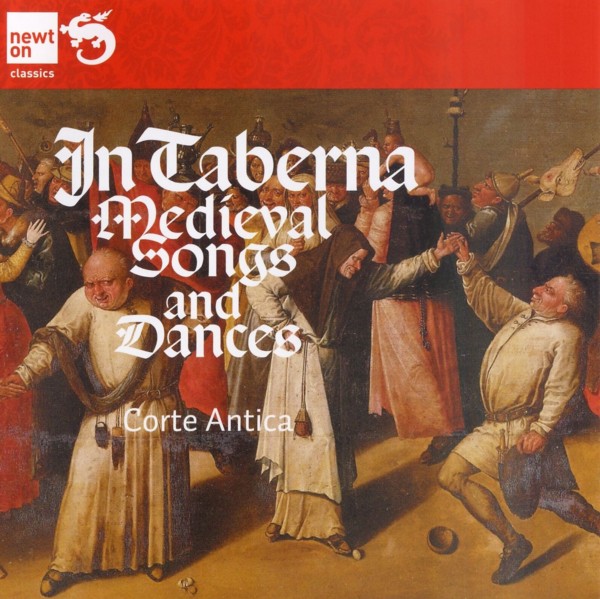 medieval.org
Rivo Alto 2206, 2002
Newton Classics 8802126, 2012









1. Paduanus, 1308 [0:54] Nicolò de' Rossi, 1290—c.1350

Anonymous
2. Tre fontane [1:23] 13th century
3. A l'entrada del tens clar [2:43] 13th century
4. VII Estampie royale [2:07] French dance, 14th century

5. Amor con un carcasso No.6, after 1470 [1:12] Sonetti pavani del Codice Ottelio

6. Astra tenenti [2:35] Ludus Danielis, 13th century
7. Kalenda Maya [2:40] Raimbaut de VAQUEIRAS, 12th century
8. Ce fu un mai [3:16] Moniot d'ARRAS, 13th century
9. Saltarello [1:49] Anonymous, 14th century

10. E vussi' rebaltar No.11 [1:28] Sonetti pavani del Codice Ottelio

11. Conductus [1:34] Ludus Danielis, 13th century
12. Ductia I [2:11] French dance, 13th century
13. Ja nuns hons pris [7:12] RICHARD the LIONHEART, 1157—1199
14. Trotto [1:41] anonymous, 14th century

15. Frelo, el me vien No.2 [1:28] Sonetti pavani del Codice Ottelio

16. In taberna [2:11] Carmina burana, Codex latinus 4660, 14th century CB 196
17. In may [3:05] Colin MUSET, fl.1200—1250
18. Quen a festa [2:55] Cantigas de Sancta Maria, 13th century CSM 195

19. Sonetus domini Elisei patavini No.9 [1:13] Sonetti pavani del Codice Ottelio

Anonymous
20. Lamento di Tristano e ... [2:37] 14th century
21. ... rotta 1:00] 14th century
22. V Estampie royale [3:38] French dance, 14th century


Marsilio da Carrara, 1294—1328 and Francesco di Vannozzo, c.1330—c.1389
23 Dominus Marsilius de Carraria ad, c.1360 [1:11]
24 Responso Francisci Vanocii [1:14]

Sonetti pavani del Codice Otellio
25. Paduanus quidam No.1 [1:24]
26. Antedicuts No.3 [1:16]
27. Si no se ne ha ben No.4 [1:15]
28. Villanesco No.5 [1:23]
29. Paduanus quidam 2 No.7 [1:08]
30. E fu in su No.8 [1:15]
31. Sonetus domini Helisey patavini No.10 [1:19]





Corte Antica

Mario Campagnaro — voice
Davide Carli — recorders, crumhorn, percussion
Angelo Di Prima — recorders, crumhorn, percussion
Arrigo Pietrobon — flutes, crumhorns, bombard, percussion
Claudio Sartorato — voice, hurdy-gurdy, percussion
Marco Squizzato — lute, percussion
Francesco Bisetto — narrator



Recording: 15-24 May 2000,
Palazzo Morello, Castelfranco Veneto (I)
Producer: Robert de Pieri
Balance engineers: Gianni Fantuz & Federico Xiccato
℗ 2002 Rivoalto
© 2012 Newton Classics B.V.

Manufactured and printed in the Netherlands



Thank you for buying this disc and thereby supporting all those involved in the making of it. Please remember that this record and its packaging are protected by copyright law. Please don't lend discs to others to copy, give away illegal copies of discs, or use internet services that promote the illegal distribution of copyright recordings. Such actions threaten the livelihood of musicians and everyone else involved in producing music. Applicable laws provide severe civil and criminal penalties for the unauthorized reproduction, distribution and digital transmission of copyright sound recordings.



ART DIRECTION & DESIGN
Jean Martin Wilschut BNO ICOM
Amsterdam Hotsprings

COVER IMAGE
Manner of Jheronimus Bosch
The Battle between Carnival and Lent (c.1600—1620), 74.7x240 cm, oil on panel
Collection Rijksmuseum, Amsterdam, © Rijksmuseum, Amsterdam




In Taberna: Medieval Passions

Laughter, derision, parody, jokes and satire: all 'tools for social survival' (Éric Smadja). The comic, parodic and satirical poetry presented on this CD provides, in performance, a thematic backdrop to a rich feast of medieval music. While at its heart lies a group of earthily humorous 15th-century sonnets in Paduan dialect — whose local flavour is typical of folk tradition but whose literary qualities are skilfully exploited — this collection of music, songs and courtly dances can only be defined as European (in the sense that these works are cross-cultural, rather than having anything to do with the modern political entity). The shared experience of liberation from the 'tyranny of Latin' with the development of the vernacular Romance languages centred first on the poetic heights of the French art, then travelled the pilgrim and trade routes: from Celtic Ireland to Britain and Flanders; from Germany to Provence; from the Spanish territories to the courts of Italy. At this time, many of these routes converged in the Po Valley: while the prospect of trading wealth drew some to Venice (the Rialto, then one of the world's greatest marketplaces, is mentioned in the first track on this album), others were attracted to Padua as a seat of learning — its university was one of the earliest to be founded (in 1222). The province of Padua was also home to the court of the D'Este family, the Provençal troubadours' first Italian port of call, and the place where Marchetto (da Padova) codified, with the Ars Nova, the future development of polyphony.

During the long medieval period (the 5th to 15th centuries) music was a fundamental part of people's everyday lives. Its role was essentially functional, with pieces often improvised or composed for specific occasions: to accompany work, battles, banquets, feast-days and other celebrations. It owed much to the monodic Jewish chant tradition whose influence spread to Europe with Christianization.

It was Charlemagne, meanwhile, who established musical performances at court, with his love for accompanied songs telling of heroic feats (there was at the time a ban on the liturgical use of instruments). Travelling fairs carried music across borders, enabling a wide circulation of both melodies and the Romance languages, as the dominance of Latin began to wane. There was one entertaining exception to the latter rule: the Italian students known as Goliards composed and performed songs in an 'updated' Latin, setting texts often somewhat lacking in sophistication (favourite themes being wine, women, sex and general joie de vivre). Jongleurs were professional musicians and entertainers, some of them performing to a high level — the 'jongleurs de geste', or singers of epic narrative verses. From the higher echelons of society, where art and music were already highly valued forms of diversion, came the troubadours (from Provence, writing in the langue d'oc) and trouvères (from northern France, writing in the langue d'oïl) — travelling composer-poets who sang refined songs of chivalry and courtly love. Thousands of troubadour and trouvère works survive, some with musical notation intact.

In Germany, meanwhile, the Minnesänger represented the homegrown equivalent of the troubadour/trouvère tradition, incorporating local elements into the Provençal/French genre of courtly love. Their star began to fade at the end of the 13th century, when their art was taken up by the Meistersinger: artisans and other city workers — men with no connections to court life — who formed themselves into guilds, composing and performing in accordance with a set of strict regulations.

One fascinating aspect of the secular music written between the Middle Ages and the early Renaissance is the range of musical instruments used. These were classified on the basis of the intensity of the sounds they produced, thus were either haut (loud: used principally in outdoor perfomances), or bas (soft: designed for church use).

On this album the instruments play and the voices sing, but the dances are left to our imagination. Among them are French estampies, interwoven with anonymous works and others by known authors, and with new and evocative discoveries as well as 'classics' such as the extract from the Carmina burana of Codex latinus 4660, or the brief incursion into the non-secular repertoire represented by one of Alfonso X's Galician-Portuguese Cantigas.

This Corte Antica performance conjures up an ideal crossroads at which jongleurs and troubadours, nobles and minstrels, dancers and Goliards meet — a place where people suffer heartbreak and laugh heartily, drink fine wines and call lost loves to mind. Is this the Middle Ages? It's certainly how we'd like to think of those far-off days...


Robert de Pieri
Translation: Susannah Howe