Paz, Salam & Shalom / Canticum Novum, Emmanuel Bardon

---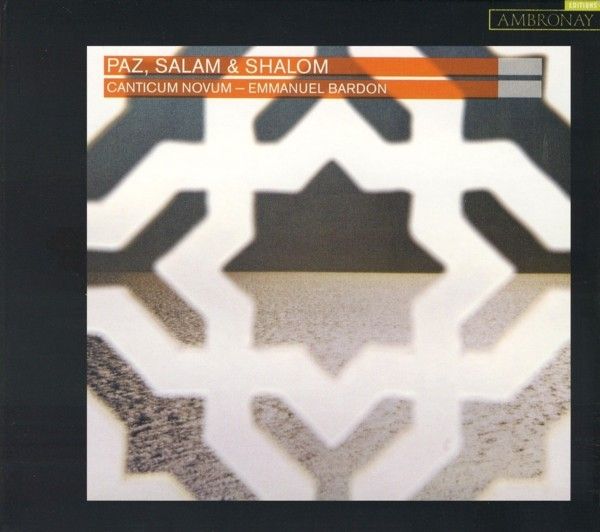 medieval.org
canticumnovum.fr
musicweb-international.com
Ambronay AMY033
2011








1. Noches buenas [6:18]
sefardí, Jerusalén


2. Miragres fremosos [2:33] CSM 37
Cantiga 37, Cantigas de Santa María, Alfonso X el Sabio (1221-1284)

3. Des oge mais [8:47] CSM 1
Cantiga 1, Cantigas de Santa María, Alfonso X el Sabio


4. El rey de Francia [5:26]
sefardí, Esmirna (Turquía)

5. La estrellas de los cielos [9:43]
sefardí, Alexandria

6. Por allí pasó un cavallero [4:08]
sefardí, Turquía


7. Santa Maria, strela do dia [4:35] CSM 100
Cantiga 1, Cantigas de Santa María, Alfonso X el Sabio

8. Danza ritual [4:00]
Argelia

9. Ir me quiero, madre [6:09]
sefardí, Jerusalén

10. Todo-los santos [1:47] CSM 15
Cantiga 15, Cantigas de Santa María, Alfonso X el Sabio

11. Uskuder [6:31]
Turquía

12. A la una nací yo [5:35]
sefardí, Sarajevo

13. Muito faz grand' erro [10:02] CSM 209
Cantiga 209, Cantigas de Santa María, Alfonso X el Sabio




Les chants séfarades (XVe-XVIe siècles) sont en ladino, langue essentiellement composée d'espagnol, d'hébreu et de mots de la langue des différents pays d'accueil de la diaspora juive du XVe siècle. Les Cantigas de Santa María d'Alphonse X Le Sage, roi de Castille et Léon de 1252 à 1284, sont en galaïco-portugais.

The Sephardic songs (15th-16th centuries) are in Ladino, a language composed essentially of Spanish, Hebrew, and words from the languages of the various countries in which the Jewish diaspora of the 15th century took refuge. The Cantigas de Santa María of Alfonso X the Wise, King of Castile and León from 1252 to 1284, are in Galician-Portuguese.



Canticum Novum
Emmanuel Bardon

Barbara Kusa, Emmanuel Bardon, Yves Bergé — chant
Valérie Dulac — vièle, lire d'archet
Emmanuelle Guigues — vièle, kamancheh
Gwenaël Bihan — flûtes à bec
Philippe Roche — oud
Remi Cortial — oud, bandolim
Aroussiak Guevorguian — kanun
Henri-Charles Caget, Ismaïl Mesbahi — percussions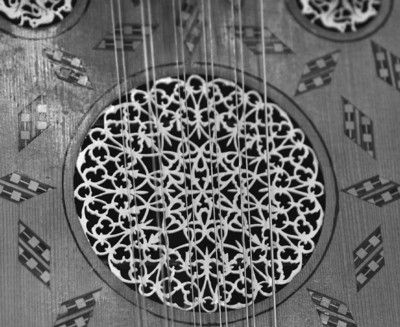 Recorded in the church of Pommiers (42), France — 7-10th December 2010
Recording Engineers Virginie Lefebvre, Nicolas Thelliez
Recording Producer, editing, mixing & mastering Virginie Lefebvre

Cover photograph & design Benoit Pelletier, Diabolus — www.diabolus.fr
Booklet graphic design Segolaine Pertriaux, myBeautiful, Lyon — www.mybeautiful.fr
Booklet photo credits Bertrand Pichene

℗ 2011 Canticum Novum
© 2011 Centre culturel de rencontre d'Ambronay, 01500 Ambronay, France — www.ambronay.org




English liner notes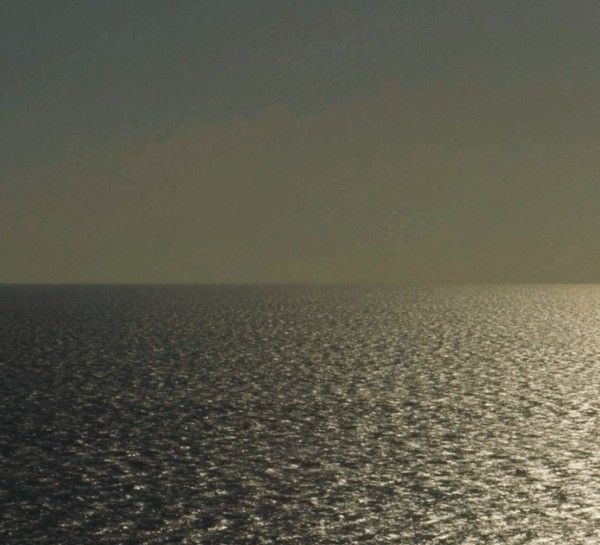 LE SEL DES ORIGINES

Pour le béotien que je suis, la musique classique — j'utilise ce mot fourre-tout qui ne veut rien dire pour cacher mon inculture: plus les mots recouvrent des idées larges et floues, plus ils rendent service aux ignorants! — la musique classique donc, me semble souvent considérer la nature humaine comme tout entière condensée dans le cortex. J'entends d'ici les «Haro sur le benêt! Le sourd et l'incompétent!», mais avant d'être lapidé en place de musicologie, qu'on me laisse dire combien cette musique-là, celle de Canticum Novum, incarne pour moi un accord parfait entre terre et ciel, combien elle lie la matérialité de notre quotidien à nos aspirations métaphysiques. J'y entends un élan qui part des sabots du laboureur, remonte le long de l'échine des plaisirs de la vie et s'envole pour côtoyer l'au-delà.

Sans aucun doute le Moyen Âge où elle trouve ses racines n'y est-il pas pour rien. En ces siècles où charnel et spirituel, par la force des choses pourrait-on dire, sont alors beaucoup plus lies qu'aujourd'hui, l'esprit et le corps ne sont pas encore des domaines cloisonnes. On prie dans la boue: la trivialité du quotidien n'altère en rien une conversation continue avec l'au-delà. Au Moyen Âge, on pense Dieu au cul des vaches! Ce lien entre charnel et spirituel, qui peut sembler un paradoxe aujourd'hui, s'incarne à merveille dans la musique de Paz, Salam & Shalom.

Cette musique ancienne nous rappelle avec une fraîcheur étonnante que corps et esprit ne font qu'un. Elle nous redonne une certaine idée d'harmonie perdue. Dans une époque où, avachis devant nos écrans connectes au virtuel, nous ne voyons dans nos corps que des machines à entretenir au mieux pour un plaisir maximum; où la spiritualité apparaît parfois comme une option possible dans un programme de vacances, Paz, Salam & Shalom est comme un bain de jouvence pris dans les temps anciens.


Cette musique, et c'est là aussi une leçon de l'histoire, nous rappelle que le beau naît de la rencontre de nos différences. Paz, Salam & Shalom nous plonge dans la Tolède du XIIIe siècle, Tolède la tolérante, terre d'accueil des trois religions du Livre... Isabelle la Catholique n'est pas encore passée par là. Cette musique est à la croisee des chemins, au point de rencontre des influences juives, chrétiennes et musulmanes.

Il faut écouter le dialogue. Il faut écouter l'attention portée à l'Autre et le mariage respectueux, la recherche de la connivence pour se convaincre que oui, le beau naît de la rencontre de nos différences. Ne nous y trompons pas: nous sommes bien loin d'une certaine world music. Canticum Novum ne nous fait pas entendre le sel des origines passe au tamis du goût moyen, commercial. La proposition est exigeante. Elle cherche la rencontre, pas le compromis. Pourtant l'amateur ne se sent jamais exclu. Pas besoin de références, ou plutôt aucune reference indispensable pour apprecier. Cette musique se donne à celui qui veut l'écouter, inventive, audacieuse et sûre d'elle parce que la qualité de ses interprètes le lui permet.


Paz, Salam & Shalom nous parvient comme un bain de fraîcheur, une leçon d'harmonie venue du passé.


Gilles Granouillet
Metteur en scène et auteur à la Comédie de Saint-Étienne


GENÈSE D'UNE TRANSMISSION

Paz, Salam & Shalom se veut un point de départ où le dialogue, la rencontre avec l'Autre et la spiritualité sont la genèse d'une transmission. Nous cherchons à faire entendre nos racines communes, à donner la possibilité à chacun de se réapproprier un patrimoine encore bien vivant, d'une saisissante modernité. La frontière entre culture populaire et culture savante s'efface. Des arts et de la musique apparaissent en filigrane les traditions populaires et les échos de l'Orient. L'auditeur est ainsi plongé au cœur d'un univers qui, d'une manière ou d'une autre, lui raconte sa propre histoire.

Nous avons sélectionné plusieurs pièces qui nous paraissent exprimer dans toute sa richesse, sa diversité et ses couleurs, cette période bénie où des hommes de cultures et d'origines diverses se sont croisés pour nourrir une création commune. C'est sans difficulté que nous les avons choisies dans le répertoire séfarade, le répertoire de tradition musulmane et le chansonnier des Cantigas de Santa María de Alfonso X el Sabio (1). Nous avons pris pour ce programme quelques libertés, en particulier au niveau de l'instrumentarium. Il est bien évident que le bandolim, les bols tibétains ou encore le flamboyant (2) ne font pas partie des instruments que l'on pouvait entendre au XIIIe siècle en Espagne. Nous avons ainsi favorisé la couleur et la mixité des timbres. Certaines strophes de cantigas ou de pièces séfarades ne sont pas chantées car nous avons voulu donner du dynamisme à ce programme qui risquait d'être trop long. Celles-ci sont néanmoins présentes dans le livret.

Rassembler une équipe, mettre l'humain, le dialogue, l'exigence, l'amitié au cœur de notre travail; créer un geste commun où chaque individu a toute sa place... Paz, Salam & Shalom est le reflet de cette ambition. Nous avons eu la chance de nous retrouver, nous rencontrer dans cette réflexion sur la façon dont nous voulons partager aujourd'hui notre savoir-faire et la musique qui est dans nos mains.

Finalement, le plus important est-il de savoir que cette musique nous vient du XIIIe siècle ou qu'elle est aujourd'hui une musique vivante, qui a toute sa raison d'être dans une société contemporaine où l'on a tendance à oublier que l'Autre est source de richesse et que le dialogue est le battement de cœur d'une humanité en devenir?

Emmanuel Bardon


1. Alphonse X Le Sage (Tolède, 1221—Seville, 1284), roi de Castille et Léon de 1252 jusqu'à sa mort.
2. Le flamboyant est un arbre des régions tropicales. Il est apprécie pour la beaute de ses fleurs rouges, d'où son nom. Une fois séchées, les gousses constituent naturellement une formidable percussion à percuteur interne.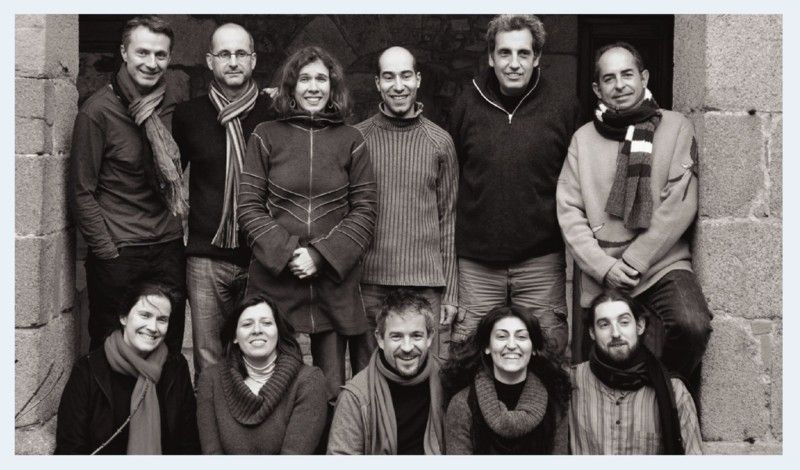 CANTICUM NOVUM

Canticum Novum — dont la démarche fondatrice est de transmettre par la musique un message de respect mutuel, de tolérance et d'acceptation de l'Autre — s'attache à favoriser la rencontre avec tous les publics. L'ensemble mène en ce sens un travail sur le territoire du département de la Loire, particulièrement dans les quartiers défavorises et en zone rurale, à travers l'organisation d'ateliers de sensibilisation, de pratique et de création musicale. Le Festin Musical de Pommiers, festival de musique ancienne organise par l'ensemble au sein du prieure clunisien de Pommiers-en-Forez, est ainsi ne de cette volonté de faire se rencontrer les peuples et les cultures.

Depuis 2007, Canticum Novum est en résidence à l'Opera Theâtre de Saint-Étienne. L'ensemble donne régulièrement des concerts en France et à l'étranger (festival de Musique Sacrée de Nice, Ambronay, Sylvanès, Tarentaise, Fontmorigny, opéra national de Banská Bystrica, etc.)
Il collabore souvent avec d'autres ensembles, notamment Les Folies Françoises et les solistes des Musiciens du Louvre-Grenoble.

En 2010-2011, l'ensemble est en tournée dans toute la France avec les Vêpres à la Vierge de Monteverdi, Llegendes de Catalunya — Llibre vermell de Montserrat et Paz, Salam & Shalom.
En 2011-2012, le spectacle Hayim — Toledo 1267, ecrit par Gilles Granouillet et Annick Picchio, sera cree avec les Jeunesses Musicales de France à partir des œuvres inscrites au programme de ce disque.

Canticum Novum est soutenu par la Ville de Saint-Étienne, le Conseil Général de la Loire, la Région Rhône-Alpes, le Ministère de la culture et de la communication – DRAC Rhône-Alpes. Il reçoit également le soutien de l'ADAMI et de la SPEDIDAM.




EMMANUEL BARDON

Après des études de violoncelle auprès de Paul Boufil, Emmanuel Bardon décide finalement de se consacrer au chant. Il obtient son diplôme supérieur de chant en 1995 après s'être formé auprès de Gaël de Kerret, puis Olivier Schneebeli et Maarten Koningsberger à la Maîtrise du Centre de Musique Baroque de Versailles. Il se perfectionne par la suite auprès de Montserrat Figueras, Jordi Savall, Maria Cristina Kiehr, Margreet Honig, Noelle Barker et Jennifer Smith, et continue aujourd'hui ses recherches auprès de Mireille Deguy et Ronald Klekamp.

Il participe régulièrement aux productions d'ensembles tels que le Concert Spirituel, La Capella Reial de Catalunya, les Musiciens du Louvre-Grenoble, le Parlement de Musique ou encore la Simphonie du Marais.
Il fonde Canticum Novum en 1996, ensemble avec lequel il développe de nombreux ateliers pédagogiques à destination du jeune public. Il a ainsi rencontré plus de 10 000 enfants du département de la Loire.
Emmanuel Bardon est fondateur et directeur artistique du festival Musique à Fontmorigny depuis 1999.



THE SALT OF THE ORIGINS

For a philistine such as myself, classical music – I use this meaningless catch-all expression to hide my lack of education: the broader and vaguer the ideas encompassed by a word, the more useful it is to the ignorant! – classical music, I say, often seems to me to regard human nature as entirely concentrated in the cortex. I can hear from where I'm sitting the disdainful cries of 'Hark at the nincompoop! He's tone-deaf, he doesn't know what he's talking about!'; but before I am stoned in the public square of musicology, let me say that this music, the music of Canticum Novum, represents for me a perfect union between earth and heaven, linking the materiality of our everyday existence with our metaphysical aspirations. I hear in it an élan that begins in the ploughman's clogs, rises up the backbone of life's pleasures and soars upwards to touch the beyond.

There can be no doubt that this phenomenon is intimately connected with the Middle Ages in which it has its roots. In those centuries when the carnal and the spiritual were perforce much more closely bound up together than they are today, spirit and body were not yet mutually exclusive domains. People prayed in the mud: the triviality of the everyday in no way affected a continuous conversation with the beyond. In the Middle Ages, one thought of God even amid the cow-dung! This link between the carnal and the spiritual, which may seem paradoxical today, is marvellously embodied in the music of Paz, Salam & Shalom.

This music from another age reminds us, with astonishing freshness, that body and soul are one. It restores to us a certain idea of lost harmony. In an age when, slumped in front of our screens connected to the virtual universe, we see in our bodies no more than machines to be kept in optimum condition for maximum pleasure, when spirituality sometimes appears as a possible option on a holiday programme, Paz, Salam & Shalom is like a rejuvenating immersion in a bygone era.

Such music – and here is another history lesson – reminds us that beauty emerges from the encounter between our differences. Paz, Salam & Shalom plunges us into in the Toledo of the thirteenth century, Toledo the tolerant, a welcoming haven for the three Religions of the Book . . . Isabella the Catholic had not yet wrought her work there. This music lies at the crossroads, at the intersection of Jewish, Christian and Muslim influences.

One must listen to the dialogue. One must listen to the attention paid to the Other, the respectful marriage of styles, the search for complicity to be convinced that, yes, beauty emerges from the encounter between our differences. But make no mistake: here we are light-years away from a certain 'world music'. Canticum Novum does not offer us the salt of the origins sifted in the sieve of mediocre commercial taste. The proposition is demanding. It seeks encounter, not compromise. Yet the amateur never feels excluded. There is no need for references, or rather, no reference is indispensable to appreciate it. This music yields its secrets to anyone who is willing to listen to it, inventive, audacious and sure of itself, because the quality of its interpreters allows it to do so with confidence.

Paz, Salam & Shalom comes to us like a revitalising experience, a lesson in harmony from the past.


Gilles Granouillet
Translation: Charles Johnston



GENESIS OF A TRANSMISSION

Paz, Salam & Shalom is intended as a point of departure, a place where dialogue, the encounter with the Other, and spirituality spark off a process of transmission. We aim to demonstrate that we have common roots, and to enable each of us to reappropriate a heritage that is still very much alive and strikingly modern. The frontier between popular and learned cultures becomes blurred. From the arts and the music we interpret, popular traditions are reborn and echoes of the Orient resonate. Our listeners are thereby immersed in a universe which, in one way or another, tells them their own history.

We have selected several pieces which seem to us to express, in all its richness, diversity and vivid colours, that blessed era when men and women of different cultures and origins came together to nurture shared acts of creativity. We had no difficulty in choosing such pieces from the Sephardic repertory, the repertory of the Muslim tradition and Alfonso X el Sabio's song collection, the Cantigas de Santa María (1). We have taken some liberties for this programme, especially as far as the instrumentarium is concerned. It is obvious that the bandolim (2), the Tibetan bowls and the flamboyant (3) are not among the instruments that could be heard in thirteenth-century Spain. We used them to increase the range of colours and the variety of timbres. Certain strophes from the cantigas and the Sephardic pieces are not sung here, because we wanted to maintain dynamism in a programme that might otherwise have been too long. However, the booklet presents the complete texts.

Assembling a team, placing human dialogue, high artistic standards and friendship at the heart of our work, creating a common gesture where each individual has his or her place: Paz, Salam & Shalom reflects this ambition. We were lucky enough fi nd ourselves in mutual agreement about the way we wanted to share our skills and the music which is in our hands today.
In the end, is it more important to know that this music comes from the thirteenth century or that it is still wholly relevant today? For there is all the more reason to play it in a contemporary society where too many people tend to forget that the Other is a source of riches, and that dialogue is the heartbeat of a constantly evolving humanity.


Emmanuel Bardon
Translation: Charles Johnston



1. Alfonso X the Wise (Toledo, 1221 – Seville, 1284), King of Castile and León from 1252 until his death.
2. A type of mandolin used in Portugal. (Translator's note)
3. The flamboyant, or royal poinciana, is a tree native to the tropics. It is admired for the beauty of its red flowers (whence the name!). When dried, its seed-pods make a splendid percussion instrument with an internal beater [like a maraca – Translator's note].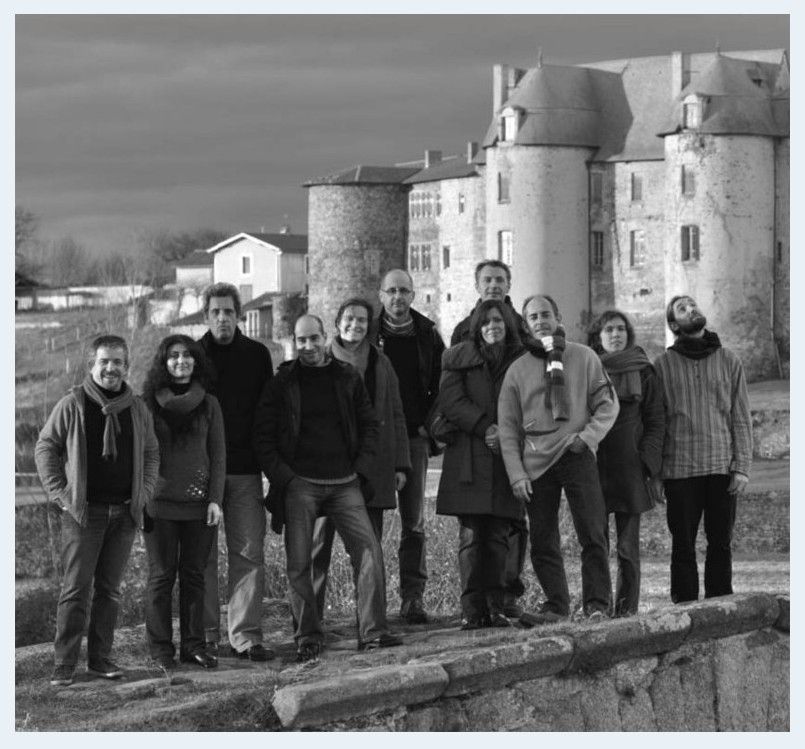 CANTICUM NOVUM

The founding principle of Canticum Novum is to convey through music a message of mutual respect, tolerance, and acceptance of the Other. With this in mind, it endeavours to facilitate encounters with the most diverse audiences. The ensemble concentrates its efforts in this direction on the territory of the Loire département, particularly in deprived neighbourhoods and rural areas, by organising outreach activities and musical performance and creative workshops. The Festin Musical de Pommiers, an early music festival organised by the ensemble at the Cluniac priory of Pommiers-en-Forez, was born of its determination to facilitate meetings between peoples and cultures.

Canticum Novum has been in residence at the Opéra Théâtre de Saint-Étienne since 2007. The ensemble regularly gives concerts in France and abroad at such venues as the Festival de Musique Sacrée de Nice, Ambronay, Sylvanès, Tarentaise, Fontmorigny, and the Banská Bystrica State Opera. It often collaborates with other ensembles, notably Les Folies Françoises and the soloists of Les Musiciens du Louvre-Grenoble.

In the 2010-11 season the ensemble toured France with Monteverdi's Vespro della Beata Vergine and the programmes Llegendes de Catalunya – Llibre vermell de Montserrat and Paz, Salam & Shalom. In 2011-12, the music theatre show Hayim – Toledo 1267, written by Gilles Granouillet and Annick Picchio and based on the works recorded here, was created with the Jeunesses Musicales de France.

Canticum Novum is supported by the Ville de Saint-Étienne, the Conseil General de la Loire, the Rhône-Alpes Region, and the French Ministry of Culture and Communication – DRAC Rhône-Alpes. It also receives support from the ADAMI and the SPEDIDAM.




EMMANUEL BARDON

After studying the cello with Paul Boufil, Emmanuel Bardon decided to devote his career to singing. He received his diploma in vocal studies in 1995 after training with Gaël de Kerret, and subsequently with Olivier Schneebeli and Maarten Koningsberger at the Maîtrise du Centre de Musique Baroque de Versailles. He then went on to postgraduate work with Montserrat Figueras, Jordi Savall, Maria Cristina Kiehr, Margreet Honig, Noelle Barker and Jennifer Smith, and currently studies with Mireille Deguy and Ronald Klekamp.

He participates regularly in the productions of such ensembles as Le Concert Spirituel, La Capella Reial de Catalunya, Les Musiciens du Louvre-Grenoble, Le Parlement de Musique, and La Simphonie du Marais.

In 1996 he founded the ensemble Canticum Novum, with which he has devised numerous educational workshops for young audiences. As a result of this he has already come into contact with more than 10,000 children from the Loire département.

Emmanuel Bardon is also founder and artistic director of the festival Musique à Fontmorigny, which has existed since 1999.


Translation: Charles Johnston