Pierre CERTON. Messe «Sus le pont d'Avignon» &middot Chansons
The Boston Camerata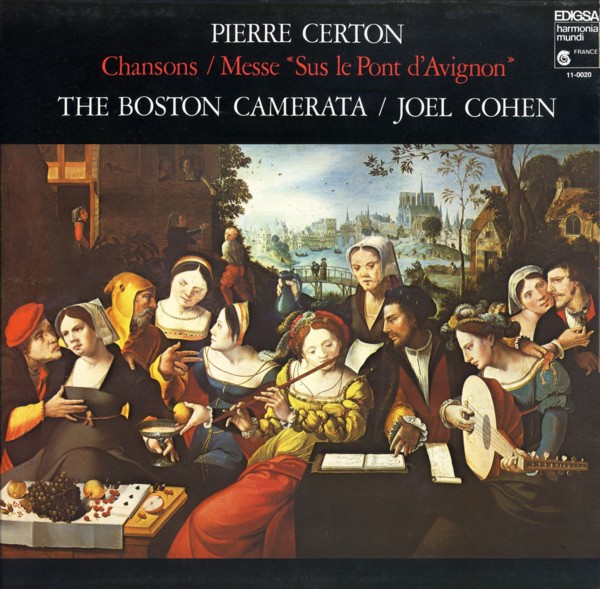 An excellent selection of the chansons which gained great fame for Pierre Certon (d.1572), composer for the Royal Chapel in Paris, accompanied by a mass setting. The monophonic tune which serves as the basis for the mass is not the same as the one commonly known today

medieval.org
Harmonia Mundi HM 1034 [LP]
agosto de 1979
(la edición española del vinilo, de Edigsa, lleva la referencia 11-0020)
CD (1991): Harmonia Mundi "Musique d'abord" HMA 190 1034









FACE A

Messe «Sus le pont d'Avignon»

Kyrie
Gloria
Credo
Sanctus
Agnus Dei




FACE B

Chansons

Je l'ay aymé
flûte traversière, luth, taille de viole, basse de viole
C'est grand pityé
sopranos, ténors, flûte soprano, cromorne alto, taille de viole, basse de viole, tambourin
Amour a tort
ténor, luth, taille de viole, basse de viole
Entre vous gentilz hommes
soliste (J. Cohen), chœur, flûtes soprano et alto, cromorne basse, taille de viole, basse de viole
Plus ne suys ce que j'ay esté
chœur, tambourin
En espérant
flûtes soprano, alto, ténor, luth, taille de viole, basse de viole
Si ta beaulté
soprano, haute-contre, ténor, basse
De tout le mal
haute-contre, flûte traversière, flûtes à bec alto et basse, luth, taille de viole, basse de viole
Je ne veulx poinct
soprano, ténor, taille de viole, basse de viole
Martin s'en alla au Lendit
ténor, flûte traversière, taille de viole, basse de viole
Ce n'est à vous
flûte traversière, luth, taille de viole, basse de viole
Que n'est elle auprès de moy
soprano, haute-contre, ténor, basse
Ung jour que Madame dormoit
soliste (J. Cohen), flûte à bec soprano, cromornes ténor et basse, basse de viole
Hellas ne fringuerons nous
chœur, flûtes soprano et alto, cromorne basse, taille de viole, basse de viole, tambourin



Distribución del CD:

01 - Je l'ay aymé (instr.) [1:54]
02 - C'est grand pityé [1:46]
03 - Amour a tort [2:25]
04 - Entre vous gentilz hommes [1:48]
05 - Plus ne suys ce que j'ai esté [2:08]
06 - En espérant (instr.) [2:21]
07 - Si ta beaulté [2:08]
08 - De tout le mal [4:04]
09 - Je ne vuelx poinct [1:17]
10 - Martin s'en alla au Lendit [0:52]
11 - Ce n'est à vous (instr.) [1:14]
12 - Que n'est-elle auprès de moy [2:03]
13 - Ung jour que madame dormoit [1:18]
14 - Hellas ne fringuerons nous [1:29]
MESSE 'Sus le pont d'Avignon'
15 - Sus le pont d'Avignon (chanson ) - Kyrie [2:56]
16 - Gloria [4:01]
17 - Credo [6:46]
18 - Sanctus [4:28]
19 - Agnus Dei [4:16]


THE BOSTON CAMERATA
Joel Cohen

Nancy Armstrong (soliste), Sallie Gordon, Margaret Johnson, Susan Klebanow, Jane Shaw - sopranos
Ken Fitch (soliste), Steve Walton - haute-contres
Bruce Fithian (soliste), John Clarke - ténors
Charles Robert Stephens (soliste) - David Rockefeller, basses
John Tyson, flûtes à bec, cromornes
Kathleen Devore, flûte traversière, flûtes à bec
Jean Hémard, flûtes à bec, cromornes
Alison Fowle, taille de viole
Laura Jeppensen, basse de viole
Joël Cohen, chant et luth



La edición en CD: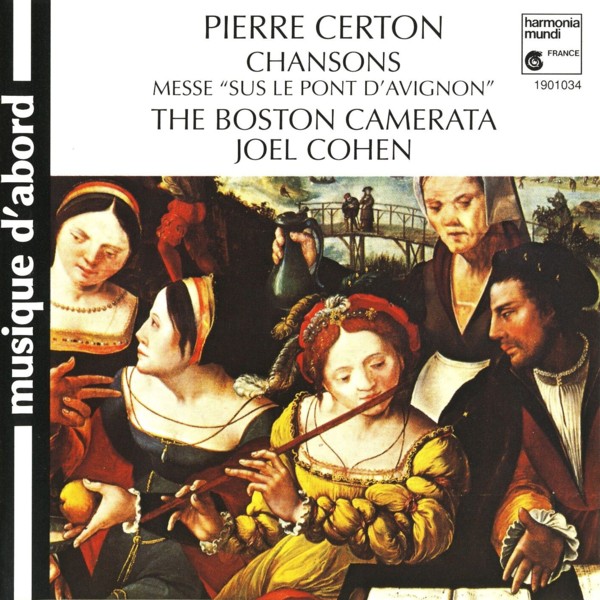 There can be little doubt that Pierre Certon, as "compositeur de musique de la chapelle du roy" (composer of the Royal Chapel), would have been a personage of importance in the musical life of Paris between 1540 and 1570; nevertheless his origins have remained shrouded in the unknown. He is presumed to have been born in the region of Melun, a town where, in 1527 a certain "fernier du forage pour le Roy" by the name of Jehan Certon was to be found. The name still occurred in Melun in the mid-17th century. In about 1560 he obtained a canon's prebend at the church of Notre-Dame, Melun, and founded an annual service for Lady Day at this church, an inscription to this effect being preserved in the Melun Museum. These facts lend some credence to the theory that he came from the Brie country. His name is mentioned for the first time at Notre-Dame in Paris where he was received as a Clerk of Matins in 1529 and it may be supposed that he took advantage of a musical training which had been firmly established for twenty years by Louis Van Pulaer who, until 1527, held the post of master of the children of the choir. On 8 May 1532 he was designated "clerc sous la prébende de M. de Colligny" at the Sainte-Chapelle of the Palace in Paris and four years later, on 15 November 1536, rose to the position of master of the children. He retained this post for the rest of his life, dying after a long career in 1572.

His official position in a setting that was less traditional than that of Notre-Dame, at the centre of the musical life of the capital, undoubtedly brought Certon into contact with musicians who influenced his work: the elegiac spirits of Claudin de Sermisy and Janequin's picturesqueness. He was a prolific composer, with ten masses, seventy motets, psalms and canticles, and more than three hundred chansons.

Despite Pirro's stem judgment (Histoire de la musique, p. 320) of Certon's religious works, "as ready to glorify God... as to recount some comical or scandalous little tale", we find that thanks, no doubt, to the thorough apprenticeship of his youth, this composer, for want of true genius, had a sure command of a craft which sometimes enabled him to "glorify God" with dignity. His mass Sus le pont d' Avignon is sufficient proof of this. The fact that it was chosen in 1553 by Le Roy and Ballard, only two years after they had opened their publishing house, to be printed in their Liber Primus with five other masses by various composers and reprinted in 1558 in a volume devoted exclusively to Certon with three of his masses, is at all events an indication that this work must have pleased the public of the day.

Constructed according to the widespread principles of the missa parodia, it is easy to follow throughout the composition the tune of the famous song (not the same one, by the way, that is still sung today). Certon has preserved its melodic charm, contenting himself with a light ornamentation of the passing notes. Skilfully alternating vocal groups by contrasting episodes in duo with the full choir, he avoids the impression of monotony which does not fail to creep in, however, with the all too predictable return of the initial tune. The work ends brilliantly with an Agnus Dei in which the inceasing mystical expressivesness expands into the full choir in the third episode.

The chansons chosen for this recording cover the years 1533-1549 if one goes by the dates they were printed by Attaignant. This is probably the period of the beginning of the composer's maturity before he had abandoned the polyphonic "chanson musicale" for the chanson "en forme de voix de vile" in the line of Pontus de Tyard. Alternately sentimentally melancholy or picturesquely obscene, these fourteen chansons range through the whole spectrum of French sensibility in the secular domain. Only two of the poets have been identified: Clément Marot, favourite of composers (Martin s' en alla an Lendit) and his disciple Mellin de Saint-Gelais, court poet and wordly prelate (De tout le mal que d' ung vouloir constant and Ung jour que madame dormoit). Whatever the style of these poems, elegiac or burlesque, Certon never betrays their spirit and, thanks to his intelligent understanding of the text, even adds to the expressiveness of the words. Even if he feels particularly at ease with comic subjects: Entre vous gentilz hommes qui suivez la court, Martin s' en alla au Lendit, Que n'est-elle auprés de moy celle que j'ayme, and improper epigrams: Je ne veulx poinct pour mon plaisir, Ung jour que madame dormoit, he is equally skilful in depicting this elegiac and sentimental melancholy moods inherited from the Burgundian chanson of the preceding century: Amour a tort de me tenir rigueur, Plus ne suys ce que j'ay esté, Si to beaulté se garnist de prudence, De tout le mal que d' ung vouloir constant.

These short pieces to which we have deliberately brought a certain variety by the joining or the alternation of voices and instruments, still constitute for the listener of today a diversion of quality. Easy to remember, they "run" agreeably in the head. So well, in fact, that with due respect to Pierre Certon who, in the dedication to Diane de Poitiers, rendered thanks to God for having "acquainted him so well with His desire that music should serve us to rejoice only in Him", we will continue to rejoice more in his chansons than in his spiritually edifying works!


Nanie Bridgman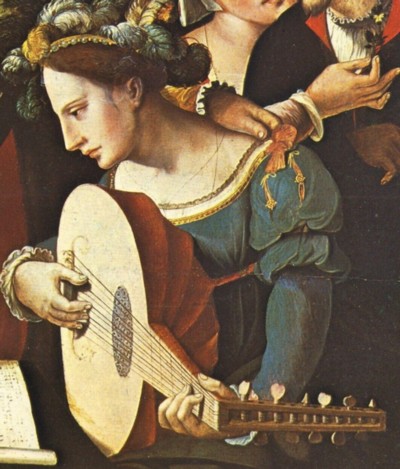 [notas castellanas del vinilo, con los típicos detalles de las mejorables traducciones de Edigsa, como convertir a lo editores Le Roy et Ballard en el rey y Ballard]

Si bien Pierre Certon, «compositor de música de la capilla real», fue sin duda uno de los personajes importantes en la vida musical parisina en los años 1540-1570, su origen es absolutamente desconocido. Se supone que nació en la región de Melun, sitio donde se encuentra en 1527 un cierto «granjero de forraje para el rey» llamado Jehan Certon, estirpe que se encuentra todavía en esta comarca hasta mediados del siglo XVII . El hecho de que nuestro músico haya obtenido hacia el 1560 una prebenda de canónigo en Notre-Dame de Melun y la fundación que hizo en esta iglesia de una salutación anual para la Anunciación, de la cual se conserva la traza sobre una piedra grabada, actualmente en el museo de Melun, dan alguna credibilidad a la hipótesis de su origen. Se encuentra su nombre por primera vez en Notre-Dame de París, donde es recibido como clérigo de maitines en 1529 y se puede suponer que pudo entonces aprovechar una enseñanza cuya tradición había sido sólidamente establecida durante veinte años por Louis Van Pulaer, el cual, hasta 1527, había tenido el cargo de maestro de los niños del coro. El 8 de mayo de 1532, es designado como «clérigo bajo la prebenda de M. de Colligny» en la santa Capilla del Palacio, donde acabaría su larga carrera, pues cuatro años más tarde, el 15 de noviembre de 1536, accede al cargo de maestro de los niños del coro, que conservará hasta su muerte en 1572.

Su situación oficial en un medio menos tradicional que Notre-Dame, en el centro del mundo musical de la capital, ciertamente permitió a Certon algunos contactos que no dejaron de influenciar su creación: Claudin de Semisy por lo elegíaco, Janequin por lo pintoresco. Su obra es abundante con seis misas, setenta motetes, algunos salmos y cánticos espirituales y más de trescientas canciones. A pesar del juicio severo de Pirro (Historia de la música, p.320) referido a las obras religiosas de Certon «tan preocupado en glorificar a Dios... como en contar alguna historia cómica o escandalosa», se puede constatar que, gracias sin duda al buen aprendizaje seguido en su juventud, este músico, a falta de ingenio, ha dado muestras de una ocupación segura que le permite algunas veces «glorificar a Dios» dignamente, como lo prueba sobradamente su misa Sus le Pont d'Avignon. El hecho de que haya sido escogida en 1553, es decir sólo al cabo de dos años de la apertura de su casa, por el rey y Ballard que la imprimieron en su Liber Primus con cinco otras misas de diferentes autores, y editada otra vez en su volumen consagrado sólo a Certon con tres de sus misas, es una prueba, al menos, de que esta obra debía de gustar al público del momento. Era en efecto muy agradable como lo describe aún Pirro «ser transportado Sur le Pont d'Avignon durante todo un oficio y soñar en la canción que Certon había hecho».

Edificada sobre el principio entonces muy divulgado de la misa parodia, se sigue fácilmente a lo largo de toda la composición el tema de la célebre canción (con todo, diferente de la que es cantada aún hoy), en la cual el músico ha sabido conservar el encanto melódico, conteniendo ligeros ornamentos en notas del pasaje. Alternando con habilidad los grupos de voz, oponiendo los episodios en dúo a los tutti, evita la impresión de monotonía que no dejaría de causar la vuelta demasiado esperada de un tema inical, expresivo, es cierto, pero con todo de corta inspiración. Acaba brillantemente con un Agnus Dei donde la expresión mística creciente se expande en el tercer episodio con la unión de las voces.

Las canciones escogidas aquí cubren (si nos valemos de las fechas de impresión de Attaignant) los años 1533-1549, es decir, probablemente la época de madurez naciente del compositor, antes de que abandonase la polifonía de la «canción musical» para adoptar la canción «en forma de voz del pueblo» dentro de la línea de Pontus de Tyard. Ya melancólicamente sentimentales ya pintorescamente libres, estas catorce canciones designan así todo el panorama de la sensibilidad francesa dentro de este dominio profano. No podemos identificar sino a dos poetas: Clément Marot, éste favorito de los músicos (Martin s'en alla au Lendit) y su discípulo Mellin de Saint-Gelais, poeta de Corte y prelado mundano (De tout le mal que d'ung vouloir constant y Ung jour que Madame dormoit). Sea cual fuere el tema de estos poemas, elegíaco o burlesco, Certon nunca traiciona el espíritu, añadiendo incluso por la inteligencia de los textos, la expresión de las palabras. Si se encuentra particulmente a gusto con los sujetos cómicos: Entre vous gentiiz hommes qui suivez la court, Martin s'en alla au Lendit, Que n'est-elle auprès de moy celle que j'ayme y con los epigramas libres: Je ne veulx poinct pour mon plaisir, Ung jour que Madame dormoit, sabe también tomar el elegíaco, la melancolía sentimental heredada de la canción borgoñesa del siglo precedente: Amour a tort de me tenir rigueur, Plus nesuys ce que j'ay esté, Si ta beaulté se garnit de prudence, De tout le mal que d'ung vouloir constant.

Estas piezas cortas, de las cuales se ha podido variar la interpretación por el uso conjugado o alternante de las voces y de los instrumentos, constituyen aún para el auditor de hoy un descanso musical de calidad. Fácilmente retenibles, «dan vueltas» agradablemente por la cabeza! Si bien no desmerece a Pierre Certon quien, en 1558, en la dedicación de sus Salmos de David a Diane de Poitiers, daba gracias a Dios de haberle «dado el bien de conocer que Él quiere que la música nos sirva para alegrarnos sólo en Él», más que con su música edificante, es con sus canciones con las que nos seguiremos alegrando.


Nanie Bridgman