Seviqc Brežice 2013
SEMPER VIVA QUAM CREATA


seviqc-brezice.si
RTV Slovenija, ZKP
2014









ORCHESTRA BAROCCA DI BOLOGNA
Johann Sebastian BACH (1685-1750)
1. Concerto 4.to. a' Violino Principale, due Flauti d'echo, due violini, una Viola e' Violone in Ripieno, Violoncello e' Continuo. (BVVV 1049): Allegro [7:11]
2. Concerto 2.do a' 1 Tromba, 1 Flauto, 1 hautbois, 1 Violino concertanti, e' 2 Violini, 1 Viola e' Violone in Ripieno con Violoncello e' Basso per il Cembalo. (BVVV 1047): Allegro assai [3:06]



NOUR ENSEMBLE
Cantigas de Santa Maria, no. 253 & tradicionalno perzijsko / Persian traditional
3. Hich (Nič / Nothing) & De grad' a Santa Maria CSM 253 [11:28]


MÚSICA ANTIGA DA UFF
4. Anonymous. A la villa voy [3:00]
5. Diego ORTIZ (ca. 1510-ca. 1570). Recercada segunda [1:32]
6. ALFONSO X el SABIO (1221-1284). Miragres fremosos [3:45] CSM 37


MARC MAUILLON, ANGÉLIQUE MAUILLON,
VIVABIANCALUNA BIFF, PIERRE HAMON
Guillaume de MACHAUT (ca. 1300-1377)
7. Dame vostre doux viaire [5:29]
8. Liement me deport / J'aim sans penser [6:08]




LE TENDRE AMOUR
Antonio de LITERES (1673-1747). Los Elementos
9. Principio de la Opera. Ayre/Tierra - Arieta. Fuego [10:13]


ACCENTUS AUSTRIA
Johann Joseph FUX (1660-1741). Ouverture a 4
10. Ouverture / Aria / Aire la Volage / Marche des Ecurieus / L'inegalitè [10:14]


PURPUR — EUROPEAN OPERA SOUND
Franz Joseph HAYDN (1732-1809)
Sinfonia 1 (Hob. I:1): 11. Presto [5:06] 12. Finale. Presto [2:12]
Sinfonia 5 (Hob. 1:5): 13. Presto [1:58]




Nour Ensemble

3. Cantigas de Santa Maria, no. 253 & tradicionalno perzijsko / Persian traditional
Hich (Nič / Nothing) & De grad' a Santa Maria

Christophe Rezai (tenor, indijski harmonij, vodstvo / tenor, Indian Harmonium, direction)
Mostafa Mahmoudi (perzijsko in kurdsko petje / Persian and Kurdish chant)
Pierre-Yves Binard (bariton, tolkala / baritone, percussion)
Pierre Baranger (tenor, traverso)
Hamid Khosroshahi (bas / bass)
Ali Boustan (oud, shouranguiz in glas / oud, shouranguiz, voice)
Reza Asgarzadeh (duduk, kljunasta flavta, glas / duduk recorder, voice)
Jasmin Martorell (svetovalec za vokal / vocal advisor)

Posneto / Recorded: 3.7.2013
Rogaška Slatina, Grand hotel Rogaška

Ansambel Nour je bil ustanovljen leta 2000 med ustvarjanjem neke skladbe v okviru projekta ALBA. Kombinacija iranske in evropske vokalne glasbe je popolna novost. Leta 2002 je vokalni kvintet Nour delal na repertoarju zahodnjaške polifonije iz obdobja od 15. do 17. stoletja. Ansambel je nastopil v mnogih starih cerkvah province Azerbajdžan v Iranu. O tem glasbenem potovanju je bil posnet dokumentarni film v sodelovanju s televizijskim kanalom ARTE. Leta 2003 se je ansambel Nour osredotočil na prav to glasbeno izkušnjo med Perzijo in Zahodom. Evropskim in iranskim pevcem se je tako pridružilo nekaj iranskih inštrumentov. Z novim repertoarjem so se prvič pokazali oktobra leta 2003 v pariškem "Forum des Halles". Leta 2004 je ansambel Nour posnel svoj prvi album na osupljivi lokaciji, in sicer na gradu Ardeshir Babakan (iz časa Sasanidske dinastije) iz 3. stoletja. Tudi o tej glasbi in snemanju je bil posnet dokumentarni film. Odtlej je ansambel Nour sodeloval na mnogih koncertih in festivalih v Evropi, delal pa je tudi z mnogimi drugimi glasbenimi ansambli. Junija 2012 je ansambel nastopal na festivalu sakralne glasbe v Fezu (Maroko) in na festivalu "Les Orientales" v Franciji, kjer je njihov koncert prenašal televizijski kanal Mezzo. Septembra 2012 je bil ansambel Nour povabljen na Le Festival de musique baroque de Pontoise - koncert je prenašala radijska postaja France-Musique.

Nour ensemble was founded in 2000 around the creation of a musical piece with project ALBA. It was the first experience combining Iranian and European Vocal music. In 2002 the Nour vocal quintet worked on the Occidental polyphonic repertoire from the 15th to the 17th century. The ensemble performed in several ancient churches of the Azerbaijan province in Iran. A documentary has been made in collaboration with ARTE TV Channel about this musical voyage. In 2003, the Nour ensemble decided to focus on this musical experience between Persia and the West. Some Iranian instruments joined the European and Iranian singers. This new repertoire was performed for the first time in October 2003 at the "Forum des Halles" in Paris. In September 2004, the Nour ensemble recorded its first album in a stunning site: namely the castle Ardeshir Babakan (from the Sassanid dynasty) dated from the 3rd century. A documentary was made about this music and this recording. Since then, the Nour ensemble has participated in several concerts and festivals in Europe and has worked with many other musical ensembles. In June 2012 Nour Ensemble performed in World Sacred Music Festival of Fez (Morocco) and in "Les Orientales" Festival in France where the concert was recorded by Mezzo TV Channel. In September 2012 Nour Ensemble was invited to perform at Le Festival de musique baroque de Pontoise - the concert was recorded by France-Musique.



Música Antiga da UFF

4. Anonymous
A la villa voy

5. DIEGO ORTIZ (ca. 1510-ca. 1570)
Recercada segunda

6. ALFONSO X EL SABIO (1221-1284)
Miragres fremosos

Leandro Mendes (glas, kljunaste flavte, krivi rog / voice, recorders and krummhorn)
Lenora Mendes (kljunaste flavte, krivi rog, viole da gamba, gamsov rog, viela, rebek / recorders, gemmshorn, krummhorn, viols, medieval fiddle, rebec)
Mario Orlando (basovska viola da gamba, tolkala, glas / bass viol, percussion and voice)
Mareio Selles (glas, basovska viola da gamba, krivi rog, kljunasta flavta / voice, bass viol, krummhorn and recorder)
Sonia Wegenast (glas, psalterij, tolkala / voice, psaltery, percussion)
Virginia Van der Linden (flavte, lajna, kornamuza, gamsov rog, krivi rog / flute, hardy gurdy, cornamuse, gemmshorn, krummhorn)

Posneto / Recorded:
19.7.2013, Grad, Grad Grad / Grad Castle
20.7.2013, Litija, Cerkev Sv. Nikolaja / Church of St. Nicholas

Ansambel Música Antiga da UFF je z delovanjem pričel leta 1981. Od vsega začetka poskušajo obujati in širiti ne le glasbo, ampak tudi srednjeveški in renesančni pogled na svet. Z leti so njegovi člani postali strokovnjaki za tehniko igranja na srednjeveške in renesančne inštrumente, pa tudi za interpretacijo pesmi teh pomembnih zgodovinskih obdobij. Skupina, ki so jo ustanovili Leandro Mendes, Lenora Pinto Mendes, Márcio Paes Seles, Mario Orlando, Sonia Leal Wegenast in Virginia van der Linden, še vedno raziskuje in odkriva nove načine informiranja javnosti o stari glasbi zahodne Evrope. Poleg zgodovinskega in raziskovalnega dela lahko občinstvo vidi replike inštrumentov, ki so jih v teh obdobjih uporabljali, in sliši zgodbe, ki izvajano glasbo spremljajo. V času svojega delovanja je ansambel posnel sedem CD-jev in tematsko LP ploščo, ki je bila prodana v 20.000 kopijah. Ansambel je izvedel tudi več kot 2.000 koncertov po Braziliji, snemal glasbo za glasbene videe in organiziral tečaje na festivalih in renesančnih sejmih. Música Antiga da UFF nastopa v najbolj pomembnih koncertnih dvoranah v Riu de Janeiru, koncertiral pa je tudi po celotni Braziliji.

Música Antiga da UFF started its activities in 1981, retrieving and transmitting not only music, but the very worldview of the Medieval and Renaissance periods. Over the years its members have specialized in the techniques of the medieval and renaissance instruments and in the interpretation of the songs of these important historical periods. Formed by Leandro Mendes, Lenora Pinto Mendes, Mdrcio Paes Selles, Mario Orlando, Sonia Leal Wegenast and Virginia van der Linden, the group is still researching and discovering new ways to inform the public about the early music of Western Europe. Beyond historical and musicological research, the audience has the opportunity to see replicas of the instruments used in those periods and hear the stories that come along with the songs and music performed. During their career, the group has recorded seven CDs and a themed LP that sold a total of 20.000 copies. Over these years the group has held more than 2.000 concerts throughout Brazil, recorded soundtracks to music videos, in addition to organizing courses at festivals and Renaissance fairs. Música Antiga da UFF performs in the most important concert halls of Rio de Janeiro and has also performed in concert halls throughout Brazil.



Marc Mauillon, Angélique Mauillon, Vivabiancaluna Biffi, Pierre Hamon

GUILLAUME DE MACHAUT (ca. 1300-1377)
7. Dame vostre doux viaire
8. Liement me deport / J'aim sans penser

Marc Mauillon (glas / voice)
Angelique Mauillon (gotska harfa, glas / Gothic harp, voice)
Vivabiancaluna Biffi (viela, glas / medieval fiddle, voice)
Pierre Hamon (srednjeveške flavte, dude, boben / medieval flutes, bagpipe, drum)

Posneto / Recorded: 26.7.2013
Vojnik, Grad Lemberg / Lemberg Castle

Marc Mauillon se posveča predvsem izvajanju stare glasbe (scenske izvedbe oper in koncerti z W. Christiejem, J. Savallom, V. Dumestrejem ,..), pa tudi sodobnejšim stvaritvam (Papageno, Guglielmo ...), operetam in glasbi 20. stoletja (Pelléas et Mélisande, Les Mamelles de Tiresias).Ta eklekticizem se kaže v njegovih najnovejših posnetkih: plošča, posvečena G. de Machautu in celotnim melodijam Poulenca in Eluarda.

Marc Mauillon performs mainly in early music (scenic operas and concerts with W Christie, J. Savall, V Dumestre...) but also contemporary creations (Papageno, Guglielmo...), operettas and 20th century music (Pelléas et Mélisande, Les Mamelles de Tiresias). His most recent recordings show this eclecticism: a disc dedicated G. de Machaut and the complete melodies by Poulenc and Eluard.

Angélique Mauillon se je po študiju klasične harfe odločila za specializacijo v interpretaciji stare glasbe. Učila se je pri Eugénu Ferréju (Lyon) in Mari Galassijevi (Milano). Igra srednjeveško in renesančno harfo ter sodeluje pri številnih produkcijah baročne glasbe, kjer igra trojno harfo. Na CNRu v Toursu in na CNSMDju v Lyonu uči staro harfo.

After studying the classical harp, Angelique Mauillon chose to specialize in the interpretation of ancient music. She studied under the tutorship of Eugene Ferri (Lyon) and of Mara Galassi (Milan). She plays Medieval and Renaissance harp. Additionally, she has participated in numerous productions of baroque music with the triple harp. She teaches 'harpe ancienne' [old harp] at the CNR in Tours and CNSMD in Lyon.

Vivabiancaluna Biffi je diplomirala na Scola Cantorum Basiliensis v Švici iz petja in igranja na stare instrumente (viela, viola z lokom, renesančna viola da gamba). Od 1998 se intenzivno posveča koncertni dejavnosti in sodeluje z vrhunskimi evropskimi ansambli za staro glasbo. Redno vodi mojstrske tečaje na Conservatoire National Superieur de Musique v Lyonu in na Scoli Cantorum Basiliensis.

Vivabiancaluna Biffi graduated from the Scola Cantorum Basiliensis (Basel, Switzerland) in singing and early instruments (vielle, bowed viol, Renaissance viola da gamba), since 1998 she devoted herself to intense concert activity with the principal European ensembles of medieval music. She also specialized as soloist on early Italian repertories. She is regularly invited to give master classes at the Conservatoire National Supérieur de Musique in Lyon and the Scola Cantorum Basiliensis.

Pierre Hamon se je specializiral za kljunasto flavto pri Walterju Van Hauweu in nato postal učenec bansuri flavte pri Hariprasadu Chaurasiju. Od ustanovitve je sodirektor ansambla Alla Francesca, s katerim so posneli približno 15 zgoščenk. V letu 1995 je začel redno sodelovati z dirigentom Jordijem Savallom. Njegov repertoar se razteza vse od 12. do 21. stoletja, zanima pa ga tudi tradicionalna ljudska glasba. Je profesor na Conservatoire National Superieur de Musique de Lyon.

Pierre Hamon specialized with Walter Van Hauwe in playing the recorder before becoming a pupil of Hariprasad Chaurasia for the bansuri fiute. He has been co-director since the founding of the Alla Francesca ensemble, with whom he recorded some 15 CDs, and he has collaborated regularly with Jordi Savall since 1995. His repertoire stretches from the 12th to the 21st century, and he entertains a keen interest in traditional folk music as well. He is a professor at the Conservatoire National Supérieur de Musique in Lyon.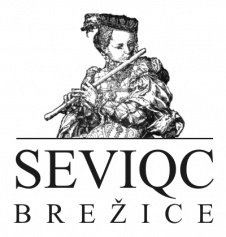 Seviqc Brežice 2013
Organizator / Organiser: Ars Ramovš zavod za umetnost, marketing, promocijo in investiranje, Ljubljana

www.seviqc-brezice.si

Urednik / Editor: Žan Cimerman
Oblikovanje / Design: David Hosta
Prevodi / Translations: Lea Gunc, Ars Ramovš
Jezikovni pregled / Language editing: Vera Lamut, Ars Ramovš
Fotografije / Photographies: Gašper Jakovac, Katja Smolar, arhiv / archive Ars Ramovš
Tisk / Printing: Sony DAD C, Tiskarna Januš

Posneto v 'živo na različnih prizoriščih festivala Seviqc Brežice.
Recorded live on several different Seviqc Brežice festival locations.

Tonski mojstri / Sound engineers: Matjaž Culiberg (3, 9, 11-13), Mitja Krže (10), Miha Ocvirk (4-8), Aleks Pirkmajer Penko (1,2)
Glasbeni producenti / Music producers: Tone Jurca (7, 8), Boris Rener (3-6, 9, 11-13), Janja Velkavrh (1, 2, 10)

Montaža in obdelava zvoka / Editing and mastering: Radio Slovenija, Studio 15: Miro Prljača

Izdano v sodelovanju z / Published in cooperation with: Radio Slovenija, Program ARS
Odgovorni urednik / Managaing editor: Matej Venier, Uredništvo za resno glasbo / Classical Music Department, zanj / represented by: Gregor Pirš
Glasbena urednika / Editors for classical music: Dejan Juravič (9, 11-13), Brigita Rovšek (1-8, 10)

℗ & © 2014 RTV Slovenija, ZKP / Publishing and Record Label
Zanjo / Represented by Mojca Menart, vodja založniške dejavnosti / Head of Label
Vsa dela in izvedbe na tej plošči so zaščitene / Copyright subsists in all recordings under this label.
Ljubljana, februar 2014. Spletni nakup / On-line purchase: www.rtvslo.si/zkpprodaja