The Josquin Songbook. Music For Two Voices and Vihuela
Maria Cristina Kiehr, Jonatan Alvarado, Ariel Abramovich

---
[6.11.2021]



medieval.org | prestomusic.com | jpc.de

Glossa GCD923529
Release date: 11.2021

[59:00]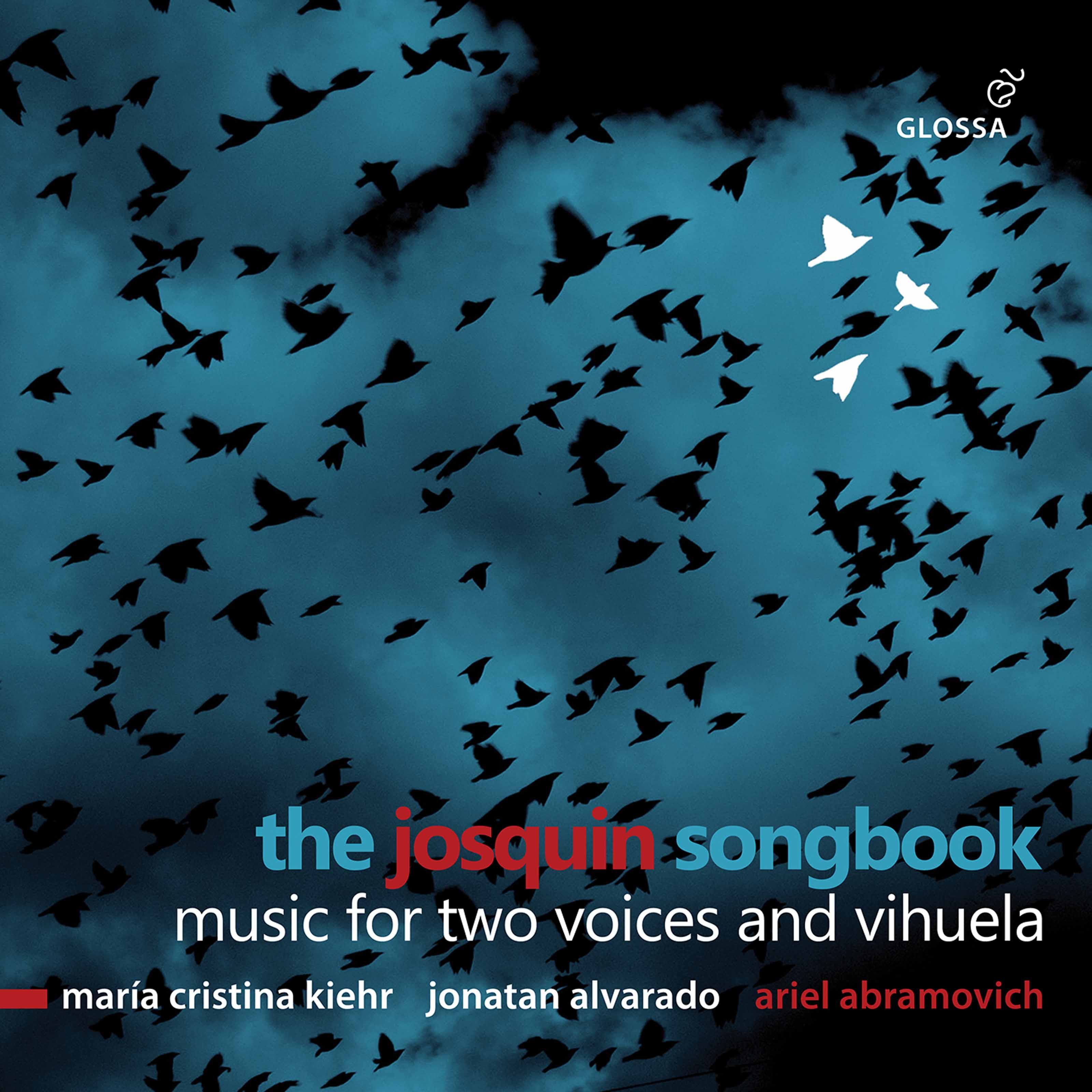 1. Nymphes, nappés / Circumdederunt me
2. Praeter rerum seriem
3. Kyrie, Missa Fortuna desperata

4. Mille Regretz (Canción del Emperador)
5. CRISTÓBAL DE MORALES. Benedictus, Missa Mille Regretz
6. Confiteor from Credo, Missa L'Homme armé

7. FRANCISCO DE PEÑALOSA. Kyrie, Missa Adieu mes amours
8. Pater noster
9. Ave Maria

10. Stabat Mater dolorosa
11. Vultum tuum deprecabuntur: O intemerata virgo
12. Nymphes des bois / Requiem



Maria Cristina Kiehr, soprano
Jonatan Alvarado, tenor
Ariel Abramovich, vihuela












The vihuelist Ariel Abramovich teams up with the legendary soprano Maria Cristina Kiehr and the rising star, tenor Jonatan Alvarado, in producing a very special view on Josquin Desprez, with transcriptions of some of the composers most significant works. Their procedure follows the tradition of the 16th-century authors that built up the vihuela repertoire (Fuenllana, Narvaez,Pisador, etc.), often based on adaptations of the great polyphonic works of their time, in a unique approach that puts Josquin in an Iberian light.

Finely recorded in Spains Tui Cathedral and containing a new essay by scholar John Griffiths, this production adds an exquisite jewel to the already rich treasure trove of Desprez recordings.

Many have been produced in 2021, the 5th centenary of his death, by various great labels not the least Glossas two other contributions, by the ensembles Graindelavoix and Cantica Symphonia...





[6.11.2021]
---
medieval.org Remarks

http://www.medieval.org/emfaq/cds/remarks.html
3 November 2021
Todd M. McComb

———


I haven't tended to note interpretations with later stylistic orientations in this space, but did say I'd review all of the Josquin anniversary issues, and have already started in that direction....

(» Josquin's Legacy — The Gesualdo Six)

....

And since I'm here, I should go right ahead & note the new The Josquin Songbook as well: That production is very specifically oriented on the mid-16th century, namely vihuela transcriptions in Spain. But as opposed to e.g. Heringman's Inviolata (from early in the anniversary, reviewed here already in December...), there're also — per 16th century Spanish priorities — vocal lines retained, basically transcribing several pieces into monodies (as well as some vocal duos...). So The Josquin Songbook is clear in its (historical) approach, but similar comments do apply from my perspective.... (And a feature for some readers will surely be María Cristina Kiehr, once quite popular in this general repertory, but now seemingly less active....) This release likewise has enjoyable qualities, despite an orientation that I don't really share (although it doesn't betray a universalizing attitude either).



[8.11.2021]
---