Josquin. Motets & Mass Movements — The Brabant Ensemble
---
[16.11.2020]


medieval.org | hyperion-records.co.uk

Hyperion CDA 68321
Release: January 2021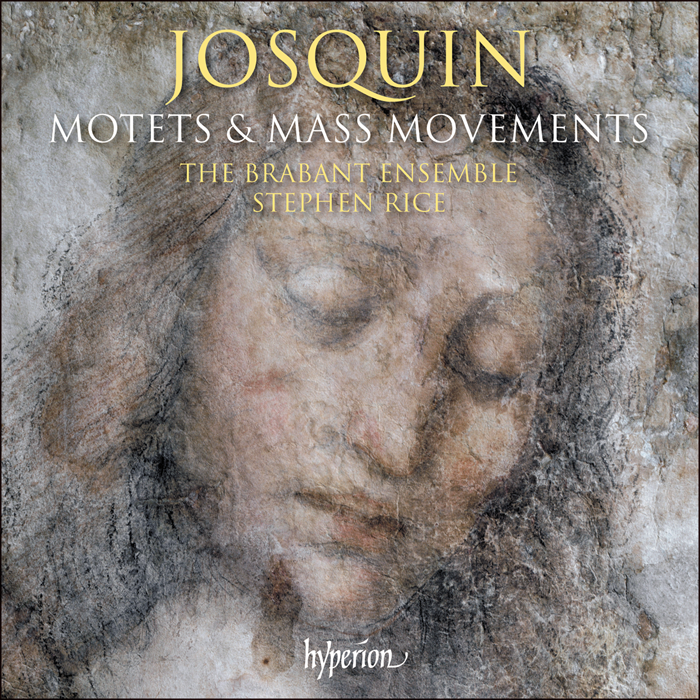 Mittit ad virginem [7'55]
1. Mittit ad virginem [5'13]
2. Accede nuntia [2'42]

Alma redemptoris mater / Ave regina caelorum [6'30]
3. Alma redemptoris mater / Ave regina caelorum [3'04]
4. Tu quae genuisti / Gaude gloriosa [3'26]

Huc me sydereo a 6 [8'55]
5. Huc me sydereo [5'31]
6. Felle sitim magni regis [3'24]

Stabat mater a 6 [9'00]
7. Stabat mater dolorosa [4'20]
8. Eia mater, fons amoris [4'40]

O bone et dulcissime Jesu a 6 [10'23]
9. O bone et dulcissime Jesu [6'26]
10. Si ergo commisi [3'57]

Domine, ne in furore tuo … miserere [9'22]
11. Domine, ne in furore tuo [4'56]
12. Turbatus est a furore oculus meus [4'26]

Usquequo, Domine, oblivisceris me? [10'20]
13. Usquequo, Domine, oblivisceris me? [4'18]
14. Illumina oculos meos [6'02]

Homo quidam fecit coenam magnam [4'05]
15. Homo quidam fecit coenam magnam [2'30]
16. Venite, comedite panem meam [1'35]

Gloria de beata virgine [8'12]
17. Gloria in excelsis Deo [4'04] David Stuart (bass)
18. Qui tollis peccata mundi, suscipe [4'08]

Sanctus de Passione [3'46]
19. Sanctus [1'45]
20. Honor et benedictio [0'57]
21. Benedictus [1'04]


Biographical and musicological certainties may be in short supply in the life and work of Josquin, but there's no gainsaying the magnificence of the music recorded here: a programme of shorter works, most in unusual guise, to celebrate his 500th anniversary.






[16.11.2020]

---
medieval.org Remarks

http://www.medieval.org/emfaq/cds/remarks.html
17 February 2021
Todd M. McComb

———


Josquin: Motets & Mass Movements from Stephen Rice & the Brabant Ensemble has been the most "musically provocative" Anniversary release thus far, even as the interpretations involve both positive & negative factors from my perspective.

Basically, this style of choir & singing was a post-Restoration English invention, since applied to "Renaissance" music in general by 20th century revival efforts: It's a big sound with a sort of "naïve" tone in the top line (i.e. women sounding a bit like children, the latter per 17th century style). There's also the basic "Renaissance" approach here, as updated for the 21st century, featuring various 16th (or even 17th) century parts added to Josquin's motets (in the "si placet" tradition, as cited), and an orientation toward a mid-16th century context that's been the heart of the repertory for the Brabant Ensemble, including its tuning. (In that sense, it's a curious program in that it includes earlier pieces as well, some of which clearly involved a more 15th century tuning context. Yet, this factor has been neglected in all releases thus far, so there's no real reason to hold this ensemble particularly accountable for it....)

On the other hand, there's great attention to detail here, even as that detail is (once again) refracted through later perspectives, and so "a lot of music" — much of which hasn't been recorded recently. (I appreciate just getting the notes & rhythms together, and laying that out clearly in performance, at least.... Not that those basic issues are entirely separable from tuning, etc.) Attention to detail is reflected in the program discussion from Rice as well, particularly as he both considers arguments around authenticity for the works presented (including that of their added parts) & debates the process more generally.

The choice of program was apparently motivated by variety (although he doesn't say), not the security of the sources then, with earlier works included as well (counter to style).... There's also not a lot of intimacy from this group, such that e.g. the tour-de-force Alma redemptoris mater / Ave regina caelorum comes off as relatively distant. Their Stabat Mater is then (aside from "bigness") so opposite to that recently reviewed from Cantica Symphonia... including the latest (added) voice part on the program here. (The Binchois reference is immediately buried to open, although more audible later as transformed....) I also have difficulty imagining Usquequo, Domine being by anyone but Josquin, while Huc me sydereo is a particularly impressive rendition here, including the wild sixth voice that might or might not be from Josquin himself.... (Mittit ad virginem could very easily be by Thérache to my ear, opening the program in another register....)

There's thus a mix of famous & obscure pieces here, but also some powerful music. (Regarding the trade-offs with this performance style, I really enjoyed e.g. this group's La Rue... because the Missa Inviolata is a great piece that hadn't been recorded. But I didn't think much of their Obrecht disc, even though it also involved new music & similar attention to detail.... I.e. the repertory didn't call out to me individually there.) The ensemble can also sound a little tentative at times — relatively speaking anyway — but one might also attribute that to a generally balanced approach toward forward momentum.... Anyway, as Rice notes, despite some concerns, these pieces are all presented as authentic in the New Josquin Edition, underlying just how unlikely we are really to know exactly what is or isn't a part of his catalog. Even as the performance style isn't entirely what I'd like, not to mention the later orientation for sources, there's still a lot of important music here receiving its most coherent (revived, that is) rendition to date — making for a must-hear in this context.



[20.2.2021]
---